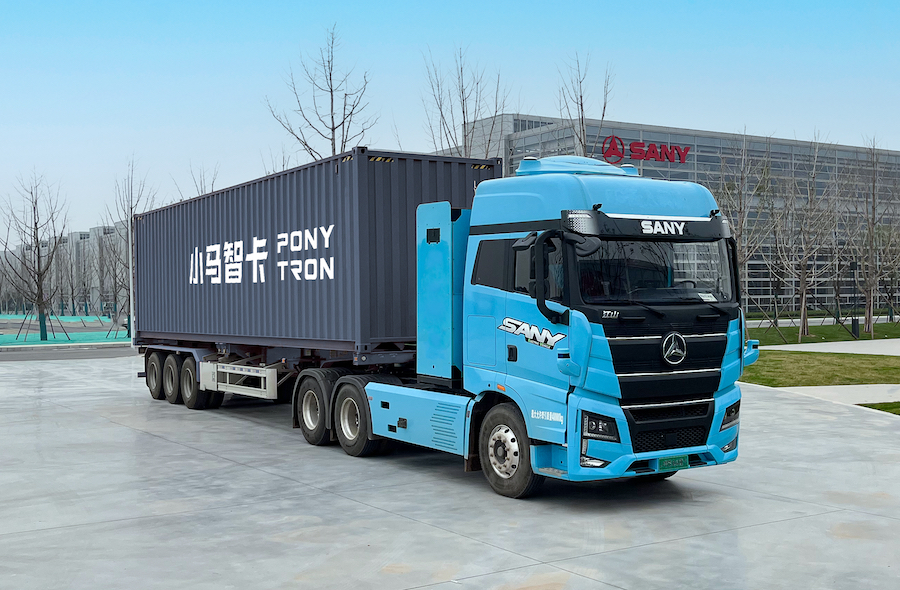 Toyota-backed self-driving vehicle startup Pony.ai is partnering with Sany Heavy Industry, China's number one heavy equipment manufacturer, to build autonomous trucks, the companies announced July 27.
The new strategic joint venture between Pony.ai and Sany will aim to research, develop, produce and sell heavy trucks capable of level 4 autonomy—that is, the ability to act without any human intervention in the vast majority of situations.
The first prototype of the partnership's autonomous truck was built on Sany's new electric truck platform and has already conducted road testing. The joint venture's autonomous truck product portfolio will ultimately include a mix of new-energy and fuel-based vehicles, with the aim to increase the proportion of new-energy trucks in the future.
The new partnership aims to begin small-scale deliveries of its robotrucks in 2022 and 2023. Mass production of the new truck will commence in 2024, with plans to reach an annual production of about 10,000 trucks within a few years.

"This partnership between Sany and Pony.ai is the ultimate collaboration between truck 'body' and truck 'brain' and thus makes it possible to mass produce high-level autonomous trucks," Liang Linhe, chairman of Sany Heavy Industry's Sany Heavy Truck, said in a statement. "This partnership, which features complementary strengths and competitive advantages, will advance autonomous trucking and logistics well into the future and will lead to a safer, more efficient, intelligent logistics system."
The autonomous driving system for these vehicles will be powered by the NVIDIA DRIVE Orin system-on-a-chip. Orin possesses 17 billion transistors and is capable of an unprecedented 254 trillion operations per second, more than eight times the performance of NVIDIA's previous generation Xavier system-on-a-chip, the company's original processor for autonomous driving.
"The establishment of this new venture between Pony.ai and Sany is a significant milestone for the trucking industry," Rishi Dhall, NVIDIA's vice president of automotive, said in a statement. "This next-generation of new-energy autonomous trucks will enable the delivery of goods to address ever-growing e-commerce demands without compromising safety and reliability while reducing the transportation industry's dependence on fossil fuels."
Sany Heavy Industry is the world's third largest heavy equipment manufacturer. "Sany has industry-leading heavy truck manufacturing technology and is pioneering the architecture of 'new energy' heavy trucks, intelligent network connections, and other key areas," James Peng, Pony.ai's co-founder and CEO, said in a statement. "Integrating Pony.ai's core autonomous driving technologies with the capabilities of Sany enables our joint venture to create a successful intelligent truck and logistics ecosystem for L4 autonomous trucking."
In 2021 alone, heavy truck sales in China exceeded 1.3 million units, according to the China Association of Automobile Manufacturers. Once the joint venture achieves mass production, the partners expect the penetration rate of their autonomous trucks in China's heavy truck market to increase steadily. Based on Pony.ai's robotruck operations experience, the company suggested autonomous trucks can save 10 to 20% of energy compared with conventional trucks, and by 2030, the partnership's trucks might reduce carbon dioxide emissions by more than one million tons, equivalent to the carbon dioxide absorbed by thousands of acres of forest.
Persistent worker shortages are putting pressure on the logistic industry, with drivers making up 25 to 30% of the total cost of long-haul trucking, according to Katie Burke, NVIDIA's automotive content marketing manager. Companies are beginning to turn toward autonomous trucks to help ease these bottlenecks—New York-based Guidehouse Consulting estimates that by 2032, more than 1.2 million automated trucks and buses will be deployed worldwide each year, with more than half of those vehicles operating in China.
The new partnership follows on the heels of the recently formed Cyantron joint venture between Pony.ai and Sinotrans, China's largest logistics company. That project commenced operations in April and aims to enhance the digitalization and intelligence of the transportation process.
Founded in 2016, Pony.ai has recently seen both progress and setbacks. For example, in April, it became one of the first companies to win permits to provide driverless robo-taxi service to the public on open roads in Beijing. However, in May, the California Department of Motor Vehicles revoked its permit to test its autonomous vehicle technology with a safety driver in the state for failing to monitor the driving records of the safety drivers on its testing permit, TechCrunch first reported.