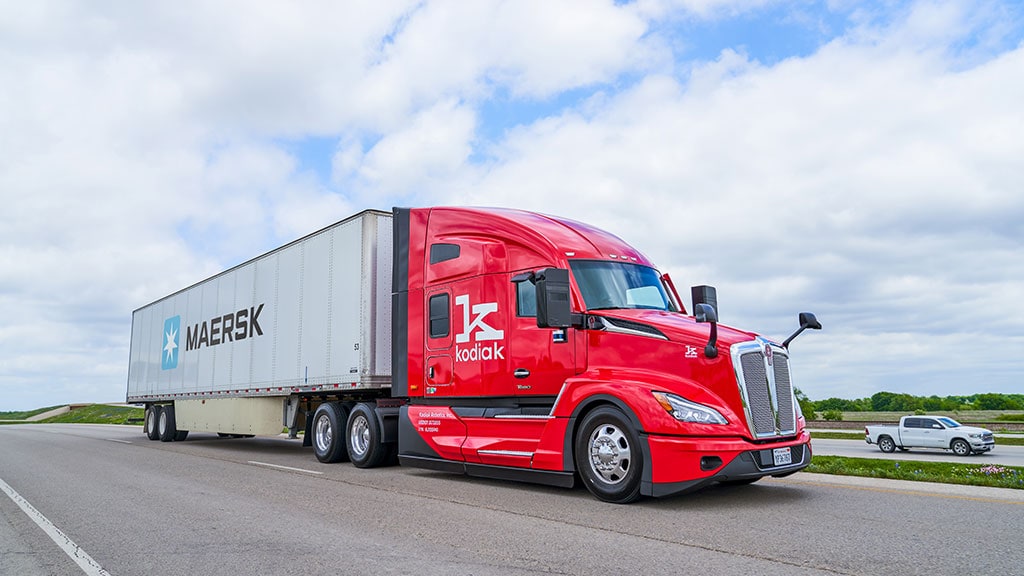 Global shipping giant Maersk and self-driving vehicle startup Kodiak Robotics are partnering to launch the first commercial autonomous trucking lane between Houston and Oklahoma City, the companies recently announced.
Kodiak and Maersk first began collaborating on autonomous freight deliveries in 2022. Kodiak has been delivering eight loads per week, with a safety driver behind the wheel, for Maersk customers since this past August.
"Teaming with Kodiak enables Maersk to stay at the forefront of innovative solutions," Erez Agmoni, Maersk's global head of innovation in logistics and services, said in a statement. "Autonomous trucks will play an instrumental role in digitizing the supply chain. We expect self-driving trucks to ultimately become a competitive advantage for Maersk as we execute on our strategy to provide customers with a sustainable, end-to-end logistics solution across air, land and sea."
Now Kodiak and Maersk will complete four round trips per week on a 24-hour-a-day, four-day-a-week basis between a Houston facility, where consumer products are loaded onto 53-foot trailers, to a distribution center in Oklahoma City.
Kodiak noted that autonomous trucking could help address long-term challenges faced by the trucking industry. According to the American Trucking Association, the trucking industry faces a shortage of roughly 78,000 drivers, and based on current driver demographic trends and projected growth in freight demand, this shortage could swell to more than 160,000 over the next decade.
In addition, safety continues to be a perennial challenge for the trucking industry. U.S. National Highway Traffic Safety Administration (NHTSA) research estimates that 94 percent of crashes occur due to human error. To help ensure safety, Kodiak equips each of its trucks with 18 different sensors, including cameras, radar and LiDAR, which provide a 360-degree view around the truck. Every tenth of a second, each truck evaluates the performance of more than 1,000 safety-critical processes and components in both the self-driving stack and the underlying truck platform. The trucks learn in parallel, with system upgrades shared to the entire fleet simultaneously, and are not subject to environmental distractions.
"Since our founding, we have focused on developing an autonomous product that is easy for global innovation leaders to integrate into their networks, and Maersk is a perfect fit," said Don Burnette, Founder and CEO, Kodiak. "Hauling commercial freight gives us the opportunity to work together to integrate Kodiak's autonomous trucking solution into Maersk's operations. As the first autonomous trucking company to establish this new commercial lane between Houston and Oklahoma City, we are demonstrating our team's ability to introduce new lanes and bring new efficiencies to the entire logistics industry."