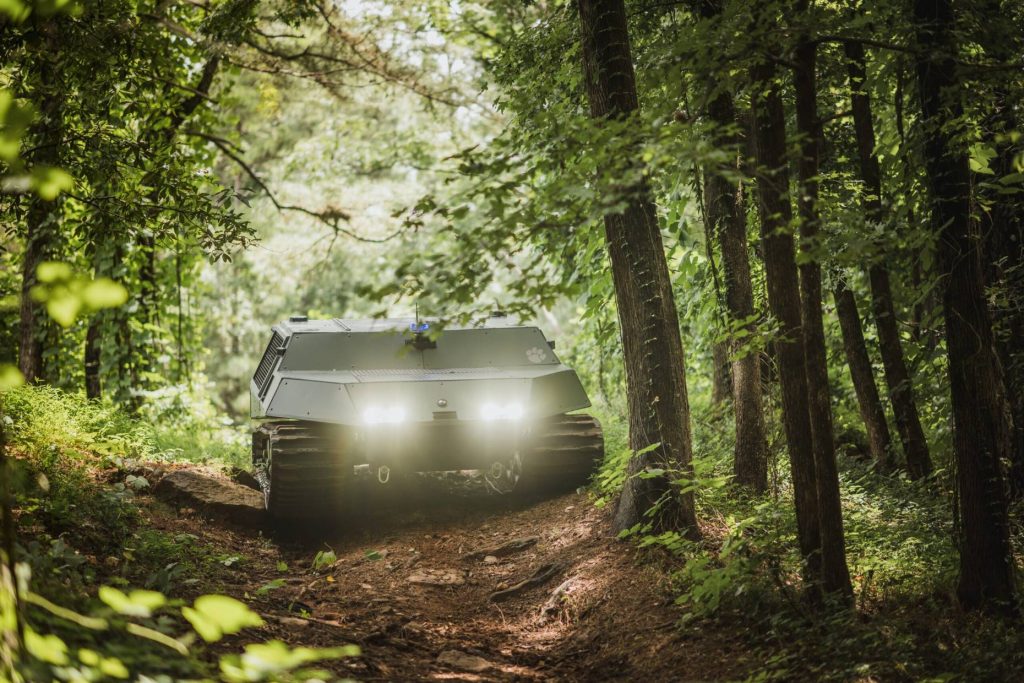 A Clemson University student-faculty team has developed an autonomous off-road reconnaissance and relief vehicle that can help expedite the delivery of supplies and gather real-time data for emergency responders during natural disasters. The vehicle debuted in Novi, MI, at the 15th Annual GVSETS (Ground Vehicle Systems Engineering and Technology Symposium), put on by the National Defense Industrial Association, Michigan Chapter, earlier this month.
Called Deep Orange 14 (DO14), the vehicle was created to be especially helpful for events that cause significant damage and disruption to the transportation infrastructure necessary to provide needed assistance. It was engineered and developed at the Clemson University's International Center for Automotive Research (CU-ICAR) in Greenville, SC, under the rapid vehicle prototype program called Deep Orange, which is housed within its two-year master's degree focused on systems integration in automotive engineering.
Two cohorts of Deep Orange students collaborated across three years to develop the high-speed vehicle from the ground up. The students worked with faculty and staff at CU-ICAR and the project's primary sponsor, the U.S. Army DEVCOM Ground Vehicle Systems Center (GVSC).
Clemson announced its strategic partnership with GVSC in 2020 when the university founded its VIPR-GS (Virtual Prototyping of Autonomy-enabled Ground Systems) center, backed by the U.S. Department of Defense. The center was established to accelerate research breakthroughs in off-road vehicle autonomy, powertrain electrification, and digital engineering tools to more effectively support the mission of GVSC.
"Reliable and robust off-road driverless technology is critical to developing the next generation of military mobility vehicles," said Dr. David Gorsich, U.S. Army Chief Scientist at GVSC. "Even more critical is developing skilled and experienced engineers who can continue to drive innovation in our sector in the future."
Clemson officials believe that the DO14 vehicle represents a unique and complex state-of-the-art research asset for the university, boosting its autonomous high-speed off-road research. It represents a validation and verification tool for the dynamic modeling of tracked skid steer vehicles in challenging topographies as well as a sophisticated deployment platform for cutting-edge control algorithms and energy management strategies for series-hybrid vehicles.
"With its tracked design and advanced series-hybrid powertrain, the vehicle can conquer various obstacles, while its autonomous features, including an array of camera and lidar sensors, offer invaluable data collection and urban reconnaissance capabilities," said Kaivalya Khorgade, who served as Deep Orange 14's Chief Vehicle Engineer, and is now a Control System Engineer at Caterpillar.
Access to such a highly developed research tool with its multilayered system integration is said to be a rare opportunity in academia and a distinct research advantage for Clemson.
"Being challenged as a student to develop something of this complexity, something at the edge of technology, is an incredible learning experience—let alone seeing their work live on through the discoveries of our researchers," said Chris Paredis, BMW Chair in Systems Integration at Clemson, who oversaw the Deep Orange program during both cohorts. "It's not just making everything work, it's creating data logging and input capabilities to inform research across autonomy, vehicle dynamics, powertrain performance, thermal management, and more."
The vehicle addresses two mission scenarios, which students used to determine the vehicle's technical specifications and critical functions. For a cold-weather disaster relief mission such as an unexpected snowstorm blocking highways and leaving people in need of food, water, and power, DO14 could provide much-needed resources until workers repair local infrastructure. For an urban reconnaissance mission during a natural disaster such as a hurricane or flood, the vehicle can drive through the area to assess the damage, create a digital map, and determine whether ground vehicles behind it would be able to pass or get stuck.
Equipped with lidars, cameras, and high-accuracy GPS, the DO14 can sense and navigate unknown terrain. Its exterior pan-tilt-zoom cameras can be manipulated and viewed remotely while the vehicle moves autonomously. Collected data are compiled into a map to be wirelessly sent via a 5G network for analysis.