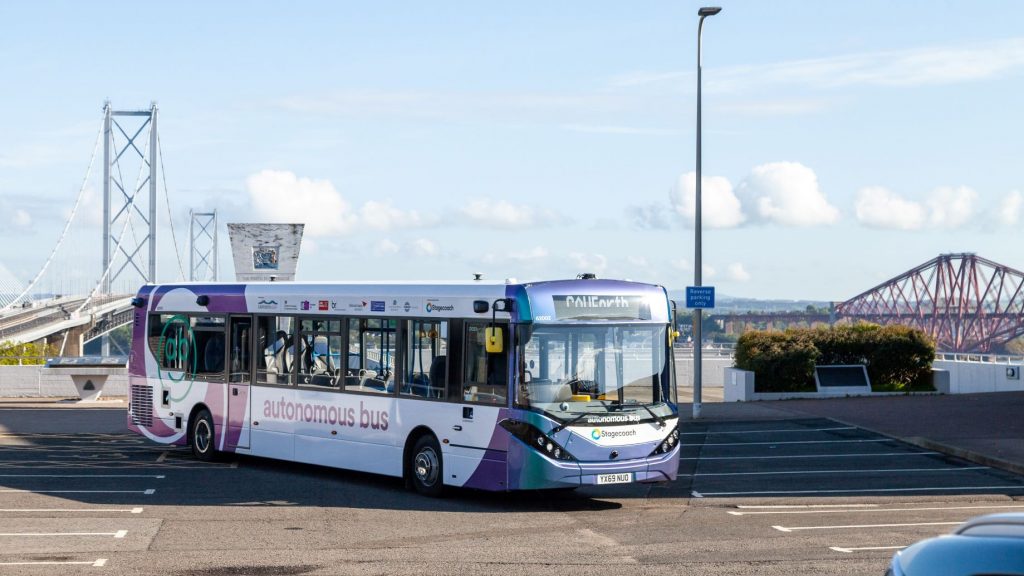 The CAVForth project, one of the most ambitious and complex autonomous bus trials worldwide, will begin running a fleet of five Alexander Dennis Enviro200AV autonomous buses on a scheduled passenger service seven days a week on Stagecoach's new AB1 route in Scotland.
The project is led by Fusion Processing Ltd. with partners Stagecoach, Transport Scotland, Alexander Dennis, Edinburgh Napier University, and Bristol Robotics Laboratory. It is co-funded by the UK Government's Centre for Connected and Autonomous Vehicles.
"This pilot is globally significant and marks a step change in the operation of autonomous commercial vehicles on public roads," said Jim Hutchinson, CEO of Fusion Processing.
"Our participation in this exciting project is a testament to the great expertise of our engineering team, who continue to lead technology development for tomorrow's mobility, and the technology leadership of British bus manufacturing," added Paul Davies, Alexander Dennis President & Managing Director.
The new AB1 service provides the first direct public transport link between Fife, Scotland, and the business parks and retail outlets at Edinburgh Park. It has the capacity to carry up to 10,000 passengers per week, with buses departing from the Ferrytoll Park & Ride in Fife for Edinburgh Park interchange every 30 minutes.
The 14-mi route is made up of A-roads, motorways, bus lanes, and private land. It includes a range of complex traffic maneuvers such as roundabouts, traffic lights, and 'weaving' motorway lane changes. The vehicles will travel in mixed traffic up to 50 mph.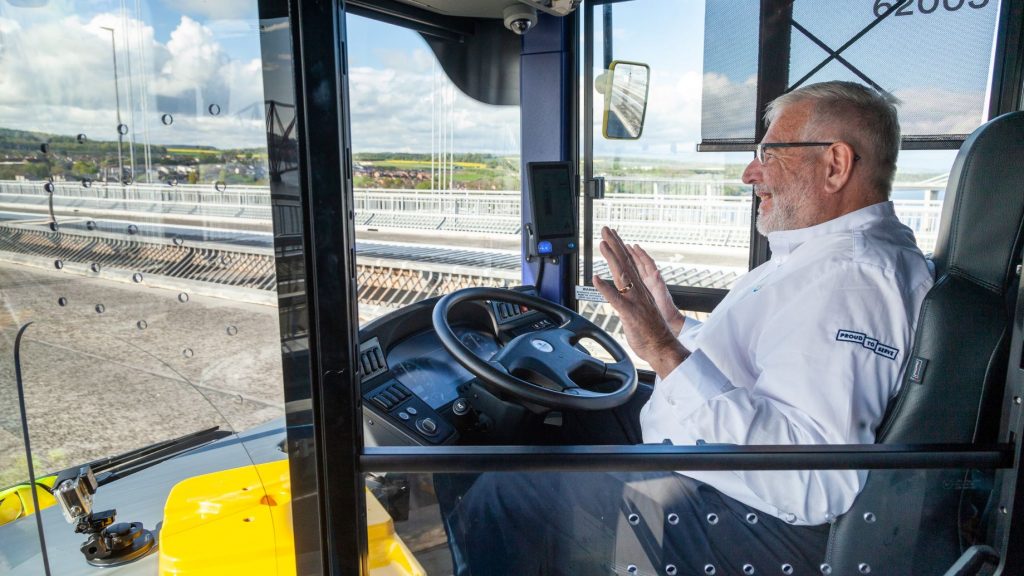 The Enviro200AV buses are derived from Alexander Dennis' standard Enviro200 single-decker, more than 8000 of which are in operation across the UK. They are equipped with Fusion Processing's autonomous drive system called CAVStar, which uses data from a suite of camera, LiDAR, and radar sensors with AI (artificial intelligence) processing to deliver optimum efficiency throughout the journey in all traffic conditions.
Receiving information directly from traffic light systems enables the bus to plan its speed to smoothly run from one green light to the next. The intelligent autonomous driving reduces unnecessary braking and accelerating, contributing to less wear on brakes and tires, with corresponding reductions in particulate emissions.
CAVForth operates at SAE Level 4, the highest autonomous vehicle level currently permissible on local public roads, with each bus requiring a safety driver. A team of 20 autonomous bus professionals was recruited from Stagecoach East Scotland's existing driver pool.
To support the project's research on passenger and public acceptance of AV (autonomous vehicle) technology, a second professional will act as a bus "captain," moving around the vehicle to engage with customers. This demonstrates what a future autonomous service could feel like when a single bus captain can leave the cab while the computer does the driving.
"The short-term benefits of vehicle autonomy in providing safer and more energy-efficient travel will be illustrated by this project," said Anthony Pipe, Professor of Robotics and Autonomous Systems at the Bristol Robotics Laboratory. "In the longer term, we believe that it will contribute significantly to transformations in the way we achieve mobility in our society."