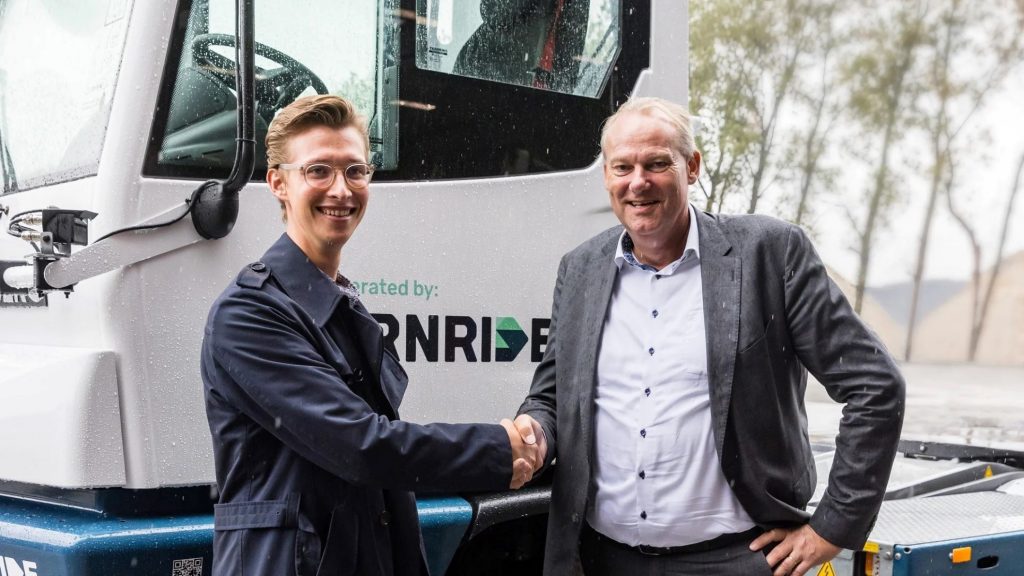 Autonomous trucking technology startup Fernride and terminal tractor maker Terberg Special Vehicles announced today their collaboration to develop an automated terminal tractor CE-certified for commercial production. The solution offers autonomous driving and teleoperated capabilities to ensure a smooth transition to full autonomy with human-in-the-loop.
The partnership began in 2021 and series production of the trucks will start in 2024. The first 100 trucks will be rolled out to Fernride and Terberg customers in container terminals, production plants, and distribution centers to lower logistics costs, boost efficiency, and guarantee safety.
As market leaders developing autonomous yard operations and the terminal tractor space, the two companies believe they are well-positioned to deliver the technology and services to customers in container-terminal, production, and distribution operations to accelerate the transition to autonomy.
After 10 years of research at the TUM (Technical University of Munich) in the field of vehicle engineering and sensor technology, Fernride was spun off in 2019 initially under the name Pylot by CEO Hendrik Kramer, CPO Maximilian Fisser, and Chief Engineer Jean-Michael Georg in Munich. Its product, technology, and business-model development were supported in 2020 by a seed investment from Speedinvest, Fly Ventures, UnternehmerTUM, and Business Angel Amir Roughani.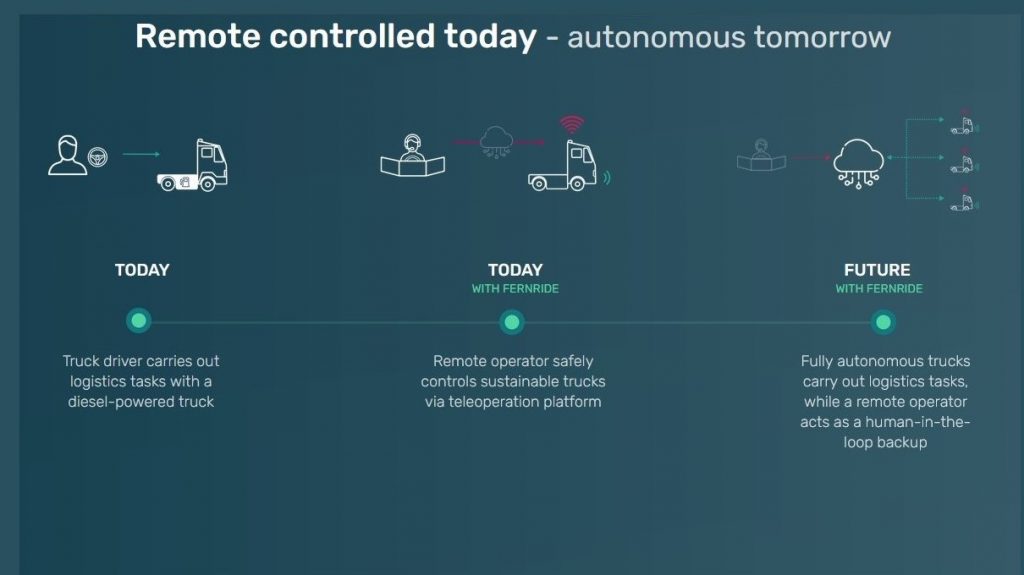 The company says it is on a mission to solve two major challenges—the shortage of drivers and the huge negative impact of transportation on the environment by the trucking industry. Its automated logistics approach is gradual autonomy with teleoperation first, allowing teleoperator drivers to fully control electric trucks remotely.
For the Terberg partnership, Fernride's end-to-end management software suite integrates the automated terminal tractors into existing yard and terminal operating systems. The partnership leverages Terberg's maintenance and service network around the world to secure the customers' needs for the highest available uptime during their operations.
"We are delighted to bring our autonomous technology to the market with the European leader for terminal tractors," said Kramer. "This collaboration means we can deliver an industrial-grade solution to maximize our customers' productivity, efficiency, and safety in their operations on private yards."
Terberg Special Vehicles, which is part of the Royal Terberg Group, develops, produces, and modifies special transport vehicles and systems for logistics and waste collection. The unit manufactures fully electric and diesel-powered terminal tractors with a drive-by-wire interface. It provides a range of complementary services for its vehicles including maintenance, spare parts supply, retrofit, repair, rental, and telematics.
"We look forward to bringing the collaboration with Fernride to the next level, integrating Fernride's state-of-the-art software and hardware kit with Terberg's advanced drive-by-wire tractor and implementing the combined solution successfully at customers," added Rob van Hove, CEO of Terberg Special Vehicles division.
Terberg will integrate the Fernride hardware kit consisting of computing, connectivity, and sensor suite into its assembly line. With Fernride's software for autonomous and teleoperated driving, the automated terminal tractors will be ready for driverless deployment on customer sites.
‍The Terberg partnership is just the latest with other high-profile partners such as Volkswagen, DB Schenker, B/S/H, and HHLA (Hamburger Hafen und Logistik) AG backed by over 10 years of research in developing solutions for the gradual automation of trucks within live operations. In January the Munich-based startup announced another pilot project with investment from the HHLA Next innovation unit for highly automated and electric container logistics being launched at the HHLA TK Estonia terminal in Tallinn in partnership with HHLA International.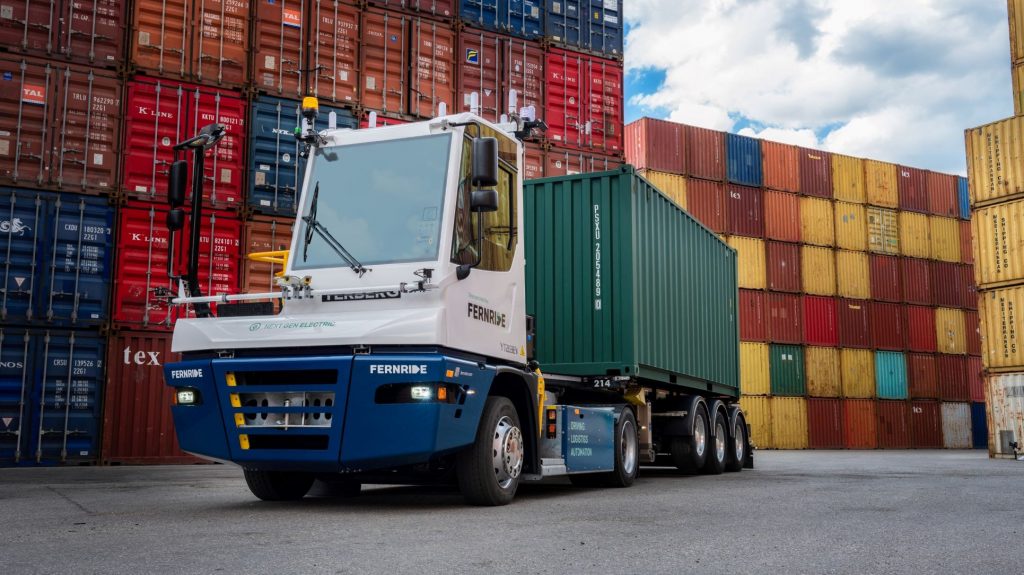 HHLA Next was attracted by Fernride's approach of gradually increasing the autonomy of trucks and tractor units enabled by the combination of autonomous driving technology and human remote operation that is already offering a reliable service in live operations. It creates immediate added value and speeds up the journey toward more sustainable logistics.
"We at HHLA Next invest in digital and sustainable business models in maritime logistics," said Simone Lode, Managing Director of HHLA Next. "We see great potential in autonomous driving solutions, also because of the current lack of truck drivers. With Fernride, we are investing in a company that has already implemented a viable solution with a partner network of respected companies from industry and logistics with very good results. In addition, the project highlights our focus on sustainable logistics."
HHLA Next is providing access to subsidiaries in the HHLA Group for the first Fernride project at a container terminal. The goal of the project is to determine the technology's operational reliability in automated container handling and to validate the technology's viability for future business opportunities.
‍"This partnership with Fernride as part of the pilot project in Tallinn will help us to jointly explore new opportunities and to create workflows at our international terminals that are future-oriented and sustainable," said Philip Sweens, Managing Director of HHLA International.
"With our joint project during ongoing, live operations, we are creating the basis for series development and the adaptation of our solution to container logistics," added Martin Isik, CCO and CFO at Fernride.
‍Fernride, which has about 100 employees, equips trucks and tractor units with sensors and cameras so that they can be remote-controlled via mobile networks. The company's teleoperators at a computer workstation that resembles a vehicle cockpit, control vehicles by sending targeted commands in real-time by controlling acceleration, braking, and steering. Its algorithms can be trained using data from real-life operations to roll out additional future autonomous functions.
Remote truck drivers can be more flexibly deployed through the use of the new technology, which has a positive impact on operating procedures. The option to work remotely increases both the attractiveness of the job and onsite safety.