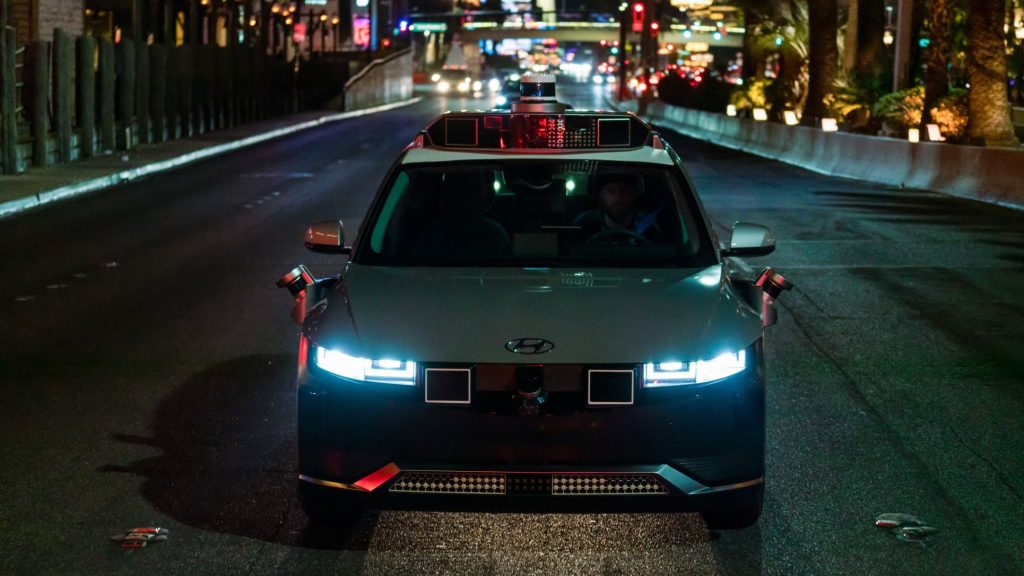 Night driving is one of three service upgrades making their way to Motional's fleet of all-electric Hyundai Ioniq 5 robotaxis, which have been carrying public passengers in Las Vegas since August. The other advanced features are designed to make the robotaxi experience more comfortable and eliminate the need for human operator supervision as the company readies to go fully driverless later this year.
"Las Vegas is a city that really comes alive once the sun goes down, so extending our service to match rider demand is a critical step forward in the evolution of our vehicle," said Akshay Jaising, Motional's vice president of commercialization. "We're happy we can now spend more hours every day introducing passengers to our technology and helping them travel safely and comfortably where they need to go."
Motional has partnered with the two largest ride-hailing services in the U.S. to offer Las Vegas passengers rides in autonomous robotaxis. The vehicles, which operate on certain routes along the Las Vegas Strip, currently have vehicle operators in the front seats for safety purposes, but they operate in autonomous mode. The company says that riders enjoy the experience, with over 90% of passengers giving their ride a five-star rating.
Jaising said Motional's commitment to safety drove the decision to start passenger service during daytime hours while the company confirmed that its technology could safely handle all the challenges of driving in Las Vegas at night. Motional vehicles have driven more than 2 million autonomous miles and conducted over 125,000 public rides without an at-fault accident.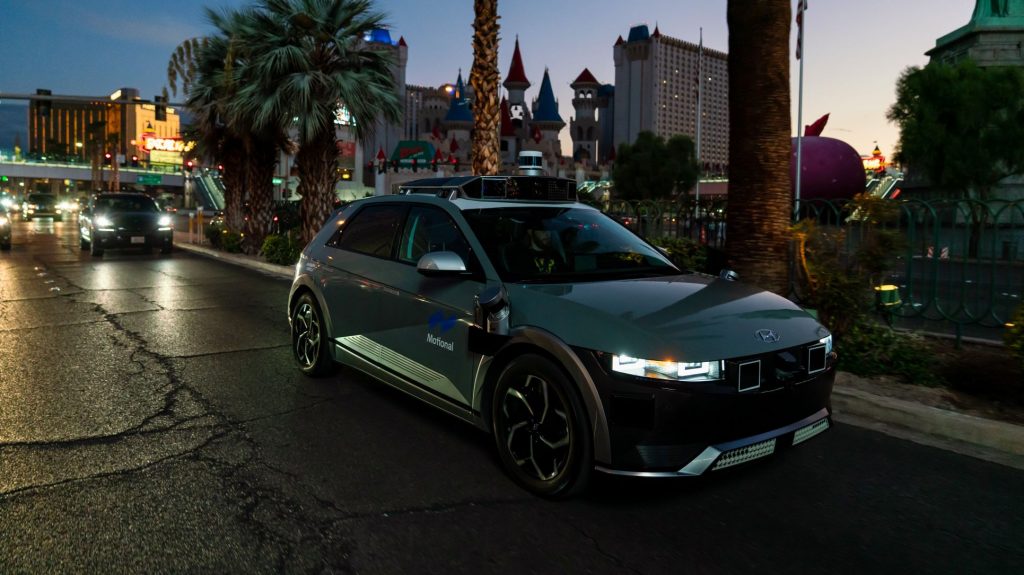 Motional's robotaxis rely on a sophisticated sensor suite that includes more than 30 cameras, radars, and lidars, said Jared Miles, a senior technical program manager. Through extensive nighttime testing, the robotaxi's autonomous technology demonstrated it works just as well as during the day. 
"We were not seeing increases in swerving, hard stops, or other examples of factors that create uncomfortable rides," Miles said. "It means our tech is ready for this next challenge."
The robotaxis are also now connected to a remote vehicle assistance (RVA) system that helps figure out the safest way to proceed around obstacles or rare and complex road scenarios.
A key component of going fully driverless is the ability to assist AVs remotely without having to dispatch technicians to the vehicle in person. While the Ioniq 5 robotaxi can handle most driving conditions, some situations it is not sure how to handle prompt the vehicle to pause.
Initially, when this happened, the vehicle operator would take over and drive the robotaxi until it had a clear route. Now, the RVA can guide the vehicle around the situation.
As Motional's robotaxis carry more passengers and travel more miles, RVA will use machine learning principles to train the system how to figure out solutions to challenging occurrences.     
"As advanced as these vehicles are, and as many scenarios as they can handle, they will undoubtedly find themselves in some driving situation they've never experienced before," said Greg Butron, a Motional principal engineer. "RVA helps vehicles navigate complex conditions and continue their journey safely."
Later this year, human vehicle operators will be removed as the robotaxis transition to fully driverless operations. However, for safety, comfort, and personalization reasons, passengers still need to be able to communicate with the vehicle.
"Because there won't be any human drivers in these vehicles, we need to make sure passengers have control over essential ride comfort features such as climate control," said Robert Agne, a product manager with Motional.
Motional has launched a vehicle interface that allows passengers to control certain functions with their ride-hail app. These functions currently include unlocking the vehicle, starting the ride, contacting customer service, and controlling the vehicle's climate control system.  
On select rides, passengers can preset both the cabin temperature, as well as adjust fan speed, before the robotaxi picks them up. The idea is to give passengers a sense of comfort and personalization while in the robotaxi, Agne said. 
"Down the road we want the vehicles to learn the personal preferences of our passengers, cabin temperature, lighting, maybe even music," he said. "We want them to feel like it's more their own personal space."