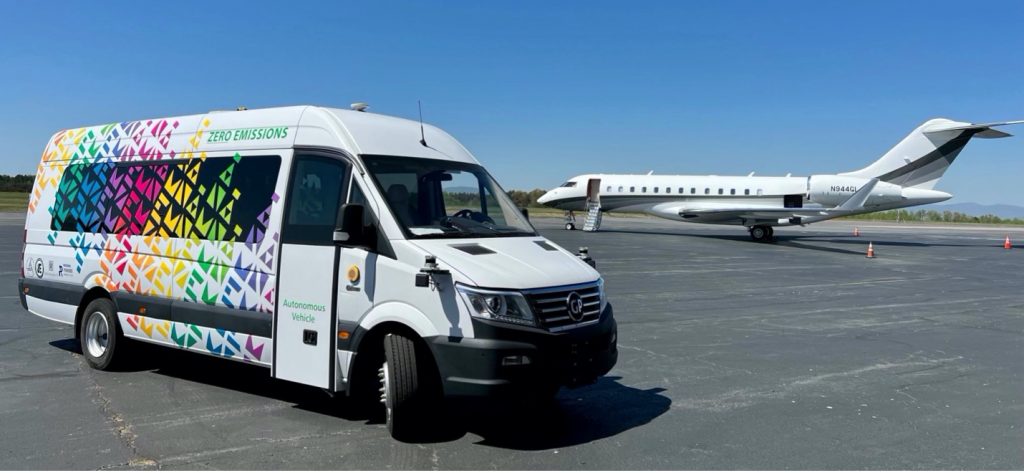 Hawaii plans to soon launch its first autonomous electric passenger shuttle.
The Hawaii Department of Transportation's new Min-E Bus is an air-conditioned, 14-passenger, AV Star all-electric autonomous shuttle. As a precautionary measure, human drivers will be seated at the wheel and able to take control, if needed.
"We are doing our part to meet the state's sustainability goals and make our roads safer," Hawaii Department of Transportation director Ed Sniffen said in a statement. "As autonomous vehicles become more widely used, the rate and severity of car accidents is expected to drop, and that will save lives."
The Min-E bus features Perrone Robotics' TONY (To Navigate to You) autonomous system and meets all federal motor vehicle safety standards. It is also ADA-compliant and can accommodate 10 passengers and two passengers in wheelchairs.
In contrast to a comparable gas-powered transit van, this electric vehicle has the capacity to save more than 660 gallons of gas per year, for roughly $3,133 savings per year, given a cost of fuel at $4.60 per gallon, and decrease carbon dioxide by 13,021 pounds per year, the Hawaii Department of Transportation noted.
This will be the first program to take advantage of Hawaii's Autonomous Vehicle Testing law passed in 2020. This project was made possible through the state's electric vehicle and charging infrastructure through public benefit company Sustainability Partners, which enables the Hawaii Department of Transportation and other state and county agencies to procure electric vehicles and charging infrastructure on a usage cost basis.
In phase I of the project, the new bus is expected to serve as part of the Rainbow Shuttle service to transport students and staff around the University of Hawaii at Manoa's upper and lower campus this summer, running every 30 minutes from 7 a.m. to 5 p.m. to 11 stops. In phase II, it is expected to provide customized mobility-on-demand services to the Kauiokahaloa Nui Apartments faculty housing complex near the Manoa Marketplace communities starting in the fall.
The University of Hawaii Manoa College of Engineering is collecting shuttle data for the Hawaii Department of Transportation. The aim is to provide the Hawaii Department of Transportation with key details as the state moves toward electrifying its motor vehicle fleet by 2035 and achieving 100 percent clean energy by 2045.
"This pilot autonomous shuttle bus project will provide first-hand experience right here in Hawaii and help us collect invaluable data that will help in our understanding of what the future of transportation and mobility will look like," Brennon Morioka, the University of Hawaii Manoa College of Engineering's dean, said in a statement. "It will help the state better prepare for the necessary changes in infrastructure as well as policies to accommodate large-scale autonomous vehicle deployments in Hawaii."
Although the University of Hawaii had announced the service would launch in June, it has been temporarily delayed. On June 18, it noted the new start date will be announced soon.