A company with military application roots is leveraging two decades of autonomous mobility experience to scale its autonomy solution for transportation and logistics edge-case end uses. CEO Alberto Lacaze details how.
Technology developer Robotic Research has been working on autonomous and robotics solutions for the industry's harshest, unstructured environments around the world since 2002. CEO Alberto Lacaze founded the Clarksburg, Maryland, company mainly to serve the U.S. DOD, with many of its military contracts geared to creating autonomy stacks for a variety of vehicles.
Originally from Uruguay, Lacaze describes himself as a "technical guy," holding close to 150 patents in the field of robotics. He developed some of the very early neural networks in the 1990s, and has worked with pretty much every aspect of autonomy stack over the years. Lacaze was part of the research faculty at the University of Maryland from the late 1990s to the early 2000s, and he worked at the National Institute of Standards of Technology as part of the government's efforts to develop autonomy systems for military vehicles.
About a decade later, the company began working on the commercial side. "We're more of an established company on the DOD side, and more of a startup on the commercial side," Lacaze said. The company's vehicle- and sensor-agnostic full-stack autonomy kit, called AutoDrive™, has been integrated in a variety of vehicles, including North America's first automated heavy-duty transit bus, Class 8 trucks and yard trucks.
MILITARY EVOLVES
The need for autonomy and robotics in the military is growing, but how to best deploy solutions within networks of legacy systems remains a challenge, Lacaze said. "As on the commercial side, the government side is trying to figure out how to place these new technologies into the traditional forces."
Some programs are pushing ahead of others on the military side, and Lacaze highlighted a few for which his company provides various forms of autonomous solutions.
The Expedient Leader-Follower program is aimed at automating convoys in a logistics application for the U.S. Army. Another program involves a small autonomous ground vehicle that carries supplies like batteries, food and stretchers for soldiers. Other weaponized systems are starting to be automated by the DOD as well, he said.
In January 2021, Robotic Research joined the Wave Relay Ecosystem, an industry alliance of sensor and unmanned system companies using Persistent Systems' mobile ad hoc network to allow warfighters access to a unified battlefield network. Robotic Research's Warloc is a boot-worn sensor for keeping track of dismounted troops in GPS-denied environments, and the company plans to include the Persistent network in its own Pegasus, a transformable UAS/UGV.
Another interesting recent application of Robotic Research's systems was shown by DD Dannar, LLC for its fully autonomous 4.00 Mobile Power Station (MPS) platform. The unmanned, zero-emission logistics vehicle and mobile power station was shown during Electric & Unmanned Logistics Demo Day in June 2021 at the U.S. Marine Corps' Air Station Miramar. The two companies demonstrated how an unmanned 4.00 MPS can be used to deliver supplies and energy-storage capacity, placing it in a prime position to be the "fuel" truck of the electrified battlefield.
"They produce off-road, heavy-duty, all-electric platforms that are already very versatile," Edward Mottern, COO at Robotic Research, said about working with Dannar. "Now add to them our robust autonomy solutions, and you have a platform that's clean, intelligent and ready to tackle a host of missions at home or abroad."
The 4.00 MPS base configuration comes with 125-kW·h BMW i3 lithium-ion batteries, but it can be upgraded to a 504 kW·h of onboard electricity to serve as a mobile microgrid while carrying hydraulic tools. The base MPS model shown and listed on the GSA can operate in 4 feet of water, weighs about 15,000 pounds and is able to carry a payload of 15,000 pounds.
"Given their utility, our MPS vehicles are often deployed in environments that are not always safe for operators," said Gary Dannar, president and CEO of Muncie, Indiana-based Dannar. "The autonomous capability available through Robotic Research gives our customers yet another way to achieve their goals while keeping personnel safe."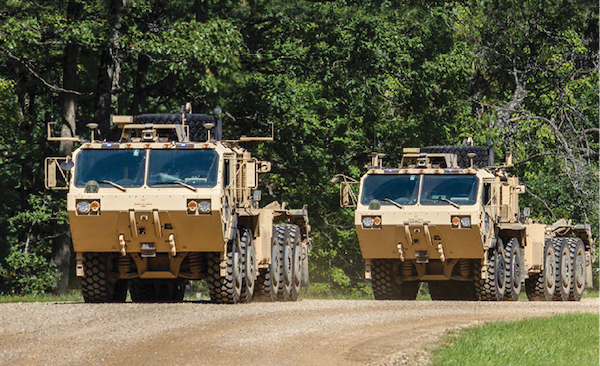 COMMERCIAL EXPANSION
The first program that helped Robotic Research begin its transition to commercial autonomy applications came about during the Afghanistan War, Lacaze said. Soldiers were coming back to the U.S. with traumatic brain injuries, and there was a need to shuttle them between the wounded warrior barracks and hospital at the U.S. Army's Fort Bragg. For that program, unassuming golf-cart-like vehicles equipped with the company's autonomous technology were running thousands of miles inside the very complicated site.
"That deployment showed us ahead of many of our competitors' foundings…a capability that was well within reach," Lacaze said. "We had the huge advantage that we were allowed to test inside of the army facilities without having to ask for permission from the Department of Transportation, which at the time was not giving permission to anybody. So, we got a lot of advantages of getting many miles and testing ahead of others."
After that Fort Bragg application, many commercial test and development applications have followed. Robotics Research is currently providing autonomous systems to New Flyer and Gillig, two of the largest bus makers in the U.S.
"We unveiled the first fully autonomous Level 4 bus a couple of years ago," Lacaze said. "We are right now productizing those devices. We have contracts right now in Connecticut and Kansas City where we're running basically the first fully autonomous bus lines in those areas."
The company is also automating trucks, with two large efforts on that side, but Lacaze can't talk too much about it yet because he's still under non-disclosure agreements.
"We're under contract in two different applications with a significant number of trucks," he said. "Most of these applications are what you would call off-road shuttle runs. One of them is for delivering logs in Canada. The other one is [for] moving aggregate from one location to another."
The company is also automating yard hostlers.
"We're in a number of pilots right now with yard hostlers for moving trailers inside of the yards' warehouses," he added.
The importance of growing the business even further was emphasized in May when RR.AI, the commercial division of Robotic Research, hired tech industry veteran Scott Sanders as vice president of business development. The company also recently hired government and regulatory policy expert Don Lefeve as vice president of corporate affairs.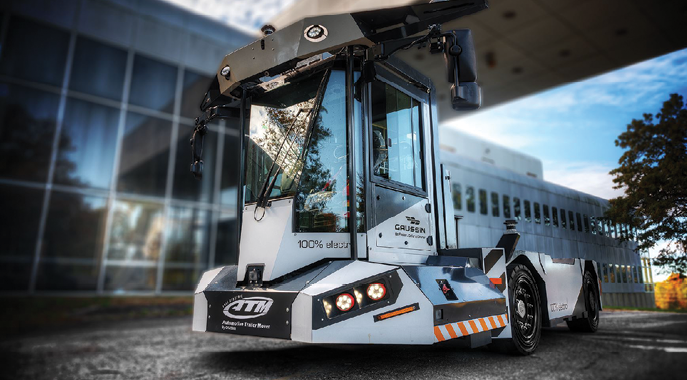 "NOT EVERYTHING IS ON THE ROAD"
Autonomy is a fast-developing trend for the on-road trucking industry, but Lacaze doesn't consider such suppliers of the technology for long-haul commercial vehicle applications as Aurora, Embark and Kodiak to be competitors.
"My understanding is that they're mainly concentrated on highway driving, which is very appealing," Lacaze said. "But we think that there is another story of autonomy, which is everything else. Not everything is on the road driving, and not everything is robotaxis."
Robotic Research has selected many applications, but not necessarily because they're easier.
"A lot of the areas where we operate are actually very challenging from a technical standpoint," Lacaze said. "But the reason why we're selecting them is because they're the low-hanging fruit. There's less regulation. Nobody's stopping you from driving anything on local roads." The company's focus is on applications with good business cases that make sense from a cost standpoint.
"They're replacing, in many cases, drivers that they cannot find or applications that are just very remote and not easy to staff, or too dangerous, or not efficient enough to do with humans," he said. "We are very picky as far as which verticals and vehicles we select."

DIFFERENTIATING FROM THE COMPETITION
Robotic Research's primary autonomy product is AutoDrive, which the company says is suitable for 360-degree autonomous driving solutions for a variety of complex operational design domains (ODDs): on-road, off-road and in-the-yard applications. AutoDrive provides both the hardware and software stacks. The hardware includes computers, navigation units and a sensor suite—and the full software stack does everything from perception to behavior generation.
"We also do other things that other groups don't do, which is a coordination of multiple vehicles to perform a task," Lacaze said. "That is something that we also bring from the military side."
For many of its new contracts, the company is also providing AutoDrive as a service. "How we engage with the customer," he added, "could be per mile, per hour and maybe a combination of both."
For its AutoDrive system, the company combines its hardware expertise with elements from other suppliers. Robotic Research's products are fairly LiDAR-centric. The exception is for military operations where active sensors are not allowed. For those, the company uses stereovision and structure-from-motion approaches.
The company builds its own navigation units, which are a "big, important part of the of the system, especially because we can run in all the applications that we talked about without GPS," he said. "And that requires some specialized hardware that is not commercially available. We do buy sensors like cameras, LiDARs and radars from OEMs."
Regarding operation without GPS, Lacaze believes it is a primary differentiator for his company's technology versus its closest competitors. However, because most of the competitors are not deploying yet, it's difficult for him to speculate on them.
"We know that this is something that we can do very well, and there's many competitions on the military side that we have won specifically because of those capabilities," he said, regarding operation without GPS. "[With] many of our customers where we're starting to have deployments or pilots, they're telling us that that is unique from us and a big advantage. Nobody wants to stop their warehouse applications every time that someone turns on a welder or a jammer, which happens .surprisingly. commonly, believe it or not."
Another key differentiator of the company's hardware and software stack is an approach that is very vehicle- and sensor-agnostic, Lacaze said. It typically makes each sensor suite specifically for an ODD (operational design domain).
"It's not like we have a standard sensor suite, and then we force that sensor suite on every vendor," he said. "We think that is wasteful. The sensor suite that goes on the yard hostlers is very different than the one that goes in the trucks, for example."
There are many similarities among the military and commercial offerings, and the freedom in selecting sensors is key to communizing as much as possible.
"It might be that, for some military applications, there are sensors that will be prohibitively expensive for a commercial application," he explained. "But in many cases, especially in the logistics-related programs, we're using commercial sensors as well."
Where the rubber hits the road on the military side, there are greater demands on connectors, weatherizing and shock and vibration. The standards are also different, but there are some similarities to ASIL-D and ISO 26262.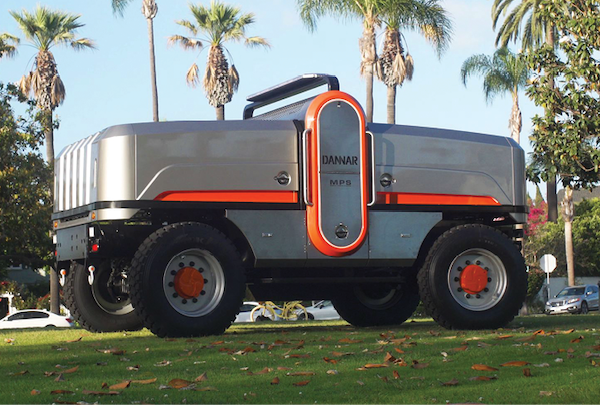 BIG CHALLENGES
Despite currently concentrating on "low-hanging fruit," Robotic Research will have to deal with regulation as it further commercializes AutoDrive. Once his company needs to go on public roads in a big way, Lacaze is hoping for more homogeneous safety certification.
Like other industry execs, he is also looking forward to a future when there are no parts shortages.
"It's not only harder to find parts to make autonomy kits, but the vehicle manufacturers are all delayed on producing vehicles," he said. "It's long waits for every vehicle that you order, so that's slowing down the whole industry."
Pricing is another key challenge, Lacaze said.
"The LiDAR manufacturers, once they start producing in quantities, [will be able to] lower their prices significantly, but now they're still expensive," he said. "If you want to have a vehicle that is well equipped, that means that it's a big investment from a usage standpoint. That's why we pick and choose customers very carefully, because it has to make sense for the customer to do autonomy. That cost equilibrium has to be there even at current sensor prices."
As Robotic Research strives for greater commercial success, the company needs to do a better job at promoting its capabilities. Many years ago, when it was working exclusively on the DOD side, Lacaze noted, "it was not a priority for the company to make a big noise about who we were. Even though we probably have more vehicles out there in operators' hands than anyone else right now, with our AI and our commercial side, obviously we're making a little bit more effort on the advertising side."
However, Lacaze is confident of further commercial success.
"Because our technology applies to areas that others cannot currently, or at least are not focused on delivering, it's a big advantage for us," he said. "We can go to customers that right now are not being served by anybody else."