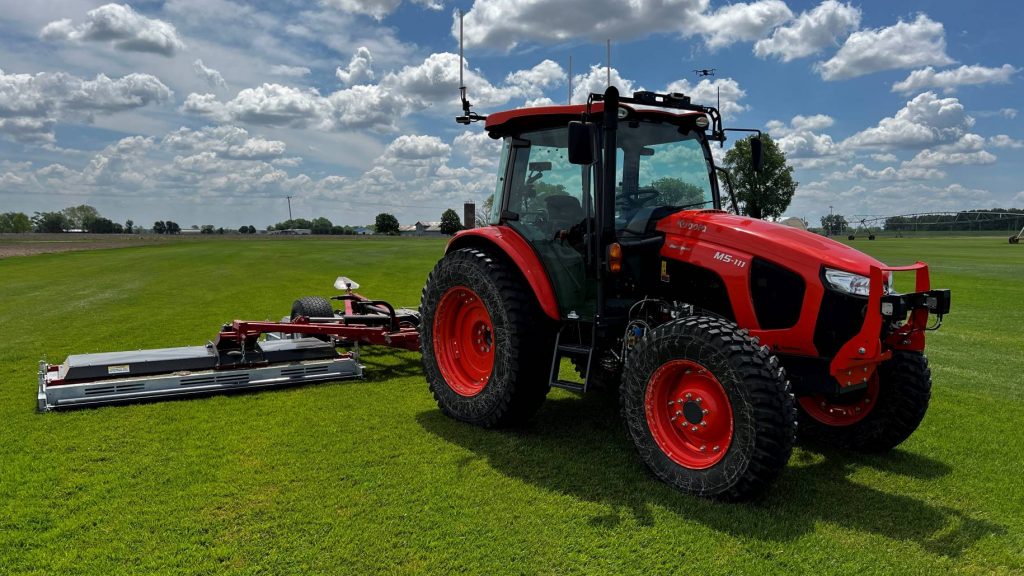 Swarming farm autonomy startup Sabanto, Inc. has taken a big step in commercializing autonomous farming and mowing operations with the introduction of Steward technology. Aimed at automating existing tractors to allow them to perform tasks without an operator present, it could massively influence productivity and performance, allowing workers to focus on other jobs around the farm/operation while tractors run on their own.
The company's autonomous technology is engineered and developed to be simple to use, safety-focused, and cost-effective. It could have major implications in labor, time savings, and operational efficiencies from typical farm tractor applications to mowing operations at airports, military bases, and sod farms.
"We're just a bunch of smart farm kids and engineers helping other farmers, producers, and operators solve some of their most pressing problems: labor shortages, high capital costs, and scaling operations," said Craig Rupp, Sabanto's Founder and CEO. "With Steward, a single operator can deploy multiple tractors to achieve more with less, while also giving them time back to focus on other aspects of their operations."
Itasca, IL-based startup's mission—led by Rupp, COO Kyle Dooley, and CTO Ravi Yenduri—is to accelerate autonomy in agricultural machinery to solve two primary problems: the increasingly acute scarcity of labor in rural areas and the ever-increasing capital expenses of modern ag machinery. Its core competency is in low-cost retrofitting of existing agricultural machines, regardless of make or model, and the development of supporting software to maximize the autonomous technology's ability to increase producer return on investment.
"We see a future of smarter, smaller, lighter, less expensive, and more sustainable swarms of autonomous equipment, substituting horsepower and weight for time," said Rupp. "We've assembled a team of actual ag-experienced engineers and scientists, working alongside real farmers, proving this isn't just a thought exercise."
In August 2022, Sabanto announced it has closed an oversubscribed $17 million Series A funding round led by leading agtech venture firm Fulcrum Global Capital, with participation from DCVC Bio, Hico Capital, Yara Growth Ventures, Cavallo Ventures, Johnsonville Ventures, and Trimble Ventures.
Sabanto has proven its capabilities by automating a variety of row-crop and field operations. Leveraging a fleet of smaller 60- to 90-hp tractors, the company has autonomously tilled, planted, seeded, weeded, applied, and mowed across the U.S. Midwest. Its mission control platform has been pivotal in deploying multiple systems for multiple days of non-stop operation, planting over 750 acres of corn and soybeans in one season with a single 60-hp tractor.
"Finally, a company is solving our labor problems and taking us in the other direction," said JJ Granstrom, owner of Granstrom Farms and customer of Sabanto. "We're witnessing a huge snowball effect, and it's all because of the size of the machinery. It's more expensive. It's harder to operate. It's harder to resell."
The funding helped the company accelerate its mission to make autonomy an affordable, reliable, and scalable solution, allowing it to increase its farming-as-a-service operations to more farmers, on more crops, over more acres, and across more states.
"Sabanto combines a talented and experienced team with a differentiated and well-developed technology stack, focused on an agriculture industry experiencing significant global tailwinds towards autonomy," said John Peryam, Co-founder and Partner of Fulcrum Global Capital, and now on Sabanto's Board of Directors.
With Steward's latest vMC (vehicle mission control), users can create, manage, and monitor field operations in real-time ‌on their mobile phone or tablet app. The onboard vPFM (vehicle path finding module) connects to a tractor's steering, power, and hydraulic systems, and works with the vOS (vehicle operating system), converting mission control instructions into field operations.
Cellular connectivity, GNSS receivers, lidar sensors, and intelligent video cameras connect with Steward's vPFM, sending and receiving navigational, performance, and video data so users can monitor their field operations in real-time. Ensuring that the system operates safely are object detection, enforced geofences, handheld kill switch, and on-tractor and remote emergency stops.
Steward is now available via select dealers across North America.