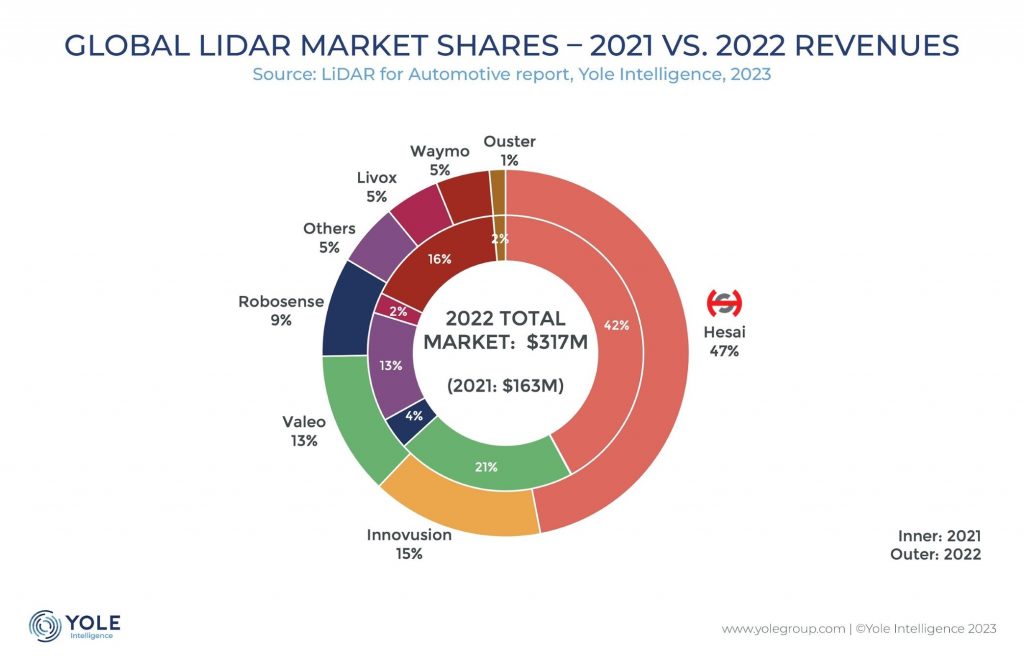 The global lidar market for automotive is expected to grow from $317 million in 2022 to $4.48 billion in 2028, according to Yole Intelligence. In its LiDAR for Automotive 2023 report, the consultancy looks at the markets as two distinct segments—PC/LCV (passenger car/light commercial vehicle) and robotaxi—as the dynamics are different.
Since Yole began following the lidar market in 2019, the robotaxi segment has been leading. The first robotaxi services started in 2016 with NuTonomy in Singapore and Uber ATG in Pittsburgh followed in 2017 with Waymo in Phoenix and Cruise in San Francisco. The global emergence of Chinese players, such as DiDi, AutoX, and Baidu, which quickly opened new services in cities worldwide, had pulled the lidar market for the robotaxi segment even farther ahead of passenger cars.
However, 2022 represents a crossroads for the market, "as these two markets generated almost the same revenue: $169 million for passenger cars and $147 million for robotaxis," said Pierrick Boulay, Senior Analyst, Lighting and ADAS systems, at Yole Intelligence. In addition, the growth potential differs for these two markets with "a 69% CAGR (compound annual growth rate) between 2022 and 2028 for passenger cars compared to a 25% CAGR for robotaxis in the same period."
Behind these numbers, the PC/LCV market has taken off. Of the 144 design wins counted since 2018, 114 of them are scheduled for 2023 or soon after.
Chinese OEMs are pushing for the integration of lidar solutions in their cars. While the European and U.S. OEMs have limited to lidar to the F-segment, the Chinese are now releasing cars with lidar in the D-segment, which are much more affordable and much higher volume, so lidar will proliferate. More than 25 Chinese OEMs are implementing lidar in their cars.
The automotive lidar ecosystem, including both segments, is already quite large, according to Yole, which monitors about 50 companies. Some are already in mass production, while others are still in the R&D phase and working on the next generation of sensor technology.
"Regarding the robotaxi market, few players are generating significant revenue," said Boulay. "Hesai Technology controls the market, with a 67% market share, as their lidars can be found in most robotaxis such as Cruise, Aurora, Apollo, DiDi, Pony.ai, and AutoX. Indeed, Hesai Technology replaced Velodyne, which previously led this market."
In the PC/LCV market, things are evolving rapidly, and are expected to change again in the coming years. Since 2018, Valeo has been a clear leader, as they supplied most of the cars released with lidar due to partnerships with Audi, Honda, and Mercedes-Benz.
In 2022, the market changed dramatically, as Innovusion, a relative unknown before, set a high mark with more than 56,000 lidars shipped to Nio. Innovusion led Valeo by only a few hundred units.
One of the most significant changes was the entry of Hesai Technology in third and RoboSense in fourth. These Chinese suppliers only started to ship in volume in 2022 and have partnerships with most Chinese OEMs. The remaining suppliers share the final 11% of the market, with 8% for Livox due to their partnership with OEM XPeng.
According to Yole Intelligence, in 2023 Hesai Technology and RoboSense are expected to lead the market for passenger cars, taking the first two places. However, Valeo is still in good shape as it announced a $1 billion order for its Scala 3 lidar.