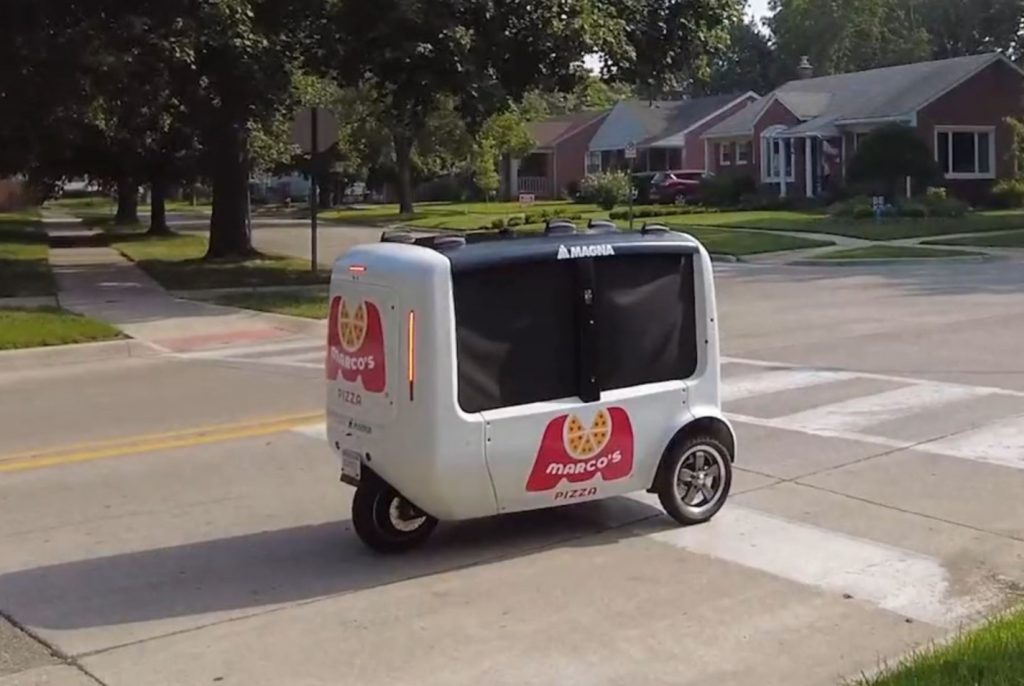 Marco's Pizza, one of the nation's fastest-growing pizza brands, has selected Magna to explore new-mobility solutions in last-mile food delivery in certain locations throughout North America. The two companies signed a memorandum of understanding to test with Marco's franchisees various platform options including autonomous and electric solutions with purpose-built, dedicated delivery solutions that are low-cost and environmentally friendly.
"As one of the largest pizza brands, we invest in innovations that drive our franchisees' businesses forward while meeting the needs of today's modern customer," said Rick Stanbridge, Executive Vice President and Chief Information Officer for Marco's Pizza. "Our strategic collaboration with Magna exemplifies this forward-thinking approach, and we plan to leverage their expertise to amplify our operations and elevate customer satisfaction."
Over the next several months, Magna and Marco's will discuss proof-of-concept followed by a kick-off of in-market pilot projects with participating franchisees. These initial projects will provide valuable data and insights into last-mile delivery usage rates, customer acceptance, and overall efficiency.
"As we look at how people and goods will move in the future, we are continuously identifying new applications and technologies to match the needs of the expanded mobility landscape, the last-mile delivery market being one of them," said Matteo Del Sorbo, Executive Vice President at Magna and Global Lead for Magna New Mobility. "By collaborating with a company like Marco's, we want to not only create an exceptional experience for their franchisees and customers but continue to evolve our last-mile delivery offerings."
This is not Magna's first foray into pizza delivery. At the 2022 North American International Auto Show in Detroit, it revealed that it was developing and piloting its own autonomous, on-road last-mile delivery solution on a pilot basis with a Brooklyn Pizza restaurant in the Detroit area. Magna-developed low-speed autonomous driving system and delivery software for the lightweight, electric robot.
The company's new mobility team built a "full-stack" solution from the ground up, leveraging hardware and software from its automotive products. The robot can travel at up to 20 mph (32 km/h) on public streets and its low-speed autonomous driving system uses cameras, radar, lidar, and "other hardware."
Since then, Magna tells Inside Autonomous Vehicles that the technology has continued to advance as the company moves closer to its internal development goals. What makes the proof-of-concept collaboration with Marco's different is that it will include multiple last-mile delivery platform options including an electric low-speed two-wheel scooter; an electric autonomous on-road last-mile delivery vehicle; and an electric autonomous sidewalk delivery solution.
During an investor update earlier this month, Magna CEO Swamy Kotagiri announced that its new mobility initiative in manufacturing was achieving about 1000 deliveries per day using Magna-produced "bots."
About a year ago, San Francisco-based robotics company Cartken announced that Magna would manufacture Cartken's autonomous delivery robot fleet to meet growing demand for its last-mile delivery offering. More significantly, the collaboration to manufacture Cartken's Model C was part of a plan to create additional autonomous delivery models based on the same platform for different use cases and robot-as-a-service business models.
"We are manufacturing autonomous robots for last-mile delivery and have multiple proof-of-concept projects for material handling underway at Magna facilities," said Kotagiri. "Given our manufacturing expertise and the growing market for autonomous bots, we are an ideal industrialization partner and we are building an integrated software platform for our connected hardware offerings that can support new markets and recurring revenue opportunities."
He says that the company forecasts sales of about $300 million by 2027 for new mobility initiatives like bots "with a significant runway for growth going forward," he concluded. "We remain optimistic about the future of mobility and Magna's role in it as our addressable markets grow."