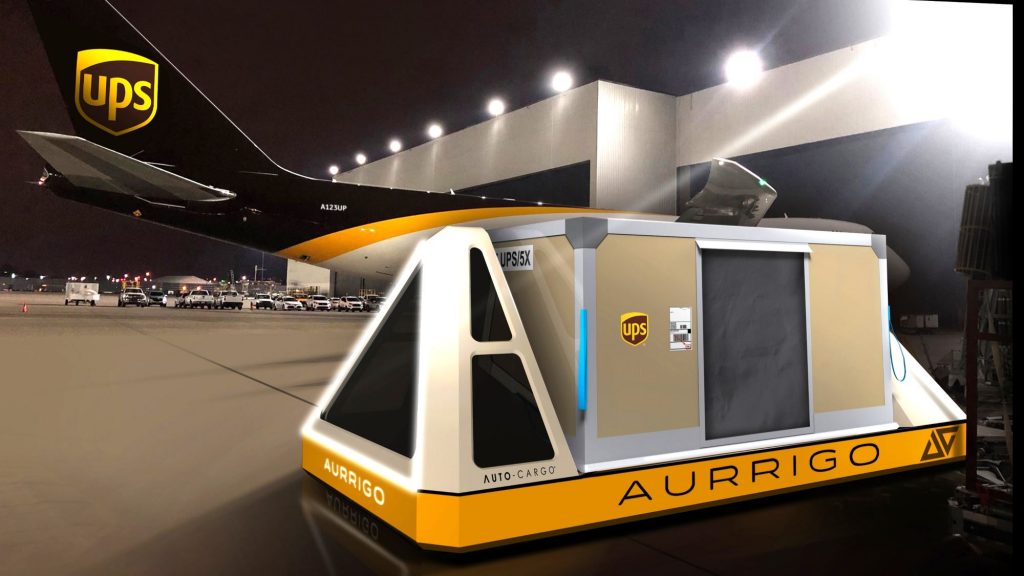 Aurrigo International PLC today announced a project to deploy its Auto-Cargo, an autonomous electric vehicle designed to move heavy cargo loads to and from aircraft, with UPS at its hub at the East Midlands Airport, the UK's second-largest cargo terminal. The two companies will develop and pilot the vehicle there over a 14-month period.
The Auto-Cargo can transport a standard full-size cargo pallet or two half-size aviation industry standard containers or ULDs (unit load devices) up to a total load of 7.5 t, and it is designed to tow a further fully loaded cargo trailer behind it.
"This vehicle allows an airfreight operator to help decarbonize and automate its ground operations for lower emissions and greater efficiency," said David Keene, Aurrigo CEO and Co-founder. "By combining the tractor and trailer into one unit, we save space, which in a busy cargo hub like East Midlands Airport is vital to efficient loading and unloading of aircraft."
The vehicle's autonomous electric technology will enable a limited number of security-cleared drivers to be freed up to perform other roles around the airport while also producing zero tailpipe emissions.
"Our business is all about delivering parcels efficiently through our global, integrated network," said Matt Nicholson, UPS International Director of Automotive Engineering. "This collaboration will help us do that with increased safety and zero tailpipe emissions, making our airside operation more efficient with a purpose-designed vehicle."
The program is supported by almost £500,000 in matched funding from the UK government's Innovate UK innovation agency and the CCAV (Centre for Connected and Autonomous Vehicles).
For the majority of its 30-year history, Aurrigo has made components, prototypes, and one-off models for carmakers like Aston Martin, Bentley, Jaguar Land Rover, McLaren, and Rolls Royce. However, Keene pivoted the business in 2019 to address the autonomous electric vehicle market. Having worked on some prototype vehicles, he realized that making the software, hardware, and vehicle in-house was optimal to maximize the benefits of being electric and autonomous.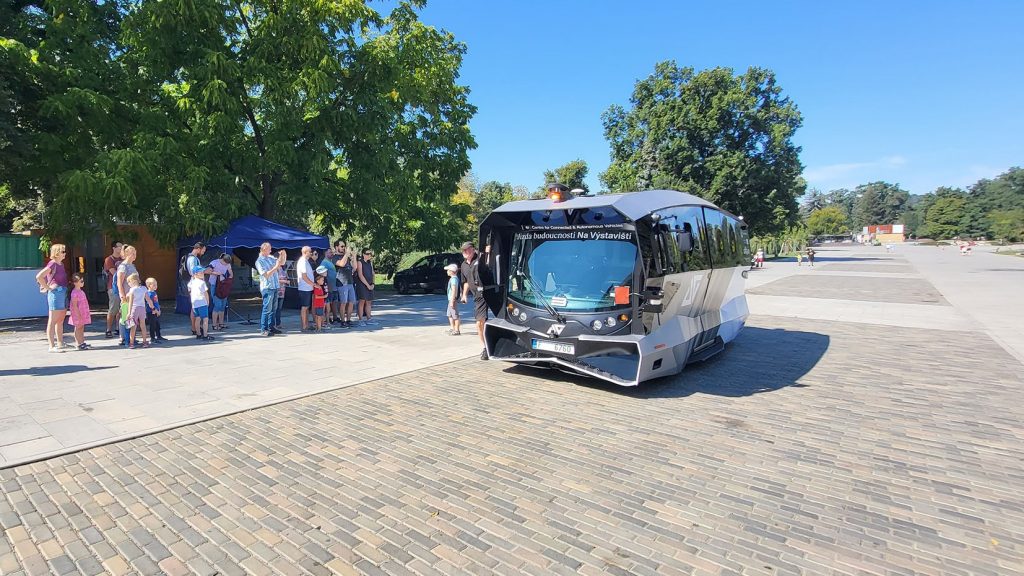 The pivot seems to be paying off in more high-profile projects. Earlier in September, the company announced its leading role in the EU-funded Living Lab for Autonomous Public Transport (LivingLAPT) project of the European Institute for Innovation and Technology (EIT). For the project, its Auto-Shuttle vehicles will initially run with a safety driver on board, but the aim is to move autonomous public transport to the next level of autonomy by working to remove the vehicle safety driver and use remote supervision.
The project is led by the University College London and is running in Prague, Brno, and Milton Keynes, with 90% of Aurrigo's project costs coming from the EIT. The initial phase is examining integration with trip planning applications used in those cities. It aims to build trust in autonomous driving, through a robust transnational safety framework, as well as promote user acceptance and trust in close collaboration with citizens, cities, operators, academia, industry, and policymakers.
"Cities face challenges such as reducing emissions, improving the safety and mobility of cyclists or pedestrians, and increasing quality of life for citizens," explained Bani Anvari, Professor of Intelligent Mobility at University College London. "Driverless shuttles or pods can be a game changer for cities as they address many of these challenges. Low public acceptance in combination with high investments in the new technology—including insurance and safety driver—are a barrier to adoption for many cities."
By working with multiple cities in more than one country, the participants expect to gain experience from different types of street layouts, road conditions, and public attitudes to autonomy.
The European project represents a milestone for Aurrigo, according to Keene: "This is the first Auto-Shuttle deployment in mainland Europe for Aurrigo. The medieval, cobbled streets of Prague built before cars or buses were dreamt of are in stark contrast to the modern roads of Milton Keynes, which shows the importance of testing in multiple cities."
For the Auto-Shuttle, Aurrigo creates the vehicle, software, and autonomous driving hardware in-house. The Aurrigo technology suite brings together LiDAR and cameras with software to give a 3D, all-weather picture of its surroundings to enhance safety and efficiency.