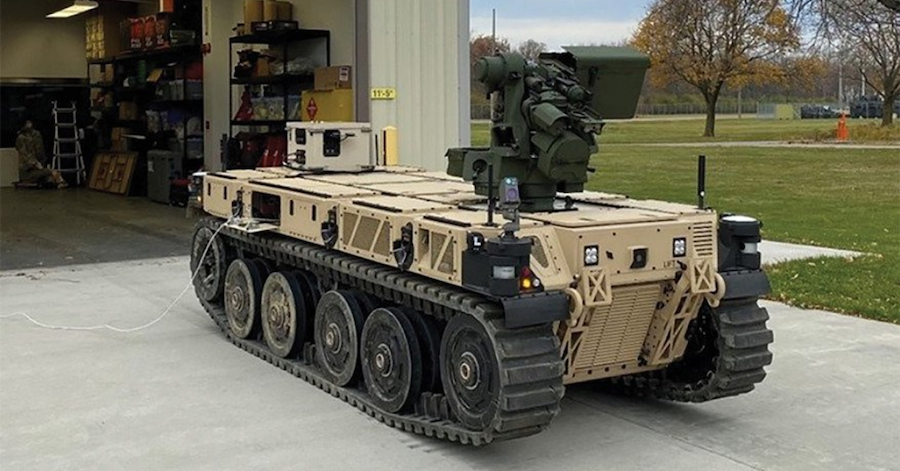 Autonomous trucking startup Kodiak Robotics was awarded a nearly $50 million 24-month contract from the U.S. Department of Defense to help automate future U.S. Army ground vehicles, the company announced December 6.
The $49.9 million contract, which started in October, will have Kodiak use its commercial self-driving software to develop, test and deploy autonomous capabilities for driverless vehicles designed for reconnaissance, surveillance, and other high-risk missions.
"Kodiak was the only autonomous vehicle company initially selected for this award out of 33 submissions, thanks to our proven leadership in autonomous systems development and commercialization, as well as our foundational focus on safety," Don Burnette, Kodiak's CEO and founder, said in a blog post.
In the first year of this project, Kodiak aims to apply its autonomous software stack for Army specific use cases, including future Army vehicles. In the second year, the company plans to implement its autonomous driving system on off-road vehicles capable of traversing complex terrain and operating remotely in unpredictable and austere conditions.
"A key part of the project will be to develop a continuous technical pipeline that will enable the rapid development and deployment of new autonomous vehicle technologies as they become commercially available," Burnette added in the blog post.
The contract aims to see Kodiak develop autonomous vehicle technology to navigate complex terrain, diverse operational conditions and GPS-challenged environments. The company also aims to provide the ability to remotely operate vehicles when necessary.
This award was granted on behalf of the Army's Robotic Combat Vehicle program by the Defense Department's Defense Innovation Unit (DIU).
"I started Kodiak because I believe autonomous technology can save lives, and helping the U.S. Army develop driverless vehicles for the most challenging operating environments fits perfectly with that goal," Burnette said in a statement. "We are proud to have the opportunity to leverage our cutting-edge self-driving technology for defense applications, and believe our work with DIU and the U.S. Army will both help strengthen national security and hasten our path to commercial deployment. We owe a debt of gratitude to the servicemen and women who step into harm's way to keep us safe; keeping them safe in return is an honor we take seriously."
The DIU focuses exclusively on adopting and scaling technologies developed by commercial partners to help strengthen U.S. national security by solving critical field challenges faced by the U.S. military in six key areas—artificial intelligence, autonomy, cyber, energy, human systems, and space.
"There has been a revolution in the techniques and capabilities of uncrewed ground vehicles occurring in the private sector over the past two decades," Kevin O'Brien, technical director for DIU's autonomy portfolio, said in a statement. "We're eager to bring these matured technologies back into the Department of Defense, where initial work was inspired by the DARPA Grand Challenges."
Burnette noted the capabilities that Kodiak will develop for the military over the next two years will also help it with civilian applications. "Our military work will help us progress Kodiak's trucking stack and core commercial offering, including partnering with the Army and DIU to ensure the Kodiak Driver meets the highest standards for safety and security," he said in the blog post.