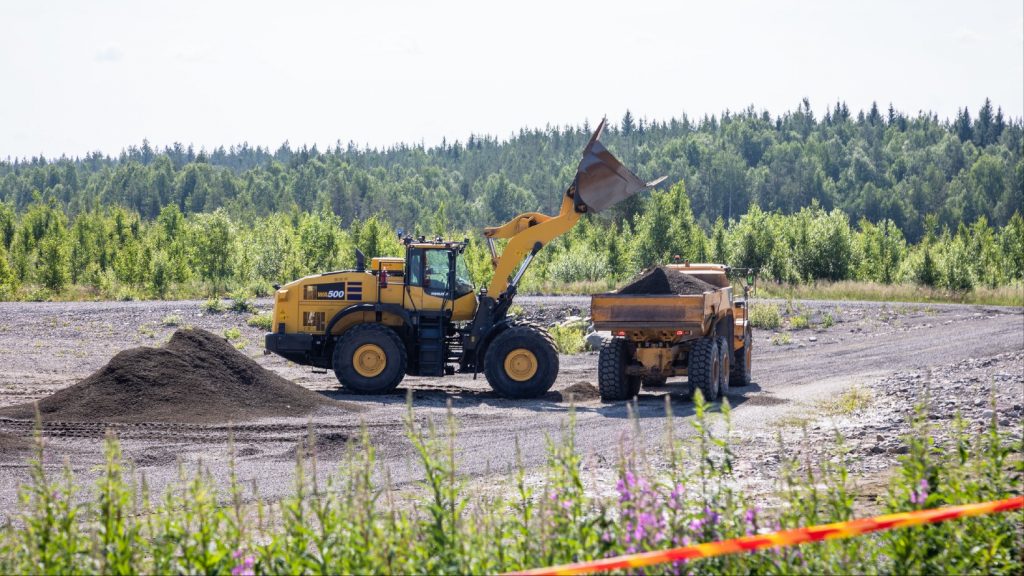 Momentum is building for Palo Alto, CA-based Teleo in its mission to build autonomous technology for heavy construction and material moving industries by retrofitting traditional heavy equipment with autonomous and remote-operated technology to create supervised autonomous machines. Its Teleo Supervised Autonomy technology lets contractors operate existing heavy equipment without an operator in the cab, letting one person control multiple pieces of equipment from a remote desk. This increases productivity, safety, and operator satisfaction—critical challenges in the construction industry.
The company this week is demonstrating Teleo Supervised Autonomy at the UP.Summit, an event put on by Teleo investor UP.Partners from Oct. 4 to 6 in Dallas, TX. Attendees will see machines operating at both Teleo's Pleasanton, CA, proving ground and the Ouluzone racetrack worksite in Finland. The company says that the Dallas-to-Finland demo is the world's longest, supervised autonomous operation in history. The event marks the first time that remote operators, working from the comfort of a control center, can operate up to three Teleo-equipped machines, which is said to set a new standard for remote capabilities and autonomous operations.
In conjunction with the event, Teleo announced that Tomahawk Construction will become the first customer to deploy its autonomous capabilities on an active job site, with its articulated dump trucks able to use autonomous functions to move material at a residential community in Naples, FL, starting in December. The autonomy company also announced deals with eight new construction customers including Florida-based Ajax Paving Industries of FL, LLC. Ozark Laser, Murphy Tractor, and Position Partners have been added to its global dealer partner network, expanding its dealer footprint across seven states in the U.S. Midwest, Australia, New Zealand, and Southeast Asia.
"Construction companies are facing historic labor shortages and incurring significant costs as their machines sit idle," said Vinay Shet, Co-founder and CEO, at Teleo. "We are seeing an unprecedented number of customer orders, which demonstrates Teleo's powerful value proposition. Our technology breathes new life into our customers' machines, addresses their labor shortages, and makes the operators' role safer and more comfortable."
The initial capability being launched by Teleo is autonomous tramming or hauling of materials from one point to another. Tomahawk Construction will use retrofitted articulated dump trucks for autonomous tramming across the Florida job site. The autonomous feature will be introduced on three machines and rolled out to 12 more over the course of a few months.
Operators driving dump trucks spend most of their time tramming from point to point. By automating the tramming portion, an operator can run multiple machines simultaneously, multiplying productivity. The physical dumping of materials will be handled remotely by one operator controlling multiple machines from a comfortable command center.
"With Teleo, two of our dump trucks that have been idle will be put back into service to haul dirt across the site autonomously, allowing our remote operators to do more," said Scott Lyons, Managing Member, of Tomahawk Construction. "This will help us to run a more efficient operation."
Teleo has been testing autonomous capabilities on two John Deere 333G compact track loader skid steers, at its Pleasanton, CA, proving grounds, and on a Komatsu WA500 wheel loader moving dirt at the Ouluzone race track property in Finland, which is affiliated with the University of Oulu.
The eight new customers announced today will deploy 42 Teleo-enabled machines on 17 job sites across eight U.S. states and Europe. Teleo will retrofit machines—ranging in model year from 2005 to 2022—from brands such as Caterpillar, Komatsu, John Deere, and Volvo for remote and autonomous operations. The company plans to have 20 machines on customer sites by the end of this year.
Ajax Paving will use Teleo technology on two new Caterpillar wheel loaders at two of the company's asphalt manufacturing plants to load bins. The operation at plants roughly 80 miles apart marks the first time one operator will work the technology simultaneously across two job sites.
Allowing one operator to control machines at multiple sites is a significant advantage, said Andy DeCraene, Vice President, of Ajax Paving.
"When our customers require asphalt, we must deliver promptly, making it imperative for our machines and operators to remain available," he said. "If an operator is unavailable at one site, another can operate the machine remotely. This is a genuine game changer for our business."