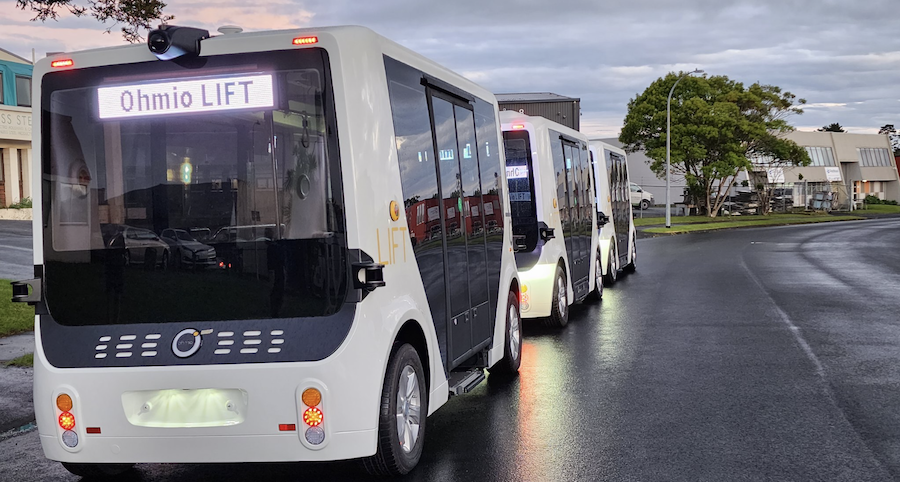 In June, John F. Kennedy Airport in New York will host the first demonstration of platooning of three autonomous vehicles at a U.S. airport, according to an announcement in February by the Port Authority of New York and New Jersey and New Zealand-based autonomous mobility company Ohmio.
This is the second platooning display at the airport. The first, in October, conducted by French autonomous vehicle manufacturer Navya, involved two eight-passenger electric autonomous shuttles. The Port Authority of New York and New Jersey also saw a demonstration of platooning and lane-keeping technology on retrofitted buses in the Lincoln Tunnel Exclusive Bus Lane in June.
"We had great success in 2022 with this technology, and this second demonstration will allow us to evaluate and test a larger platoon at faster speeds," Port Authority chairman Kevin O'Toole said in a statement. "At the same time, we are actively looking at where we can apply AV technology within our footprint."
Autonomous vehicle platooning may prove particularly useful in airport environments to transport passengers in a single movement for short connections such as access to a nearby commuter rail station, an airport rental car facility, or from an AirTrain station to the furthest ends of long-term parking lots. The Port Authority is also looking to use autonomous technology in public transit to improve customer service and reliability and to increase capacity, such as piloting autonomous buses in the Lincoln Tunnel's Exclusive Bus Lane to increase service to the Midtown Bus Terminal during peak travel periods.
"The Port Authority seeks to be a leader in the region in testing and considering the use of autonomous technology in public transit," Port Authority executive director Rick Cotton said in a statement. "In addition to the completion of our autonomous bus pilot at the Lincoln Tunnel, we look forward to further testing of autonomous vehicle platoons, autonomous streetsweepers, and applying the technology to potential last-mile solutions in 2023 to advance how we as an agency can keep the region moving."
The upcoming Ohmio demonstration will focus on using eight-passenger driverless shuttles in a three-vehicle platoon on a closed road segment at the JFK long-term parking lot, where they will travel very closely together without any physical connection.
"This is a significant milestone for Ohmio," Ohmio executive chairman Mohammed Hikmet said in a statement. "The company is excited to have this opportunity to demonstrate our latest technology. We look forward to a successful demonstration with the Port Authority in the New York metropolitan area and hope that this will be the first of many projects in the United States."
Following the Ohmio platooning pilot at JFK, the agency will look for longer-term use cases, such as moving passengers between parking lots and on-airport facilities.