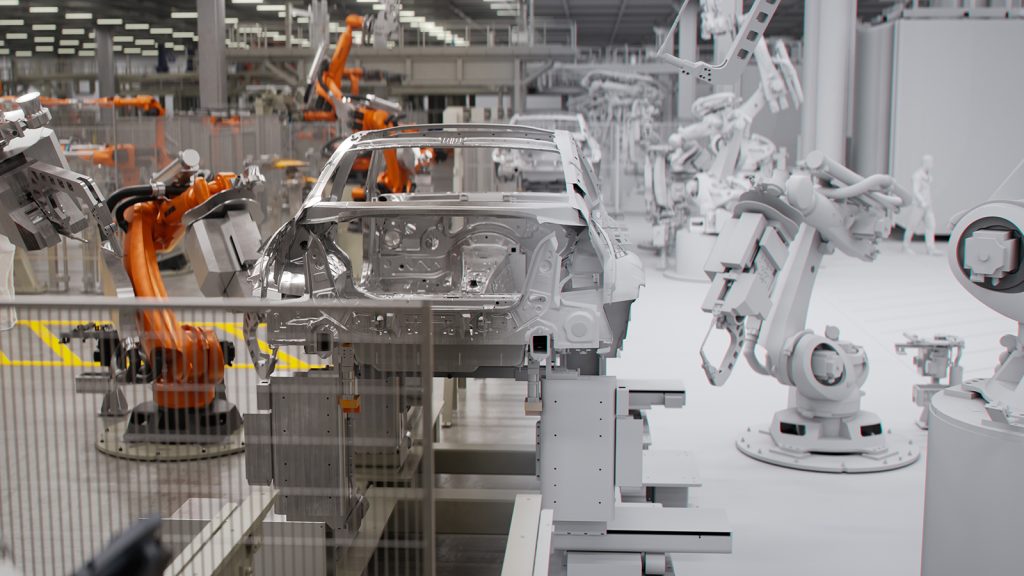 Nvidia's latest GTC developed conference kicks off this week with CEO Jensen Huang delivering his keynote today. Before the event, Ali Kani, Vice President of Automotive at Nvidia, walked the media through the company's automotive-related news with a focus on the Omniverse virtual development platform and the latest developments in ADAS (advanced driving assistance systems) and autonomous driving.
While Drive is Nvidia's headlining automotive solution, a big focus of the GTC news was on Omniverse, a virtual development platform based on Pixar's USD (Universal Scene Description) technology. Kani highlighted how the solution has made inroads in automotive.
The company has already announced that Volvo uses Omniverse to connect and unify asset pipelines from design to engineering. General Motors enables its designers and artists to virtually create a digital twin of a car and then evaluate its aerodynamics. Toyota, Mercedes-Benz, and BMW have adopted Omniverse to build fully digitalized smart factories.
At this GTC, Nvidia announced that Omniverse is getting expanded use across nearly three dozen BMW Group factories worldwide. The automaker's digital-first approach to validate and optimize complex manufacturing systems across its production network lets it run real-time digital twin simulations to optimize layouts, robotics, and logistics systems virtually.

"Debrecen (in Hungary) will be the BMW group's first scheduled facility opening in 2025," said Kani. "Construction's already begun there, and the new facility is scheduled to produce the BMW Group's next generation of all-electric models, the Neue Klasse."
With Omniverse, a 3D language that creates interoperability between software suites, BMW is able to bridge existing software and data repositories from leading industrial computer-aided design and engineering tools such as Siemens Process Simulate, Autodesk Revit, and Bentley Systems MicroStation.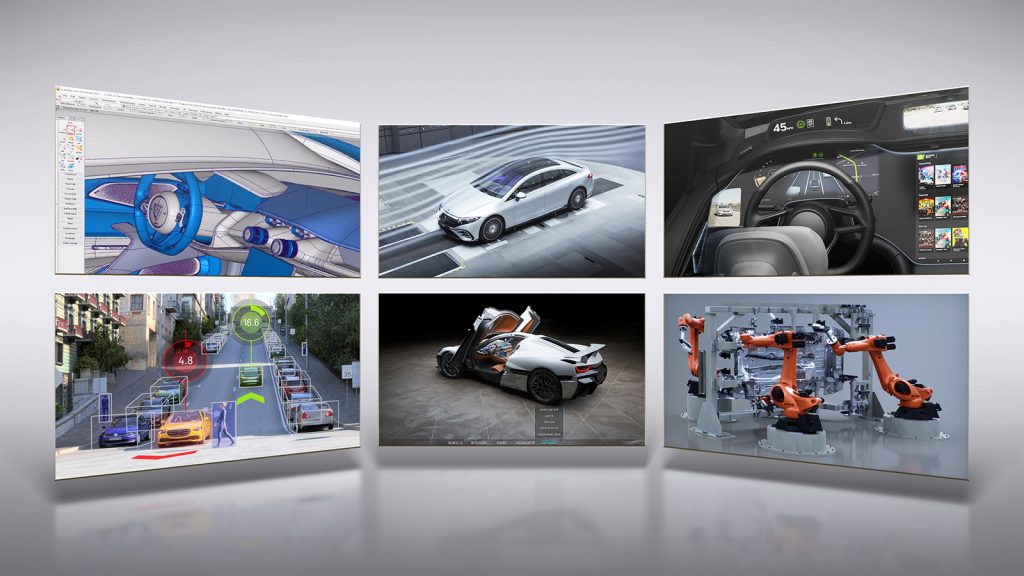 BYD going broader with software stack
In what could be the most significant automotive news from the event, Nvidia announced that BYD, the world's leading manufacturer of NEVs (new energy vehicles, which includes hybrids), will extend its use of the Nvidia Drive Orin centralized compute platform in a broader range of its NEVs.
"This is a super important announcement that we're really excited about," said Kani. "BYD is the top-selling new energy vehicle OEM in the industry, selling 1.8 million new energy vehicles last year, and they're growing rapidly at over 300% year-on-year growth. Today we're announcing that BYD plans to roll out Nvidia-powered Orin computers in its mainstream Dynasty and Ocean vehicle lines."
Nvidia, BYD shares the belief that future cars will evolve from being based on many embedded controllers to high-performance centralized computers, with functionalities delivered and enhanced through software updates over the life of the car. The compute power from Drive Orin—which Nvidia describes as the highest-performance automotive-grade processor on the market—enables diverse, redundant sensor processing in real-time, and provides automakers with the compute headroom to develop and support new software-driven services throughout the life of a vehicle.
"In the case of BYD, they are building the application software stack," said Kani. "It's going to be running on our hardware platform Drive Orin AGX."
Since entering production last year, the Drive Orin AI engine is engineered for new-generation NEVs, robotaxis, shuttles, and trucks. The scalable platform is capable of performing up to 254 TOPS (trillion operations per second), enabling it to power AI cockpits as well as automated driving functions—simultaneously running numerous deep neural networks to provide the ultimate safety and reliability.
The BYD partnership highlights a key automotive industry trend, according to Kani.
"We have a lot of partners who've developed their stack on their premium platform, and they realized that the only way to scale a software investment to manage a fleet and not just cars are to have that same software architecture and stack across their vehicles," he said. "That's what BYD's doing. They're taking that core architecture and software stack they developed on the high-end vehicle that we announced a year and a half ago, and now they're pushing that software stack down. Essentially it becomes a fleet of a single architecture that they're managing and trying to generate new revenues and services from it."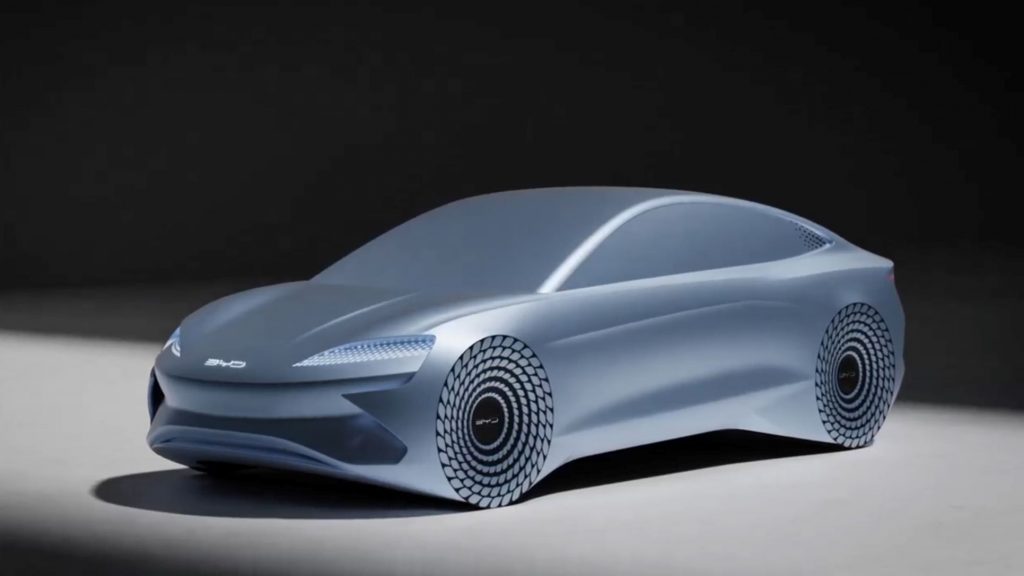 Partnering with suppliers
Among a number of other transportation industry announcements, one gave a little more detail on automotive newcomer Lenovo. The new Tier One manufacturer of autonomous driving domain controllers is basing its tech on Nvidia's next-generation Drive Thor centralized computer, with production starting in 2025. The partnership highlights Nvidia's architecting of its platform in modules.
"They're building computers for ADAS and cockpit in a vehicle, and they're also building the APIs aligned to our Hyperion architecture inside the electric vehicle," he said. "If you are a customer of theirs, you're not just getting a computer, you're building kind of an architecture that has industry standard APIs that Nvidia has developed as part of Hyperion that easily integrates into a vehicle. Then an OEM can say, I'm going to take my vehicle architecture and align it to how the ADAS APIs align to a vehicle's dynamics. Then it makes everything a lot easier for the industry to innovate from there."
Nvidia also announced a co-development project with Rimac Technology, the engineering arm of the Croatian-based electric sports car manufacturer Rimac that is working on a new centralized vehicle architecture. Dubbed the Rimac central vehicle computer, it will power ADAS and in-vehicle cockpit systems. Nvidia Drive hardware and application software will be used on the platform along with Rimac's driver coach and in-vehicle cockpit software.
"They're partnering with us on our autonomous driving application software," said Kani. "So together now you have a vehicle that's running on our hardware that's using our software for active safety, parking, and autonomous driving."
He added that the Rimac partnership is starting with Orin systems, migrating to Thor systems running Nvidia's application software stack middleware and OS.
The grand challenge of autonomous driving
While it offers solutions for the full autonomous driving stack, automotive companies are increasingly asking Nvidia to support lower-level assisted driving and other vehicle development efforts. The scope of the investment needed in automotive "is just staggering," he said. That includes electrification, and "the entire cockpit experience is fundamentally being reimagined."
Building Level 4 software is so much harder than anyone imagined, he said. "There's no room for error in something like autonomous driving. Even robotaxi companies are trying to make it work in one city are having challenges, and these are the best tech companies in the world. It's an order of magnitude harder, so it just makes sense to extend that capability of Level 2 and Level 3 further and take your time to do Level 4. It's clear that Level 4 is going be a grand challenge that will take a long time to do right."
For autonomous driving, Kani says that OEMs are looking to "the right places to partner with the right types of companies," he said. "It's critical for their partnerships to be open. That's one of our strategies and one of our advantages."
While Nvidia is a full-stack autonomous driving company, it has architected its platform to be open to letting a customer decide on the best partners for them.
"We don't need to convince you to use our application software stack," he said. "In fact, our advantage is that it's not just our software. There are many people in the industry who are building software, so just pick what's best for you. The value of our strategy is that we are end to end."
He noted that one of Nvidia's biggest customers in size and revenue is Tesla, but "Tesla doesn't use us at all in the car. We help them in training."
He views training and simulation as a great opportunity for the company to work with more customers even if they don't use Nvidia in their cars.
"The size of the opportunity in the cloud is really significant," he said.
Emphasizing this point, Tesla announced that it has close to 30,000 Nvidia GPUs in its data center, and "that's just for Level 2," said Kani. "The size of the infrastructure that you need for level four is an order of magnitude higher than that. It's a very large opportunity. It's super difficult, super challenging, and so I think the ecosystem benefits from having partners, having a platform strategy that the industry can all take advantage of."