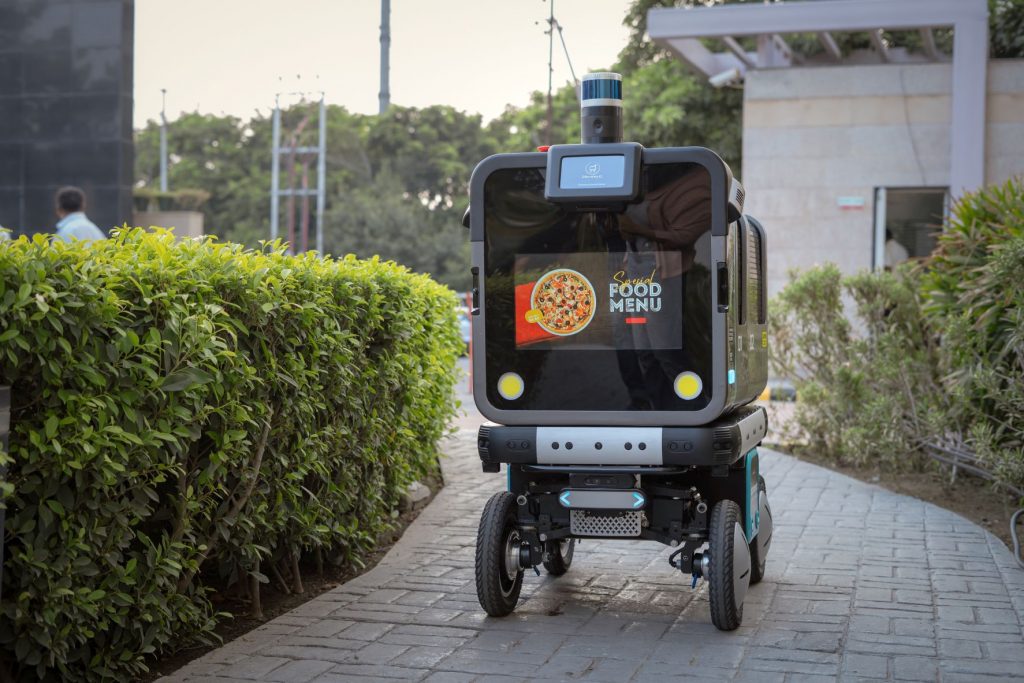 Ottonomy.IO—the developer of Ottobots, the world's first autonomous robots to deliver food, beverage, and travel retail items at airports—has announced the close of a seed funding round of $3.3 million, bringing its total funding to date to $4.9 million. The funding round of the Brooklyn, NY-based startup was led by Pi Ventures, which backs other deep tech startups. Original investor Connetic Ventures, as well as Branded Hospitality Ventures and the Founder & CEO of Addverb Technologies, Sangeet Kumar, joined the round.
"Last-mile delivery is the least productive, yet the most expensive part of the delivery chain," said Roopan Aulakh, Managing Director from Pi Ventures. "There is a strong need for automation, which Ottonomy fulfills with Ottobots. The founding team here brings years of multi-functional robotics experience, reflecting in the world-class product that they have built and commercialized."
Founded in late 2020 by CEO Ritukar Vijay, CTO Pradyot Korupolu, Chief Engineering Officer Ashish Gupta, and Chief Systems Officer Hardik Sharma, Ottonomy.IO's primary focus is on helping organizations in different industries automate indoor and outdoor contactless deliveries not only for airports but also curbside and last-mile deliveries of not just food and beverages but also retail and e-commerce packages.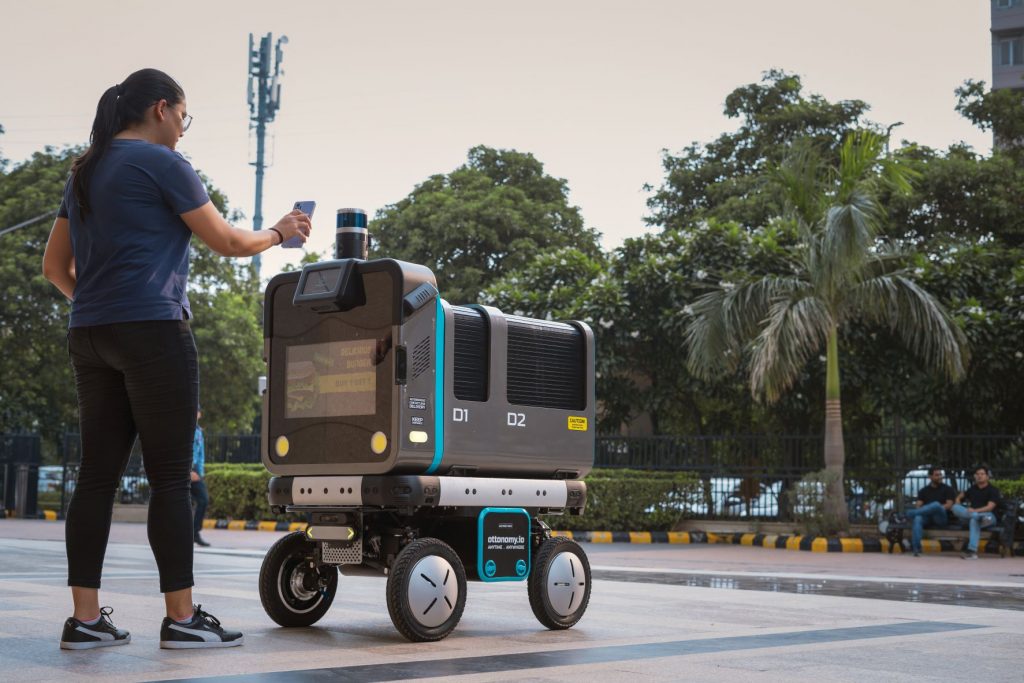 Earlier this year, Ottonomy's Ottobots, equipped with a sophisticated tech stack both at the hardware and AI level, started delivering to customers at Cincinnati International Airport (CVG) with positive responses. Since then, the company has started partnerships with multiple airports across the U.S. and Europe. It has also successfully completed pilots at the Newlab's 5G Studio in New York using Verizon's 5G networks, making a huge leap in capability to deploy large fleets and increasing its footprint across North America, Europe, and the Middle East.

Ottobot 2.0 evolved from early pilots to include fully customizable modular cabins, increased access for customers, and directional mobility including crab mode. In introducing Ottobot 2.0, Ottonomy is bringing best-in-class maneuverability, accessibility, and modularity to its fully autonomous robots, which puts it ahead of the competition, said Vijay.
"The team and I have been deeply vested deeply into autonomous driving for more than a decade," he said. "We believe fully autonomous delivery robots are not only a precursor to autonomous vehicle proliferation but are solving today's biggest challenges like the labor shortage, enabling staff to do more with less."
Ottobot 2.0 uses a contextual navigation engine and high-information maps to navigate autonomously immediately in crowded and unpredictable environments. It offers both indoor and outdoor navigation and day and night operations using a fusion of 3D LiDARs, multiple cameras, and three layers of safety sensors to enable maximum operational uptime and fast charging. Zero-radius turns and crab mode mobility for moving sideways is enabled by four-wheel drive and steering, making it highly maneuverable with best-in-class obstacle avoidance in tight spaces.
The cabins are now customizable for various needs such as grocery deliveries, food and beverages, and e-commerce packages. That includes maintaining insulated cabins for hot and cold temperatures for multiple compartments.
Those compartments are designed for high accessibility; package retrieval can be done by adults, kids, the elderly, and those with special abilities or in wheelchairs. Contactless HRI (human-robot interaction) enables high security and no-touch interaction compared to traditional PIN-code-based cabin access.
The second version of the Ottobot came quickly after the original's unveiling at CES 2022 in Las Vegas in January.
"The pandemic has provided Ottobots a catalyst enabling a series of partnerships that allowed us to launch fully autonomous delivery for indoor deliveries, curbside deliveries, and last-mile deliveries," said Vijay.
In addition to the Cincinnati airport application, at the event it also discussed a partnership with Los Angeles-based Crave for last-mile food delivery for its restaurant customers. In December 2021, Presto, a provider of restaurant automation technologies, announced that their partner restaurant guests will be able to order using Presto's technology and have the food delivered via Ottonomy's robots.
Ottobot pilots started running during the pandemic in 2020. The initial robot deliveries gathered additional research to further develop the program and user experience as rollouts continued across the U.S. over the year.
To support the rollout of Ottobots across North America, Ottonomy formed a strategic partnership with ARO to help with implementation, daily operations, robotic fleet management, and complete robot lifecycle management.