Embark Trucks Inc. today announced the completion of a public demonstration of its autonomous truck technology's emergency vehicle interaction capability. Working closely with the Texas Department of Public Safety (DPS) and the Travis County Sheriff's Office (TCSO), the company developed the capability for Embark Driver-controlled trucks to identify and stop for law enforcement vehicles.
For situations such as traffic stops, it built communication protocols and standard operating procedures between autonomous trucks and law enforcement officers. This represents the first-ever public demonstration of an autonomous truck being pulled over by law enforcement in a routine traffic stop on a public highway. Check out the YouTube video at https://www.youtube.com/watch?v=YoRBWB-2UG0.
"The ability to engage safely in emergency vehicle interactions is necessary to operate an autonomous vehicle on public roads," said Emily Warren, Head of Public Policy at Embark Trucks. "Law enforcement always needs to be able to stop a commercial vehicle—autonomous or not—to ensure compliance with the law. This capability was designed to work seamlessly within existing law enforcement workflows without requiring new training or technology investment by first responders."
The development of emergency-vehicle-interaction capabilities is important to Embark for two key reasons. First, the company's engineering team built the technical functionality for the capability, which included training its trucks to identify emergency vehicles via lights and other cues and respond accordingly by pulling over safely onto highway shoulders. Second, the company developed an interaction procedure with input from law enforcement that can enable an officer to safely stop, approach, and receive information from an autonomous truck intuitively and without any additional equipment.

When commercially deployed, the effort may include outfitting Embark trucks with clear visual cues and information to signal to law enforcement and other first responders that an Embark-driven truck is an autonomous vehicle and has come to a safe stop with no risk of restarting unexpectedly. An externally accessible lockbox, containing information such as registration and bills of lading as well as a toll-free number to contact an Embark Guardian support technician, is in the company's plans to assist law enforcement officers as they perform roadside traffic stops.
These features enable Embark-controlled trucks to comply with law enforcement requests just like a human-driven truck would respond in similar situations. To develop these capabilities, the partners executed comprehensive data collection and testing from April to June that included closed-course activity at the Texas A&M University RELLIS Campus test track as well as public road demonstrations.
During Embark's industry-first demonstration, which took place in late June on Texas State Highway 130 near Austin, deputies from the TCSO's Commercial Vehicle Enforcement division followed an Embark truck along a designated route and successfully completed a traffic stop. A deputy was able to confirm that the truck was safe to approach via an external status display. He walked through the procedure of accessing the truck's documentation via an external lockbox using a code that would be provided by a remote Embark Guardian support technician. After the deputy completed his traffic stop, he followed the truck as it re-entered highway traffic.
Embark published a white paper detailing this procedure and how it can be replicated in other jurisdictions.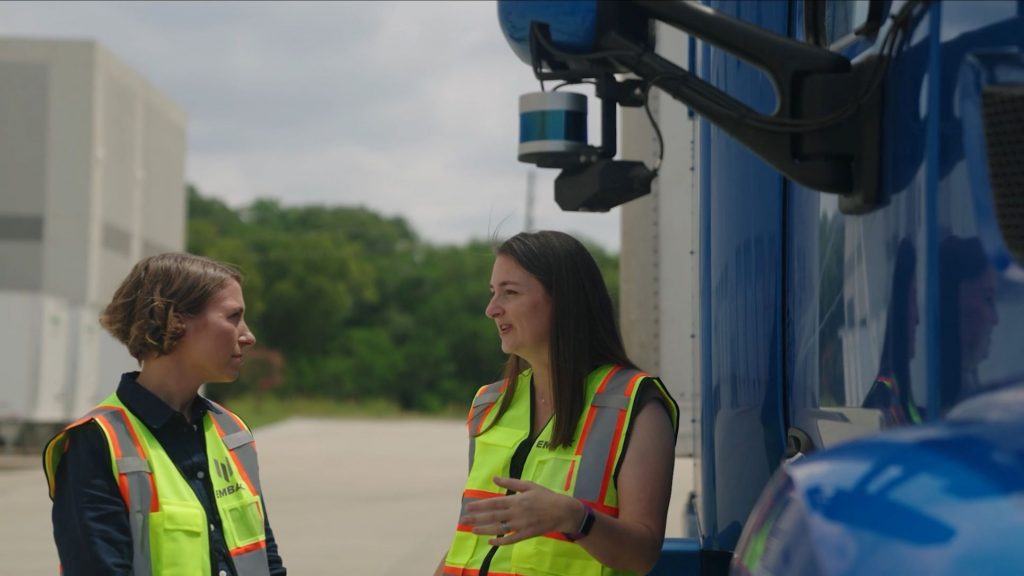 "This achievement is not only an engineering feat but a testament to our mission to safely roll out our technology," said Sarah Houts, Technical Product Manager at Embark, in the YouTube video. "This accomplishment brings us one step closer to our goal of commercial deployment of the Embark Driver software."
Since 2016, Embark has been building software and systems to power autonomous trucks. With the completion of the emergency-vehicle-interaction public demonstration, Embark has now achieved 12 of 16 technical milestones on its roadmap, marking another step toward commercial deployment of its technology.
In addition to emergency vehicle interactions, the technical milestones already completed were lane changes and lane keeping in 2017; vehicle on the shoulder, merges, and cut-ins in 2018; surface streets and night driving in 2019; remote monitoring and stop and go in 2020; and construction and inclement weather in 2021.
The remaining hurdles Embark intends to clear to achieve commercial driver-out deployment are evasive maneuvers in 2022 and blown tires, road triangles, and inspections in 2023.
"We are working with a variety of stakeholders, including public officials, law enforcement groups, and others, to ensure that the capabilities we build are not only technically robust and safe but also incorporate input from regulators and personnel interacting with our vehicles," said Warren. "Ensuring we have buy-in from each of these stakeholders is a critical step toward achieving the remaining milestones, which include the need to create new mechanisms for compliance with federal requirements like warning devices and roadside inspections."
The goal is to complete the capabilities roadmap "with safety top of mind," Warren added.
"We are planning to achieve our remaining capabilities and begin driver-out testing in 2023 and plan to begin commercializing the Embark Driver beginning in 2024," she said. "Our decision to move forward with driver-out operations on that timeline will be based on a rigorous determination that the system is prepared to operate safely without a human driver present."
Although the company's technology is capable of being used across a range of operational domains, the current commercialization plan is to initially deploy technology in partners' fleets on a subset of high-volume trucking lanes in the U.S. Sunbelt before expanding to highways throughout the lower 48 states in subsequent years, said Warren.
Embark's Guardian cloud-based autonomous fleet-management tool will give carriers remote oversight and visibility into their Embark-controlled autonomous fleet rather than direct control.
"We don't plan to use teleoperations to drive Embark-equipped vehicles," concluded Warren.