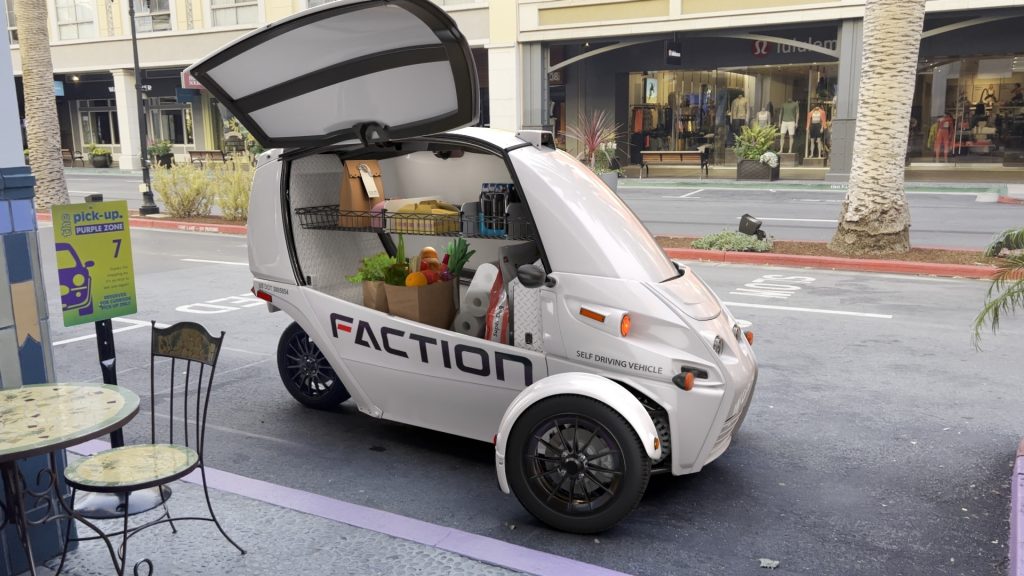 Faction Technology, Inc. is partnering with Point One Navigation to strengthen its mission of bringing driverless delivery and transportation solutions to the mass market. Faction's DriveLink platform is integrating Point One's safe positioning technology with centimeter-level accuracy to better enable autonomous operations for its fleet.
Founded in February 2020, Faction is a Silicon Valley startup on a mission to revolutionize micro-logistics and vehicle-on-demand by developing driverless solutions based on light EVs (electric vehicles). That mission is being led by Ain McKendrick, CEO, with support from Andrea Mariotti, VP of Driverless Vehicle Engineering; Mike Lowe, VP of Mechanical Design Engineering; Peter Schmidt, Head of Design; and Andrea Borbely, VP of Operations & Finance.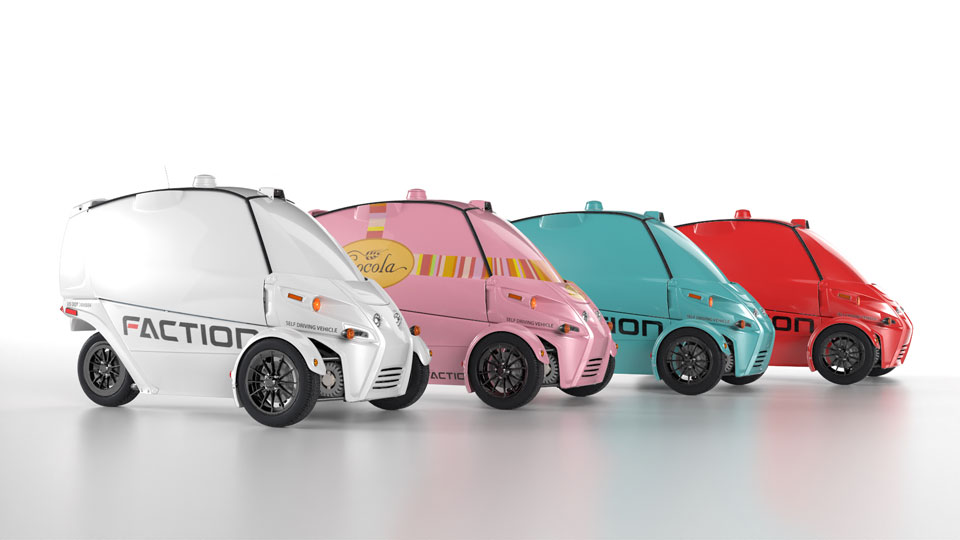 The company believes the future of sustainable transportation is to develop driverless vehicles that are safe, cost-effective, and right-sized to serve a range of use cases for both business and passenger transportation needs. It is accelerating the commercial deployment of its B2B autonomous delivery service by leveraging three-wheel production EVs built for driverless fleet services and supported by teleoperation.
The company's driverless technology platform addresses the rapidly growing demand for cost-effective and scalable last-mile enterprise delivery services and shared mobility. By combining autonomy with remote human supervision, its vehicle fleets are available now for business delivery use—not waiting for the development of 100% autonomous vehicle (AV) technology.

A crucial part of the strategy is highly accurate and trustworthy positioning, which is a fundamental requirement for safe and effective operation across all areas of autonomous mobility and transportation. That's where Point One comes in.
Headquartered in San Francisco and led by CEO and Co-founder Aaron Nathan, Point One Navigation says it is delivering the first precise positioning solution that is both cost-effective and works anywhere. The foundation for the company's location platform is satellite navigation, computer vision, and sensor fusion. Its full-stack solution is built on proprietary self-calibrating sensor-fusion algorithms based on open-source protocols that integrate data from existing sensors on the vehicle, reducing production costs, and simplifying design.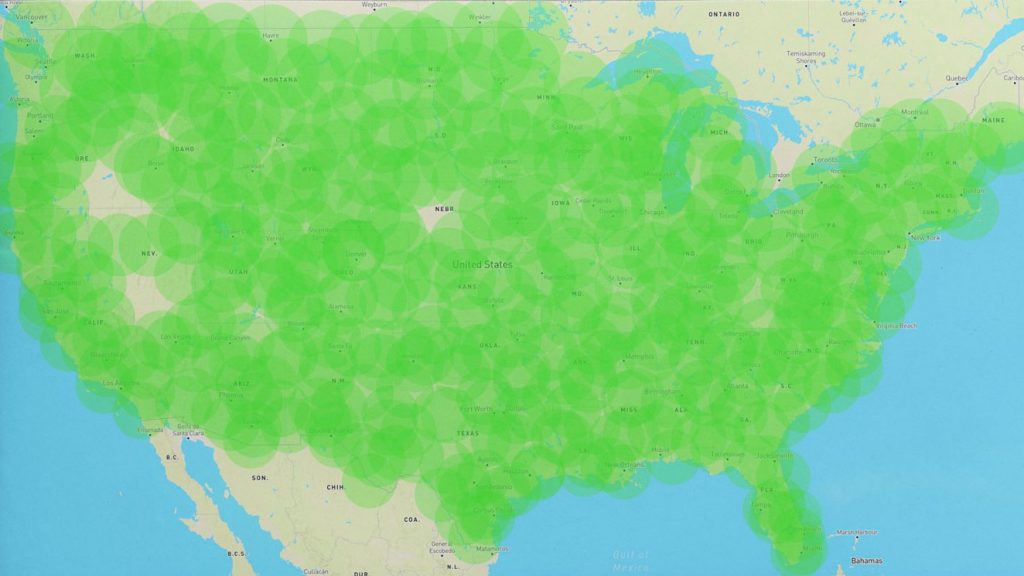 "Having evaluated a number of competing technologies, Point One's technology is a standout both in terms of performance and cost for scalable driverless fleet needs," said McKendrick.
Driverless applications are further enabled by Point One Navigation's corrections network, which provides dense coverage across the continental U.S. The result is a system that can be quickly developed to navigate and operate safely with a high level of confidence, while also being flexible and scalable for volume production.
Scaling quickly to meet market needs
Faction is employing strategies to quickly satisfy market needs as the demand for last-mile enterprise delivery has significantly increased over the past decade. As one data point, ABI Research says that the number of business-to-business parcels grew from 7 billion to 11 billion from 2019 to 2021, and that will continue, reaching 75 billion in 2030. However, the rising labor shortage, documented by the U.S. Chamber of Commerce, has hit the trucking industry especially hard; it's difficult for driver supply to meet this demand.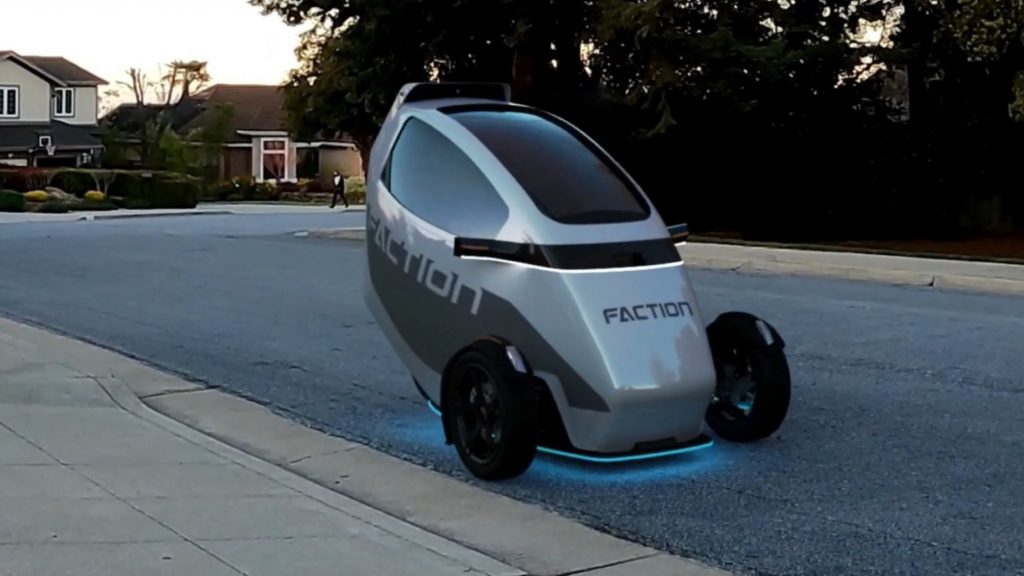 Faction aims to narrow this gap with affordable, production AVs ready to hit the road this year. An investment announced in December from TDK Ventures, Inc. will help. It follows a $4.3 million seed round led by Trucks Venture Capital and Fifty Years after Faction participated in Y Combinator's Winter 2021 startup batch.
"Faction's technology architecture is designed with driverless systems in mind, which allows them to incorporate new technology radically faster than legacy vehicle platforms," said Andrew Maywah, Investment Director at TDK Ventures.
Faction vehicles are designed for urban use cases where trips usually fall into the range of less than 5 mi (8 km). It says that right-sizing driverless vehicles for most short trips provides a significant boost in efficiency, reduces carbon emissions, and offers significant cost savings over existing transportation solutions.
Faction is actively partnering with manufacturers of light electric vehicles to scale operational driverless fleets and has demonstrated both prototype and pre-production vehicle systems.
Arcimoto FUV-based D1 delivery vehicle
In February, Faction showed a next-generation driverless delivery vehicle based on Arcimoto, Inc.'s low-cost FUV EV platform. Equipped with Faction's DriveLink and TeleAssist technologies, the driverless Faction D1 combines autonomy with remote human teleoperation, while retaining the FUV's capabilities of 75 mph (120 km/h) top speed, over 100 mi (160 km) range, and about 500 lb (227 kg) of cargo capacity.
"Scalable driverless vehicle systems require engineering from the chassis up, and by leveraging the revolutionary Arcimoto platform, we're able to develop our driverless system much faster than using legacy vehicle designs," said McKendrick. "The end result will be a rightsized, ultra-efficient driverless delivery vehicle that reduces pollution and drives down costs for local and last-mile delivery fleets."
Targeting the average urban trip of 5 mi or less, Faction and Arcimoto have a shared belief that right-sizing driverless electric vehicles will provide a significant boost in efficiency, reduce carbon emissions, and offer significant cost savings over existing transportation solutions.
"With a common mission of deploying ultra-efficient electric vehicles at scale, the commercial launch of the driverless Faction D1 will be a game-changer for last-mile logistics," said Mark Frohnmayer, Founder and CEO at Arcimoto.
The driverless Faction D1 features a configurable cargo compartment that can be adapted for specialized payloads in addition to general fleet-on-demand use. With a commercial service cost of less than $2/mi for driverless deliveries, the vehicle is very cost-competitive for various delivery use cases.
Pilot customer trials are expected to begin in 2022. Interested fleet customers can contact Faction about access to pre-production vehicles and services and make reservations for production models beginning in 2023.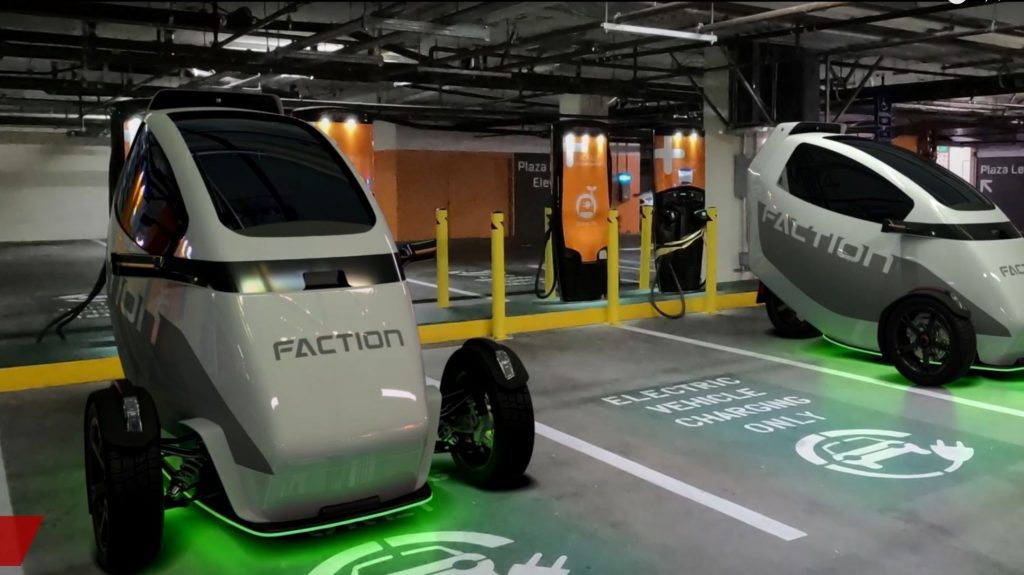 Nvidia powered delivery
Faction's autonomous driving system uses "production-ready" radar, cameras, and ultrasonic sensors that can be found on any car with collision avoidance, cruise control, and lane-keeping functionalities, according to Fifty Years. It is powered by an Nvidia Drive AGX high-performance and energy-efficient compute platform.
Redundant and diverse deep neural networks power the vehicle's AI (artificial intelligence) capabilities while leaving enough compute headroom to continuously add new features. It's also automotive grade, achieving safety standards such as ISO 26262 ASIL-D.
"Our goal is to deploy cost-efficient autonomous vehicles in the near term," said McKendrick. "We chose Nvidia Drive because it's an automotive-grade platform that meets our needs today."
Faction is also an Nvidia Inception member, tapping into the latest AI technologies and expertise to create vehicles that stay on the cutting edge. With Inception, Nvidia works closely with members to provide the technical tools, latest resources, and opportunities to connect with investors.
McKendrick added that Inception has helped Faction take full advantage of the latest software tools for faster iteration and streamlined development.
People and goods moving with ElectraMeccanica
In addition to last-mile delivery, Faction plans to next year launch single-rider vehicles that can be requested via an app. The vehicle will drive autonomously to the customer, who will then take control and manually drive it to their destination.
Faction's single-rider shared mobility vehicle is based on ElectraMeccanica Vehicles Corp.'s Solo EV. In February, the two companies announced a partnership agreement to demonstrate a pilot deployment of Faction's driverless and remote vehicle operation technology on the Solo platform. With the DriveLink platform, Faction's autonomous driving AI is supported by teleoperation, with the AI designed to know when a vehicle needs help from the operator.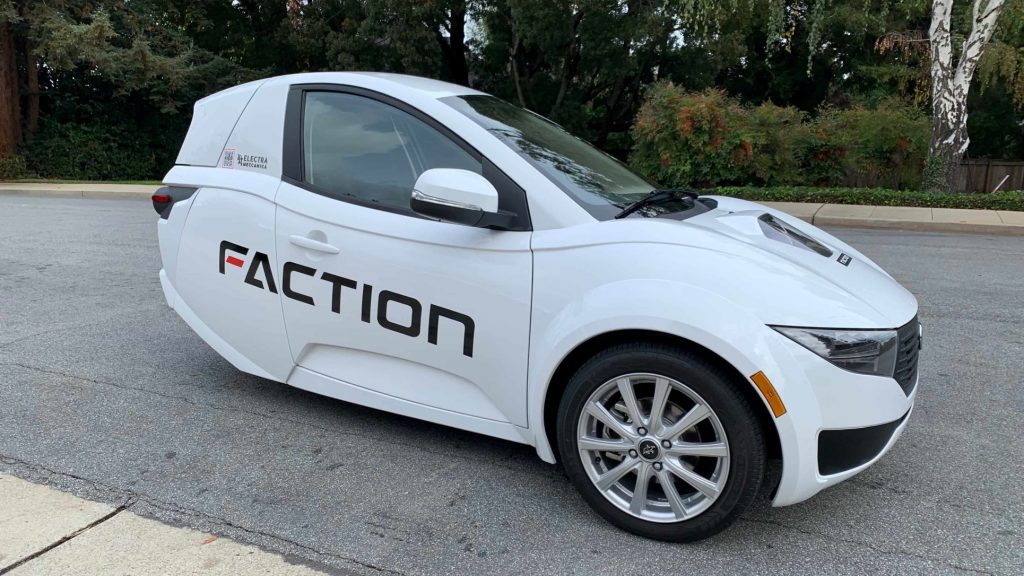 Faction says that post-Covid, food-delivery, and shared=ride services remain in high demand in the U.S. However, the U.S. continues to face driver and chip shortages, which is forcing businesses in these industries to increase costs. Faction's technology embedded in the low-price Solo EV will allow consumers to pay a lower cost per mile for these services.
Faction plans to use SoloEVs to test its autonomous driving technology for not only ride-on-demand but also micro-logistics. A test pilot program is currently underway with customers in both the food delivery and vehicle-on-demand verticals.
"Faction was one of our first customers to receive a Solo EV for its development fleet, and this partnership represents the next step in our ongoing collaboration," said Kevin Pavlov, CEO of ElectraMeccanica. "We believe Faction's technology is essential in the evolution towards fully autonomous driving, enabling vehicles to deliver cargo through a combination of autonomy and a remote worker using teleoperations to assist."
ElectraMeccanica and Faction will work to expand the partnership toward the pilot deployment of a driverless demonstration fleet of up to 24 Solo EVs over 12 months.
"We have been impressed with our Solo EVs, and this partnership will help to further expand the future of urban mobility," said McKendrick. "The Solo EV is an excellent candidate for Faction's mission to right-size urban delivery and transportation, well suited for our unique approach to combining driverless technology with lightweight vehicle systems."
We are excited to move toward implementing our driverless and remote vehicle operation technology into several Solo EVs in the coming months so that we can begin real-world testing and data collection."