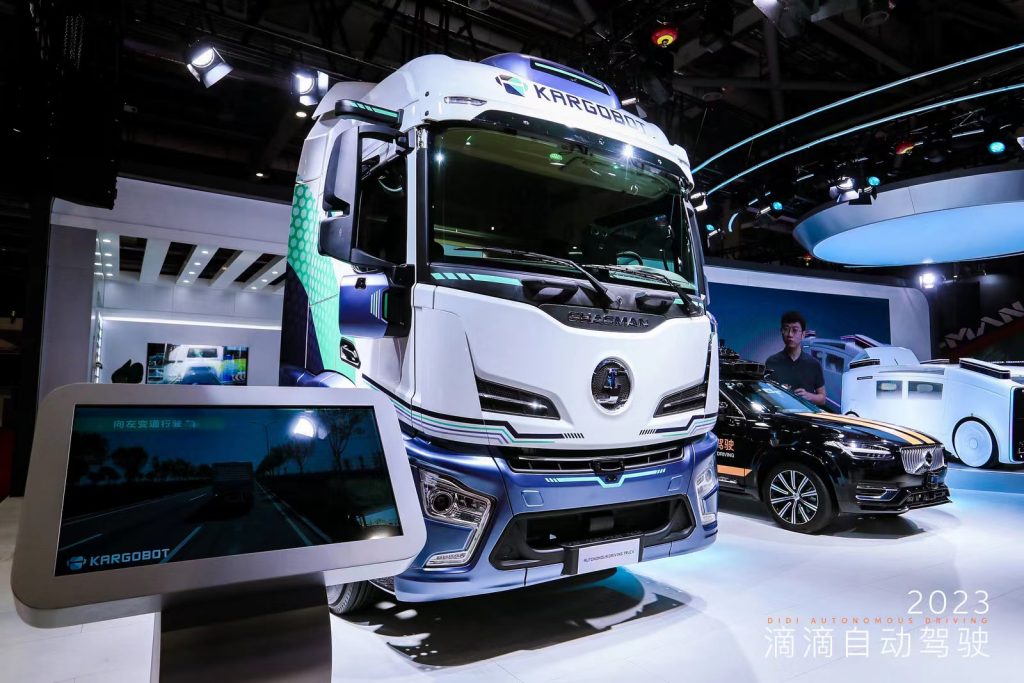 Arbe Robotics Ltd. announced today that it and Weifu High-Technology Group have signed a strategic cooperation agreement with DiDi's autonomous freight company KargoBot to provide 4D imaging radars based on the Arbe chipset. The three parties agreed to establish a cooperation platform in China to jointly promote the R&D and commercial applications of 4D imaging radars in the field of autonomous driving.
KargoBot focuses on the R&D and commercial operation of autonomous driving technology for L4 autonomous trucks. In 2023, the DiDi unit obtained a commercial autonomous vehicle test license in Beijing.
At its Autonomous Driving Open Day earlier in April, DiDi Autonomous Driving debuted the new KargoBot autonomous truck business aimed at enhancing the automation capability of trucks amid the growing truck driver shortage.
"Currently, the KargoBot business already has more than 100 autonomous trucks in operation and the fleet has conducted regular trial operations between Tianjin and Inner Mongolia," said Wei Junqing, head of DiDi Autonomous Driving's Kargobot business. "As of March 2023, Kargobot's accumulated logistics revenue has exceeded 100 million yuan ($14.5 million)."
DiDi Autonomous Driving started to explore the truck logistics freight scenario in 2021 and scaled up the R&D and commercial operations for bulk commodities based on its cloud platform and technologies. At present, Kargobot has a full-stack technology development capability of L4-level self-driving trucks and has developed a hybrid driverless solution fleet consisting of an assisted, human-driven pilot truck with multiple L4 autonomous trucks.
Junqing showed a video featuring Kargobot's full, unassisted, 1049-km journey from Tianjin to Inner Mongolia demonstrating the truck fleet's travel through day and night in real-world road conditions, without any additional input from the safety operator.
Following an extensive evaluation process, KargoBot chose Weifu's imaging radar system based on Arbe's chipset to enhance safety in its autonomous trucks. Weifu will develop and produce the 4D imaging radars with Arbe's chipset for KargoBot's L4 autonomous driving system including high-speed data processing, 360° perception, and real-time intelligent decision-making.
"Our collaboration with Arbe allows us to deliver customized, cutting-edge imaging radar solutions with high performance, high perception, and high reliability to the rapidly growing autonomous driving and V2X markets," said Xu Yunfeng, CEO of the Weifu Group. "This strategic cooperation is a significant milestone in our mission to provide unrivaled safety and autonomy to the Chinese automotive industry."
Arbe's perception radar chipset provides ultra-high resolution to support advanced perception capabilities at mass market price. The solution leverages 2304 virtual RF channels, complemented by processing supporting more than 100,000 detections per frame. It is said to deliver imaging 100 times more detailed than the leading radar solutions on the market, enabling stationary object detection, false alarm elimination, and interference avoidance and mitigation.
"We are excited to announce that DiDi's KargoBot will be incorporating radars based on Arbe's chipset into their L4 trucks," said Kobi Marenko, CEO of Arbe. "As a recognized leader in the industry, their selection of Arbe's solution is a testament to the superiority of our advanced technology. The implementation of next-generation imaging radars will advance the development of autonomous vehicles and contribute to a safer future for everyone."
The three partners agreed to continue to deepen the strategic cooperation and combine technology, capital, and talent to further develop advanced technological products and accelerate the commercialization of autonomous driving solutions in the field of logistics and freight.