This week Cascadia Capital is organizing the Cascadia Connect RAAI Conference that will bring together an invite-only group of the industry's top minds in the nation's emerging robotics, automation, and artificial intelligence innovation hub—Pittsburgh—for networking, discussions, and tours of the local innovator facilities.
One of those tours stops is at the facilities of Thoro, the AMR (autonomous mobile robotics) company for commercial and industrial applications. At its space in Pittsburgh's extending Robotics Row, attendees will be able to walk through the facility, see live demonstrations of two AVs (autonomous vehicles), and ask questions of Thoro CEO Patrick Mondi.
In 2020, Pittsburgh-based robotics technology firm Carnegie Robotics LLC spun off Thoro to focus on the commercialization of its AMR technology for the cleaning and disinfection equipment industry. The new company's technology was the result of extensive development by Carnegie Robotics of leading perception and intelligent navigation technology that safely navigates machines around people in public spaces to perform work.
"Our mission is to create reliable, cost-effective, industrial-grade robotic solutions that enable the equipment to function as an extension of the cleaning workforce," said John Bares, CEO of Carnegie Robotics, at the launch. "Thoro technology is about being 'thorough'—using robotics and artificial intelligence to ensure a new standard of clean in public spaces."
The technology was launched with an industry partner and Thoro investor Nilfisk's Liberty SC50 autonomous scrubber, designed during the peak of the COVID-19 pandemic to effectively target viruses and other pathogens. The robotic floor scrubber removes dirt and debris while UV technology disinfects surfaces.
"We believe robotic innovation is integral, in fact critical, to driving cleaning excellence," said Hans Flemming Jensen, now Executive VP, Chief Growth Officer, and Division President at Nilfisk Group. "With Thoro and our continued collaboration with leading technology companies, we are benefiting from our commitment to this belief and our investment in this technology."
Thoro's small team of software, cloud, and testing engineers has made an oversized impact on the autonomous robotics industry in its short existence. Its model is to work directly with OEMs to make their already existing devices work autonomously by providing software, hardware, support services, and an integrated autonomy platform.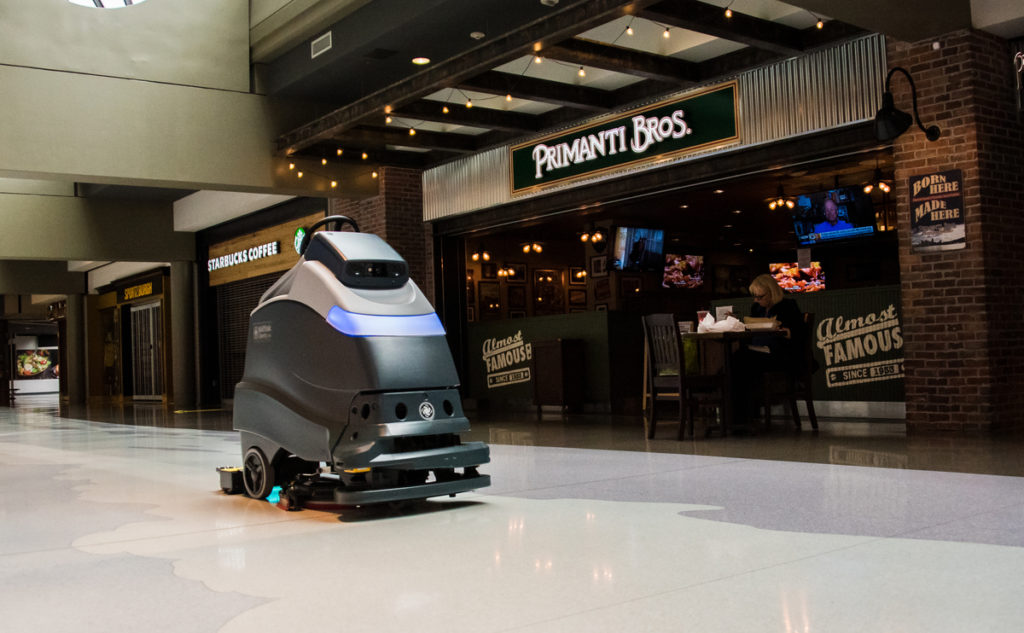 The new company took its next big step at ProMat 2023 in March when Big Joe Forklifts unveiled its Pallet Mover, a new user-directed AMR developed using Thoro's autonomous technology.
The Pallet Mover is engineered to be an easy-to-deploy autonomous solution for floor-to-floor pallet transportation and drop-off that companies can set up and put into operation in less than 1 h. With the unit, Big Joe seeks to revolutionize on-demand material handling across a broad number of industries by offering Thoro's technology at an accessible price point on one of the most common material-handling vehicles, an electric pallet truck.
"This new AMR is something that so many companies have been waiting and frankly hoping for given the many challenges they face," said Bill Pedriana, Big Joe's Chief Marketing Officer. "The Pallet Mover is super simple to deploy and start seeing a return on investment on day one. The magic to that is our user-directed approach to automation, which, by nature, is focused on empowering workers and eliminating the need for complicated systems integration."
The Pallet Mover works like a conventional lift truck but features an intuitive tablet interface, lidar, and a camera system to transport and drop pallets to locations autonomously once the operator loads it and selects a mission. This collaborative approach uses autonomy as a productivity force multiplier by allowing workers to focus on higher-value tasks or direct multiple independent workflows concurrently.
"Thoro's partnership with Big Joe on the self-driven Pallet Mover resulted in a world-class innovation unlike anything on the market," said Mondi. "It is compliant to safety standards, simple to configure, quick to deploy, and easy to operate—all at a very compelling price point."
The Pallet Mover can transport up to 4400 lb of materials at speeds of up to 2.8 mph. It can operate continuously for up to 10 h on power supplied by a UL-recognized 205-A·h lithium battery, which can be "opportunity charged" at the rate of 1% every 6 min via an onboard 120-V AC charger.
Key features of the Thoro autonomous platform are remote monitoring, OEM support and maintenance services, over-the-air software updates, defined operating modes, and the ability to run in dynamic work environments. It offers dynamic object avoidance, adjusts in real-time to route changes and obstacles, and "works with confident poise" around people.
Crucially, the platform can help to achieve independent third-party lab safety certifications. For instance, the Nilfisk SC50 meets the CSA/ANSI 336 safety standard for robotic floor-cleaning machines.