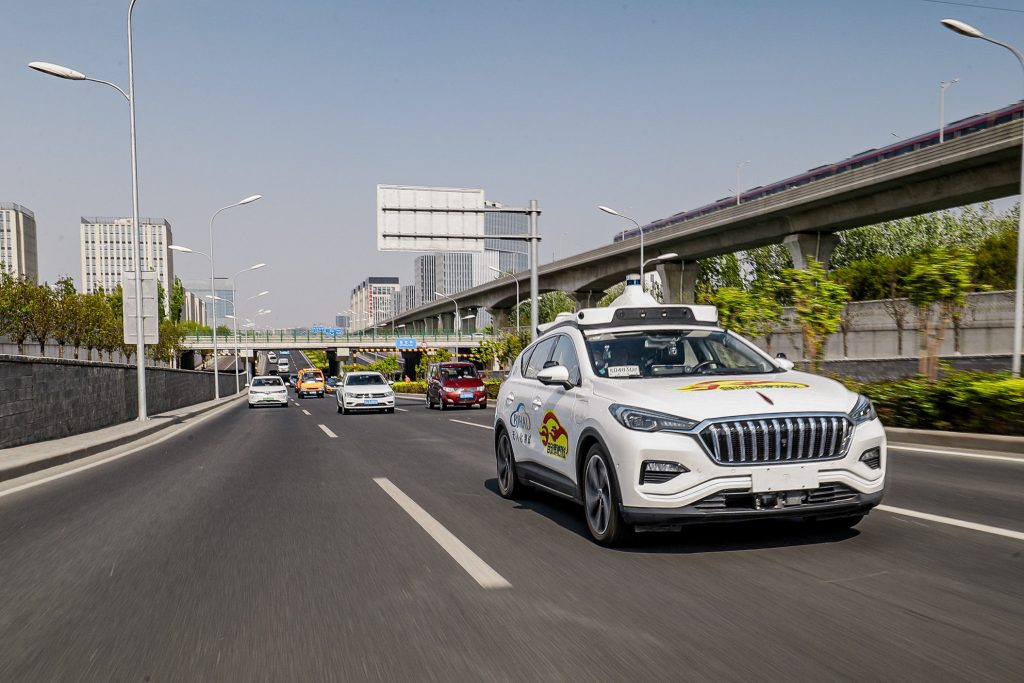 Chinese search giant Baidu and Toyota-backed autonomous driving technology startup Pony.ai have become the first companies to win permits to provide driverless robo-taxi service to the public on open roads in Beijing, the companies announced April 27.
In Yizhuang, an area 60 square kilometers large in southeastern Beijing, approximately 300,000 residents can now hail a driverless Pony.ai robo-taxi using the PonyPilot+ app from 9 a.m. to 5 p.m. Hundreds of pick-up and drop-off locations include public facilities such as subway stations, parks and stadiums, alongside central business centers and residential areas. (The company notes a safety supervisor will sit in the front passenger seat during its pilot program.)
"Pony.ai's approval to operate driverless robo-taxis in Beijing is a critical milestone in the transition from testing driverless autonomous vehicles within Pony.ai to offering driverless robo-taxi rides to public passengers," James Peng, co-founder and CEO of Pony.ai, said in a statement.
Founded in 2016, Pony.ai's autonomous vehicles have driven more than 11 million (6.8 million miles) real-world autonomous kilometers globally. This includes more than 200,000 (124,000 miles) driverless kilometers.

Pony.ai's new program, which is free to the passengers, is in addition to an existing test program in which Pony.ai can offer fee-charging robo-taxi service to the general public that retains a safety driver behind the wheel monitoring the ride. Pony.ai received approval to conduct driverless testing without passengers in Beijing in October 2021 and in November 2021 start charging fares for robo-taxi services in Beijing. 
"Since the launch of driverless testing, Pony.ai has demonstrated the technical quality of our system by successfully handling a wide range of extreme and complex scenarios," Tiancheng Lou, co-founder and chief technology officer of Pony.ai, said in a statement. "We did this by conducting multiple technical validations and iterations of driverless scenarios, and by improving system redundancy design, remote assistance platform development and fleet operation management."
In April, Pony.ai also became the first autonomous driving company to obtain a taxi license in China, winning a permit to operate 100 autonomous vehicles as traditional taxis in Nansha, Guangzhou. This month, Pony.ai will start charging fares in the entire 800 square kilometers of Nansha with 100 robo-taxis and intends to gradually expand the scale and scope of service to other areas of Guangzhou.
In this new service, passengers can hail rides and pay for the service through the PonyPilot+ app from 8:30 a.m. to 10:30 p.m., with fares based on the standard taxi pricing in Guangzhou. While this service currently retains a safety driver, the company expects to remove the driver over the short to intermediate time frame.
"Being China's first autonomous vehicle company to receive a taxi license is a testament to Pony.ai's technological strength and ability to operate robo-taxi services. We will expand the scale of our services, provide quality travel experiences to the public in Guangzhou, create an industry benchmark for robo-taxi services and continue to lead the commercialization of robo-taxis and robo-trucks," James Peng, co-founder and CEO of Pony.ai, said in a statement.
"The inclusion of autonomous vehicles in the unified and standardized management of taxis proves that both government policy and the public are increasingly accepting robo-taxis as a form of everyday transportation, recognizing the ride experience and technical stability of Pony.ai's robo-taxi," Tiancheng Lou, co-founder and chief technology officer of Pony.ai, said in a statement.
When it comes to Baidu, with its new permits, it can have 10 autonomous vehicles without drivers behind the steering wheel offer rides to passengers in Yizhuang. The company plans to add 30 more driverless robo-taxis at a later stage.
These new driverless vehicles will join an existing fleet that Apollo Go, Baidu's autonomous ride-hailing service, already had operating in the city. Starting on April 28, users can hail a driverless ride using the Apollo Go mobile app from 10 a.m. to 4 p.m.
In September 2020, Baidu became the first company in Beijing to offer autonomous ride-hailing services, and in November 2021,Baidu started charging fees for Apollo Go autonomous services offered to the public under granted commercial permits. However, until now, safety operators were required in the driver's seat.
Currently, Baidu has the largest autonomous driving fleet in China. It notes its vehicles have accumulated more than 27 million kilometers (16 million miles) of road testing in the past 9 years with zero traffic accidents, including mileage recorded by driverless test cars in multiple cities across China as well as in California. Apollo Go has expanded to nine cities in China since its first launch in 2020, including Beijing, Shanghai, Shenzhen, Guangzhou, Chongqing, Changsha, Cangzhou, Yangquan and Wuzhen. There were 213,000 orders on Apollo Go in the fourth quarter of 2021, making it the global leader by order volume.