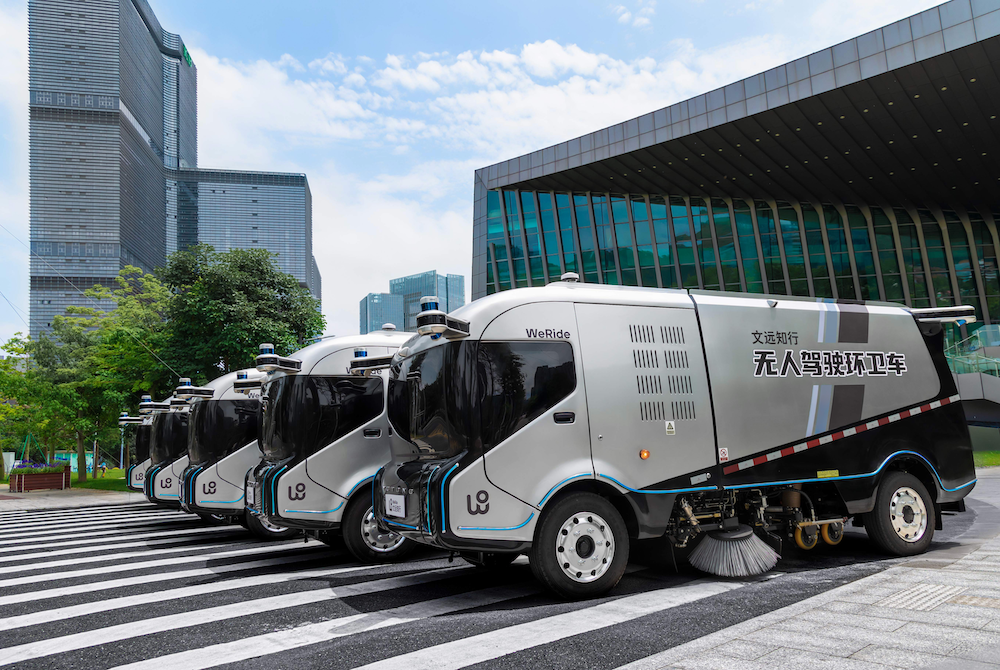 Autonomous driving startup WeRide has launched the first mass-produced purpose-built self-driving street sweeper in China, the company announced April 28.
The Robo Street Sweeper features an unprecedented cockpit-free design without a steering wheel, accelerator or brake pedals. The autonomous electric vehicle is designed and produced for city-level services such as sweeping, sprinkling and disinfection spraying in a strategic partnership between WeRide and Chinese automaker Yutong, the world's largest bus manufacturer by sales volume. 
The Robo Street Sweeper driving system capable of level 4 autonomy — that is, the ability to act without any human intervention in the vast majority of situations — enabling safe, all-day fully driverless operations. A large-scale road test of the Robo Street Sweeper fleet is planned for this month, with more than 50 vehicles in the first batch, covering the entire Nanshan district of Guangzhou, China.
WeRide has also developed a custom-built cloud-based platform to manage the autonomous street sweeper fleet that provides real-time information of routes, operations and autonomous driving status. It supports intelligent scheduling, automated activation, remote dispatching and route management, facilitating daily operations such as charging, water filling, waste discharge, vehicle activation and parking without human intervention.

The demand for zero-contact environmental services has risen due to the global pandemic, Tony Han, the founder and CEO of WeRide, said in a statement. "By developing the self-driving Robo Street Sweeper, WeRide offers a package of environmental services without human intervention, and it will be available for the city in a safer, greener and more efficient manner," he stated. "In case of a public health emergency, the fleet will be the first and the most trusted resource to serve the public with the safe and reliable autonomous driving technology."
The road tests this month will examine a variety of technological and operational metrics designed to address real-life scenarios in Nansha. They will be conducted past midnight. 
"Nansha District is the pioneer to support autonomous driving road tests and operations," 
Wei Min, a standing committee member of the Communist Party of China's Guangzhou Nansha district committee and executive head of the people's government of Nansha District of Guangzhou, said in a statement. The WeRide Robo Street Sweepers' road test in Nansha "will be one of the largest in history. WeRide, being the leader in autonomous driving in China, is well-equipped with industry-leading expertise in technology development, product innovation and commercial operations. We will work together to promote, explore and practice a high-quality digital economy in Nansha."
Established in 2017, WeRide is headquartered in Guangzhou, and has received backing from the Renault–Nissan–Mitsubishi Alliance and Yutong. In 2021, WeRide became the first company in the world to hold permits to conduct fully driverless testing on public roads in both China and the United States.