Autonomous tech startup Ottonomy Inc. is teaming with the Pittsburgh International Airport for a pilot project offering select passengers a contactless delivery system with its autonomous delivery robot called Ottobot. Volunteer customers will be able to order and receive beverages at designated drop-off points in the airport's Airside Terminal.
The company says that the Ottobot is the first fully autonomous robot for deliveries inside airports and is currently deployed at multiple airports in the U.S. and Europe. It is partnering with the airport's xBridge Innovation Center, the airport's tech-proving ground for technologies and startups that provide solutions for the industry.
"We are committed to providing the best customer experiences by discovering and implementing innovative solutions that utilize cutting-edge technology," said Cole Wolfson, xBridge Director. "Pittsburgh International Airport's xBridge has built a culture of innovation, and we are excited to partner with Ottonomy to advance this technology in an airport environment."
Drawing from the region's strong innovation economy, the airport is a proof-of-concept site for technologies in a real-world operating environment as well as a pilot site for companies' first deployments.

Another example of xBridge partnerships is a teleoperated semi-autonomous fleet management trial with Mapless AI, which is conducting a proof-of-concept ferrying employees on-demand from parking lots to the terminal and back. Once that technology is fully vetted in the airport operating environment, Mapless AI will work with the region's Allegheny County Airport Authority to determine and test broader business use cases. These could include VIP curbside pick-up/drop-off of rental vehicles at the airport, on-demand employee-use vehicles, on-demand carshare vehicles for travelers to provide off-hours transportation to their next destination, or fast-response vehicle allocation in cases when getting a vehicle to someone is time-critical.
"Airports are dynamic and crowded environments, and are a perfect testbed for real-world deployments of Ottobots," said Ritukar Vijay, Co-Founder and CEO of Ottonomy Inc. "Ottobot provides the only fully autonomous delivery experience for indoor and outdoor environments. We are seeing tremendous interest in our technology from leading airports and organizations across the globe." 
Ottobots can navigate autonomously through crowds and unpredictable environments using Ottonomy's proprietary Contextual Mobility Navigation platform. The system is highly scalable and uses a suite of tools to manage a fleet of robots across multiple locations.
The latest Ottobot 2.0 uses a contextual navigation engine and high-information maps to navigate autonomously immediately in crowded and unpredictable environments. It offers both indoor and outdoor navigation and day and night operations using a fusion of 3D lidars, multiple cameras, and "three layers" of safety sensors to enable maximum operational uptime and fast charging. Zero-radius turns and crab mode mobility for moving sideways are enabled by four-wheel drive and steering, making it highly maneuverable with best-in-class obstacle avoidance in tight spaces. The cabins are now customizable for various needs such as grocery deliveries, food and beverages, and e-commerce packages. That includes maintaining insulated cabins for hot and cold temperatures for multiple compartments.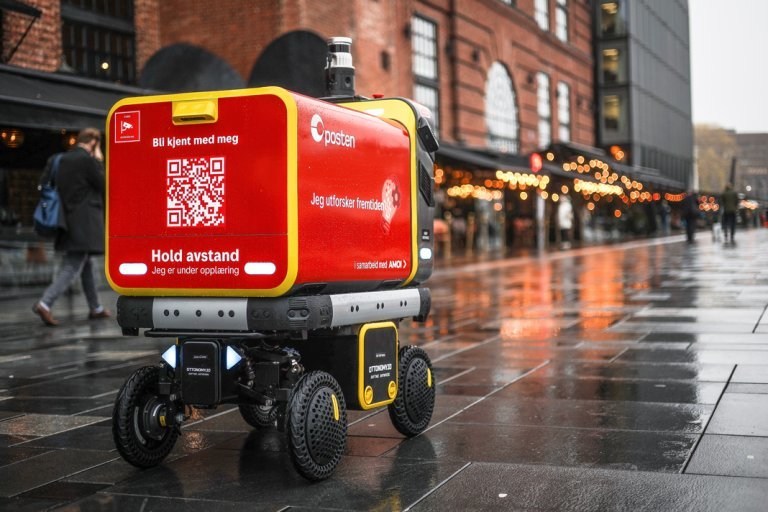 Ottonomy's technology is also being tested for future logistics solutions in Oslo, Norway, with one of Europe's largest postal services. Earlier in November, the company announced its collaboration with Posten Norge AS and Holo for trials for automating first-mile delivery.
This partnership with one of Europe's largest logistics companies is oriented towards testing how autonomous robots can improve intra-logistics, especially in city centers. Posten Norge will be using Ottobots for first-mile pick-ups, receiving and delivering goods for the digital marketplace AMOI from the busy Aker Brygge metropolitan area in Oslo.
"Autonomous robots have previously been tested by other companies with the focus entirely on final delivery to the customer," said Sven Richard Tønnessen from Posten's Department of Emerging Technology. "We want to evaluate how robots can become part of Posten's future logistics solutions. This project, which utilizes both humans and robots, offers many new opportunities for increasing efficiency and productivity for our organization. We will continue to utilize our existing pool of human couriers for delivering goods to the customers while the robot takes care of the intra-logistics part of the supply chain."
According to the partners, the first mile has been a pain point for organizations in metropolitan areas. First-mile delivery involves moving products from the manufacturer or retailer's warehouse to a central holding center. From this location, a carrier, shipping company, or logistics partners pick up the products and take them to the next leg in the destination.
"The logistics with delivery vans at Aker Brygge is extremely demanding in terms of parking and time-consuming," said Kenneth Tjønndal Pettersen, Press Officer at Posten Norge AS. "Together with our partners, we want to test the various applications for autonomous technology, which can enable simpler logistics and reduced noise in the cityscape."
Ottobots will be used to determine how Posten Norge AS can increase sustainability and efficiency for the logistics supply chain in the future.