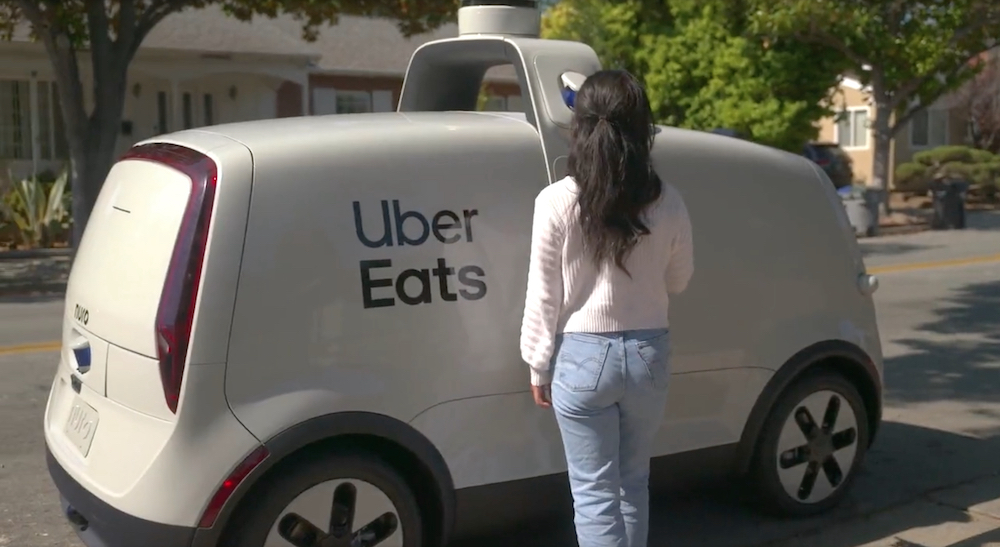 Driverless technology startup Nuro is partnering with Uber to use its autonomous electric vehicles to deliver food in California and Texas, the companies announced Sept. 8.
The 10-year partnership will begin deliveries this fall in Mountain View, California, and Houston, Texas. The companies plan to later expand the service to the greater Bay Area.
Uber Eats consumers will be able to order meals and goods delivered by Nuro's zero-occupant autonomous delivery robots. These run on public roads and are built specifically to carry food and other goods.
"Nuro and Uber share a vision in which technology can make everyday life just a little bit easier," Noah Zych, Uber's global head of autonomous mobility and delivery, said in a statement. "Nuro's distinctive autonomous vehicles are a great match for the Uber platform, and this partnership will bring a compelling combination of innovation alongside the convenience, affordability and reliability our customers and merchants have come to expect."

In 2020, Nuro became the first company permitted to deploy autonomous vehicles on public streets for commercial operations in California, allowing it to operate driverless vehicles for commercial deliveries within designated parts of Santa Clara and San Mateo counties, both in the Bay Area. This includes the cities of Menlo Park, Mountain View, Palo Alto and Sunnyvale. That advance paved the way for this new partnership with Uber, as well as recent partnerships with giants such as 7-Eleven.
"Our partnership with Uber underscores Nuro's track record of partnering with the world's leading brands to make autonomous delivery a seamless experience," Cosimo Leipold, head of partnerships at Nuro, said in a statement. "With our unique autonomous delivery vehicles and Uber's phenomenal scale and reach, we can expand food delivery options from your favorite local mom-and-pop restaurants all the way to nationwide chains."
Nuro was the first company to achieve fully autonomous vehicle operations in three states — Arizona, California, and Texas. and also the first. It remains one of only three companies to obtain an autonomous deployment permit from the California DMV.