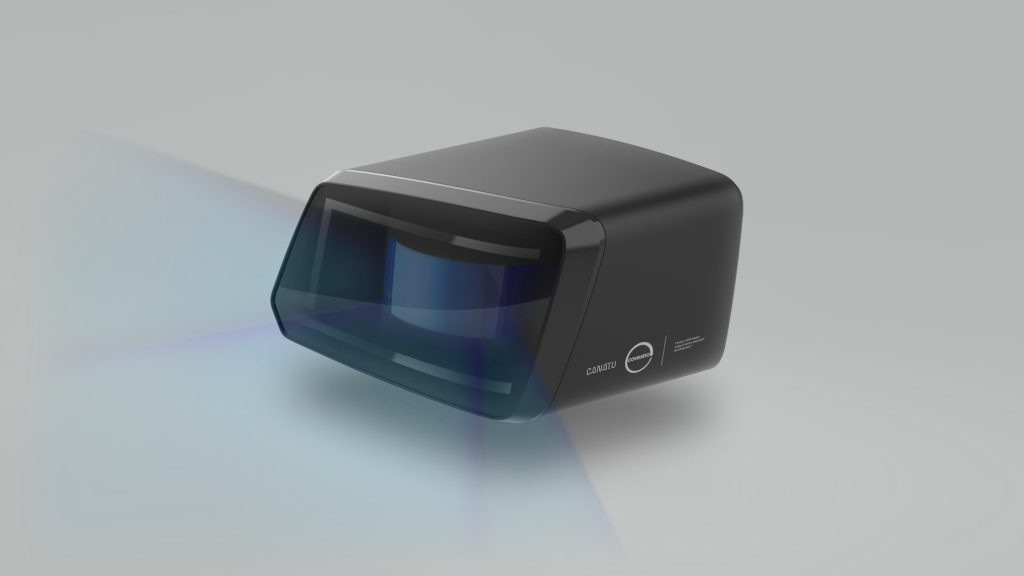 Carbon nanomaterial developer Canatu and a leading manufacturer of polymer materials and components Covestro will showcase a joint lidar heater demonstrator at the Canatu booth during CES 2023. The companies are bringing their expertise in flexible transparent film heaters, thermoplastic polymers, and film insert molding (FIM) processing to showcase an innovative lidar cover lens with heating functionality that is "highly performant," versatile, and ready for scale-up.
Lidar systems are critical in the development of autonomous driving for detecting objects and measuring distances. However, lidar reliability in harsh weather conditions is a key challenge. The buildup of ice, snow, and fog on lidar cover lenses can block the sensor FOV (field of view), risking accurate 3D lidar mapping. The jointly realized heated cover lens keeps the lidar FOV clear of weather disturbances, advancing autonomous driving in adverse weather conditions.
"With the trend for electric mobility and assisted driving comes the need for an ever-higher degree of functionality for exterior components," said Dr. Maximilian Hemgesberg, Segment Manager of Mobility Specialty Films, EMEA & LATAM, at Covestro. "To maintain the data quality of front module integrated sensors under all conditions is becoming a paramount requirement. Canatu offers a technology that we think is a very promising candidate for tackling this challenge."
Canatu's carbon nanotube technology (CNT) is based on a unique process that ensures versatility and reliability for highly engineered solutions. The company's focus is in the automotive and semiconductor industries with its portfolio's core spanning from ADAS (advanced driver assistance system) heaters to 3D touch sensors and to EUV (extreme ultraviolet) membranes.

"By combining Covestro's highly developed expertise in optical-grade polymers with Canatu's unique CNT film heater technology, we have jointly developed a functionalized lidar cover lens combining high optical properties and effective heating," said Tero Tolonen, Chief Product Officer at Vantaa, Finland-based Canatu. "Together, we are enabling ADAS in any weather without compromising on safety, performance, and functionality."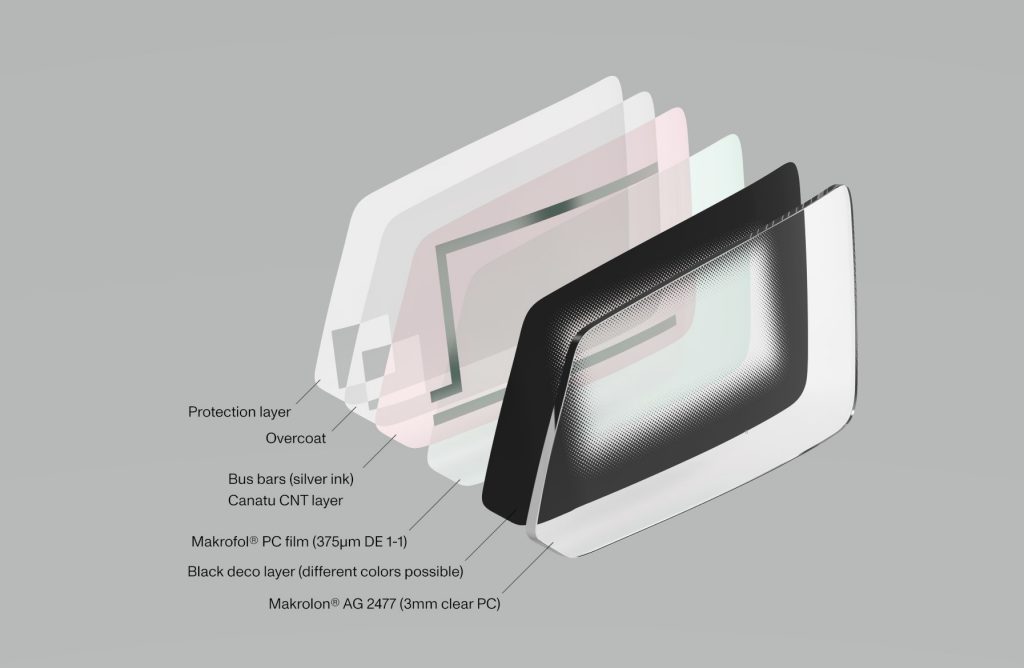 The Canatu lidar heater offers high transmittance at near-infrared light combined with high heating performance and processing ability. The company's film heaters are wire-free, enabling even, fast, and power-efficient deicing across the whole surface without optical distortion or laser-beam deflection.
Its lidar heater is fabricated on Covestro Makrofol PC (polycarbonate) film, which offers high heat resistance, lidar transparency, and 3D formability. The cover lens is made using Covestro Makrolon AG PC, which is robust, laser transparent, available in various colors, and good for high-precision lens molding.
The complete lidar cover lens is fabricated by the FIM process, which enables the one-step fabrication of plastic components with decorated and functional surfaces. During the process, the lidar heater is shaped and trimmed before being placed in an injection mold and back-injected with a thermoplastic resin. FIM eliminates the need for separate steps that would otherwise be required to decorate or functionalize plastic components.
The final molded part is lidar permeable and wire-free, providing an undistorted FOV for the laser beam for an accurate 3D lidar mapping of the surroundings. The performance of the final molded part can be further enhanced by applying functional coatings such as anti-reflective or hard coatings on the back and front surfaces. Canatu lidar heaters can be flexibly tailored to meet customer heating, optical, and design requirements across a range of input voltages.