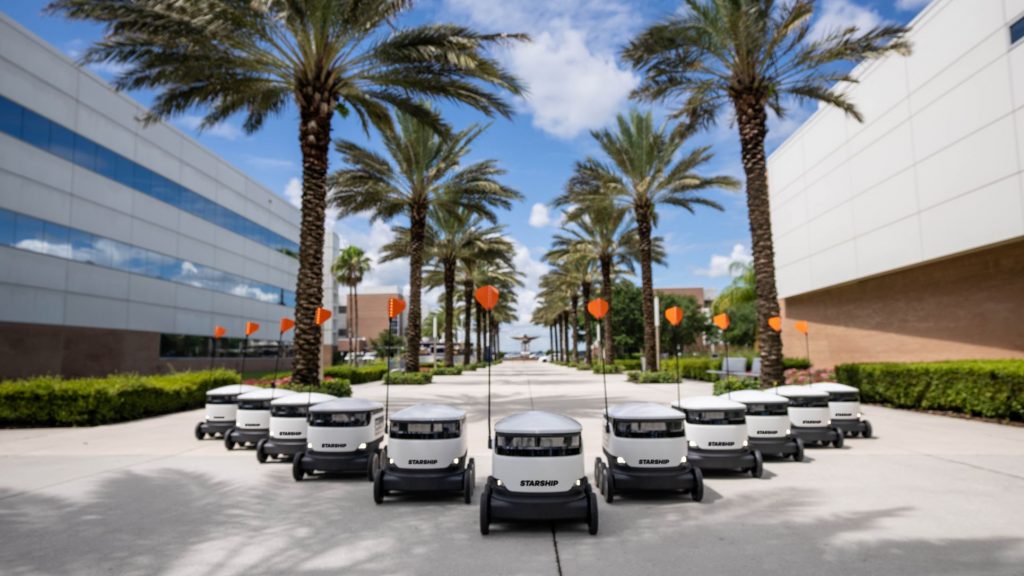 The University of Tulsa introduced a robot food delivery service powered by Starship Technologies last week, with students and employees having meals roll right up to their doors anywhere on campus from breakfast to late evening. The company's fleet of 15 autonomous, on-demand electric robots will deliver from seven campus eateries to the school's nearly 4000 students and 1000 faculty and staff through the Starship app to be delivered within minutes.
"These robots give students the convenience of working around a busy schedule, during sickness or in emergencies by ordering food instead of having to make their way over to dining location," said University of Tulsa's Student Association President Justin Yang.
The university joins other campuses across the country offering Starship robot delivery including George Mason University, Northern Arizona University, Bridgewater State University, and Embry-Riddle Aeronautical University.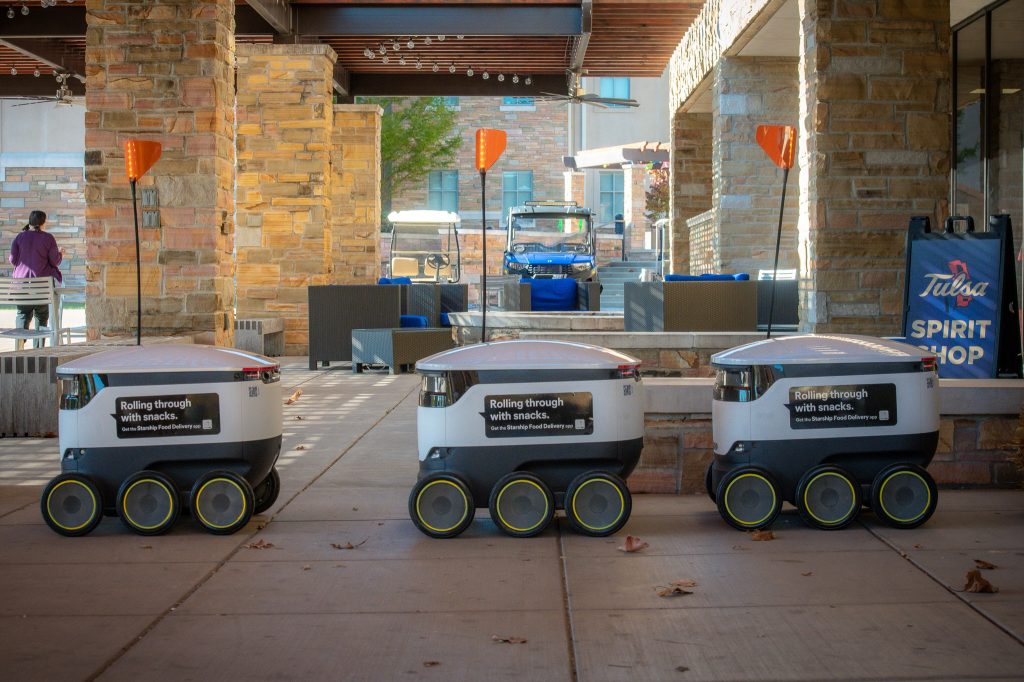 Supercharging Starship Technologies' campus robot deliveries across the U.S. was a partnership announced in October with Grubhub. The service through the food-delivery giant commenced with availability at the University of Kentucky, the University of Nevada, Las Vegas, Wayne State University, Southern Methodist University, and Fairfield University, at that point joining the list of over 25 schools across the U.S. where Starship provides deliveries with its global fleet of over 2000 robots.
"Robot delivery solves the unique challenges of accessing hard-to-reach areas that come from operating on a college campus," said Adam Herbert, Senior Director of Campus Partnerships at Grubhub.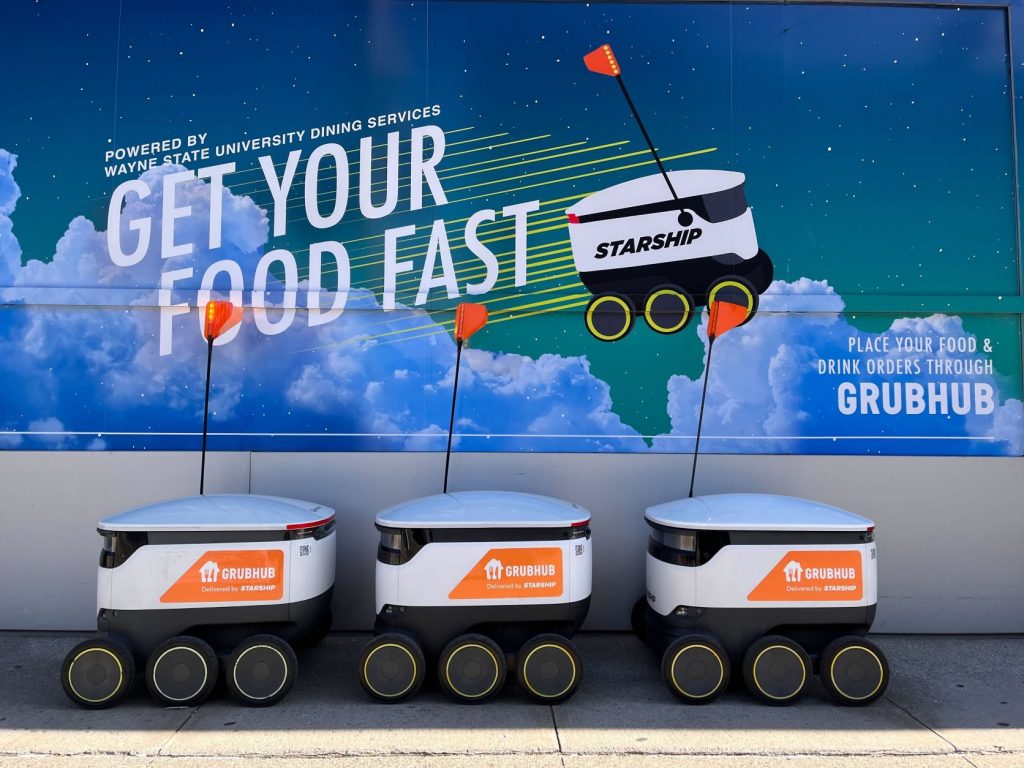 Founded by two Skype co-founders Ahti Heinla (now CTO) and Janus Friis, Starship Technologies claims it invented the delivery robot in 2014.
"We know this industry inside out because we invented it," said Heinla, in March when the company announced it had raised $100 million in 30 days including a new $42 million Series B funding round led by the Japanese-Nordic VC firm NordicNinja and the Estonian visionaries Taavet+Sten. "So many unexpected things have happened to get us where we are today, but I think we can all agree that on-demand services are mainstream and not going away anytime soon. While other companies in this space are busy making claims, we are gladly very busy making thousands of autonomous deliveries every day and improving the efficiency of our service." 
The company, now led by CEO Alastair Westgarth, offers its robot delivery experience to partners as a B2B delivery-as-a-service solution, integrating into retailers' existing platforms to make food delivery more sustainable and efficient. Its zero-emissions robots make more than 140,000 road crossings daily and have made a total of more than 3.5 million autonomous deliveries and traveled millions of miles.
The robot maker has been operating at SAE Level 4 autonomy since 2018, meaning little human interaction during each journey and nobody controlling them remotely. Currently, Starship operates at over 99% autonomy, while some robots are now making multiple deliveries in a row, 100% autonomously. For safety reasons, we also make sure to have human remote assistants on standby, in case they are called upon to support. In March, it announced that it had achieved delivery costs that are lower than the human equivalent, which is believed to be a world first for any robot delivery company, whereas most others are still majority human controlled and in pilot mode.
The robot can travel up to 4 mph, carry the equivalent of three bags of groceries, and operate in various weather conditions including rain and snow. A mixture of computer vision and GPS determines its location down to the inch. The robot has obstacle detection, using a "situational awareness bubble" around it. Using twelve cameras, ultrasonic sensors, radar, neural networks, and other technology including proprietary mapping techniques, it can detect obstacles including animals, pedestrians/cyclists, and other delivery robots.
Users open the Starship Deliveries app, choose from a range of their favorite food and drink items, then drop a pin to where they want their delivery sent. They can then watch via an interactive map as the robot makes its journey. Once the robot arrives, users receive an alert and can then meet and unlock it through the app. The delivery usually takes a matter of minutes, depending on the items ordered and the distance the robot must travel. Each robot can carry the equivalent of about three shopping bags of goods.