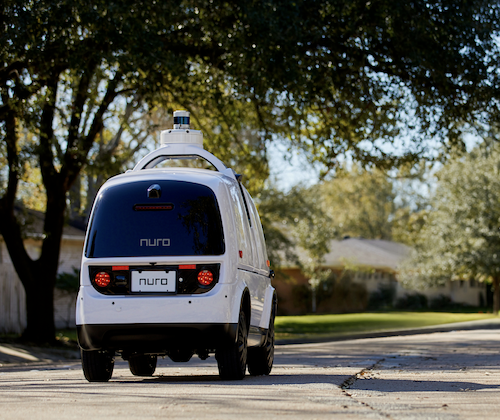 Chipotle is investing in autonomous delivery company Nuro, raising the possibility that robots may one day drop off burritos and tacos for the restaurant chain, the companies announced on March 25.
Chipotle had more than 2,750 restaurants as of the end of 2020, in the United States, Canada, the United Kingdom, France and Germany. The company noted that improving access and convenience to its wares through its digital ecosystem is a key priority—its digital business grew over 174 percent year over year in 2020, with about half of the digital sales coming from delivery.
"Nuro could change the traditional delivery model and we believe consumers are going to continue to seek options and additional access points for how and where they enjoy their food," Curt Garner, Chipotle's chief technology officer, said in a statement. 
Nuro recently became the first company permitted to deploy autonomous vehicles on public streets in California. 

"Nuro and Chipotle share the same commitment to improving everyday life through innovative products, whether it's through responsibly sourced food or autonomous delivery vehicles," Dave Ferguson, Nuro co-founder and president, said in a statement. "With financial and strategic support from world-class companies like Chipotle, we can continue to advance our industry-leading autonomous technology, grow our team and expand our delivery service."
Other investors in Nuro's $500 million Series C funding round include Woven Capital, a newly established $800 million global investment fund focused on growth-stage mobility companies. This is the first investment from Woven Capital, the investment arm of the Woven Planet Group, a Toyota subsidiary. 
"Nuro has proven itself to be a true leader in autonomous vehicles for local goods delivery," George Kellerman, Woven Capital's managing director, said in a statement. "Between their state-of-the-art technology and powerful partnerships with leading U.S. brands, they are revolutionizing everyday commerce―making it safer and more efficient. The company is primed for success in a post-Covid world, where secure, user-friendly delivery is prized by consumers. Woven Capital is excited about supporting Nuro's next wave of growth, since Woven Planet Group's own broader vision of safe mobility for all makes Nuro a natural fit for our first investment."