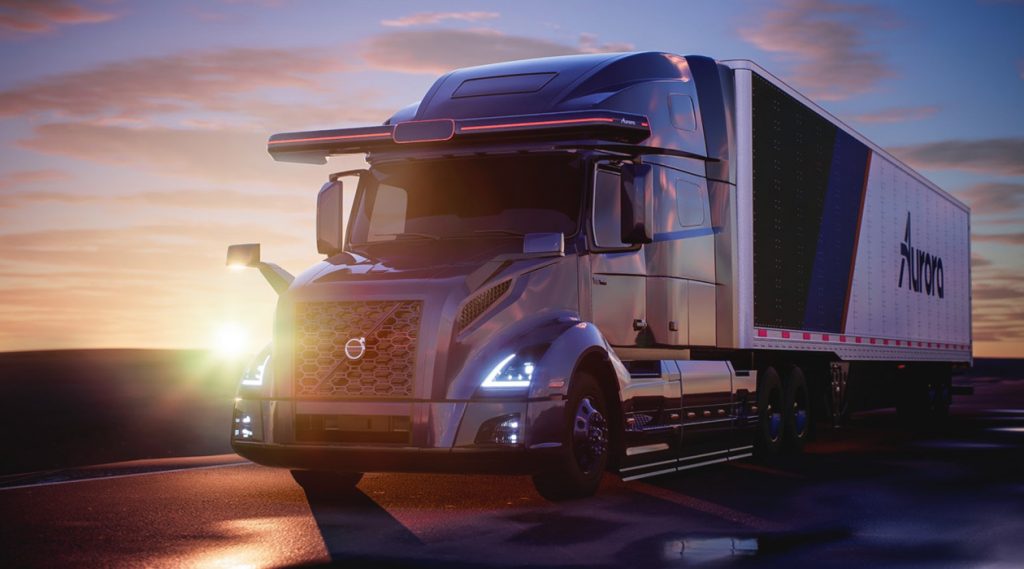 Volvo is partnering with autonomous vehicle startup Aurora to develop and commercialize self-driving on-highway heavy-duty trucks, the companies announced March 30. 
Aurora, which acquired Uber's autonomous vehicle technology in December, began conducting driverless commercial trucking runs in the Dallas-Fort Worth region last year. The company announced in January that it was partnering with Fortune 500 truckmaker Paccar to develop self-driving trucks.
Now Aurora is partnering with Volvo on Class 8 trucks—the heaviest class—in North America. The aim is to develop vehicles with Level 4 autonomy—that is, the ability to act without any human intervention in the vast majority of situations. The partnership's initial focus is autonomous hub-to-hub and Transport-as-a-Service applications.
"Creating a viable autonomous on-highway offering requires close partnerships with both customers and tech partners to develop the needed capabilities," Nils Jaeger, president of Volvo Autonomous Solutions, said in a statement. "This exciting partnership brings our goal of Transport-as-a-Service an important step closer and will accelerate our commercial offer for hub-to-hub applications in North America. Aurora is already a leading force in autonomous systems, and its integrated self-driving stack, software, hardware and data services platform combine to offer a clear path towards efficient and safe on-highway solutions in the medium term."

The new trucks will employ Aurora's Driver software and hardware suite, including the company's FirstLight system, which uses frequency modulated continuous wave (FMCW) LiDAR to detect objects 400 meters away. In comparison, the time-of-flight (ToF) LiDAR techniques often currently used is limited to a maximum range of 200 meters.
"Since the first project together in 2018, Aurora has developed a deep respect for Volvo, its engineering process, and its commitment to safety," Sterling Anderson, co-founder and chief product officer at Aurora, said in a statement. "With the groundwork now laid through the establishment of Volvo Autonomous Solutions and the creation of Aurora's industry-leading sensor suite, we're excited to join forces to develop self-driving solutions with Volvo's impressive network of customers."