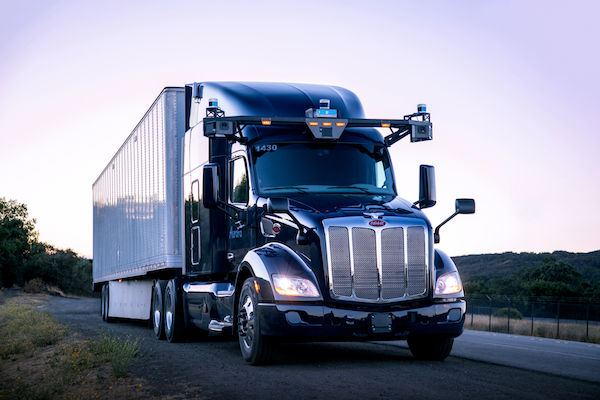 Autonomous vehicle startup Aurora is partnering with Fortune 500 truckmaker Paccar to develop self-driving trucks, the companies announced on Jan. 19.
Aurora, which acquired Uber's self-driving car technology in December, began conducting driverless commercial trucking runs in the Dallas-Fort Worth region last year. More than a tenth of all long-haul truck drivers in America drive in Texas, and freight moved on Texas highways is expected to nearly double in the next 25 years, the company noted.
Aurora has been laying the groundwork for this partnership with Paccar, which owns the Peterbilt, Kenworth and DAF truck brands, for some time, according to Aurora's co-founder and chief product officer Sterling Anderson. "Many of our test vehicles today are built on Paccar's trucks," Anderson said in a statement.
The companies aim to create driverless-capable trucks starting with the Peterbilt 579 and the Kenworth T680, with the partnership including vehicle validation at the PACCAR technical center in Mt. Vernon, Washington, and production support in PACCAR factories. They also plan to develop a commercialization plan to deploy these trucks at scale in North America over the next several years.

The partnership will employ Aurora's Driver software and hardware suite, which the startup has integrated into six different kinds of vehicles to date, including sedans, minivans, SUVs, commercial vans and freight trucks. This includes the company's FirstLight system, which uses frequency modulated continuous wave (FMCW) LiDAR to detect objects 400 meters away. In comparison, the time-of-flight (ToF) LiDAR techniques often currently used is limited to a maximum range of 200 meters.
"Paccar looks forward to partnering with Aurora because of their industry-leading autonomous driving technology and impressive team," Preston Feight, Paccar's CEO, said in a statement. "This strategic partnership complements Paccar's best-in-class commercial vehicle quality, technology and innovation."