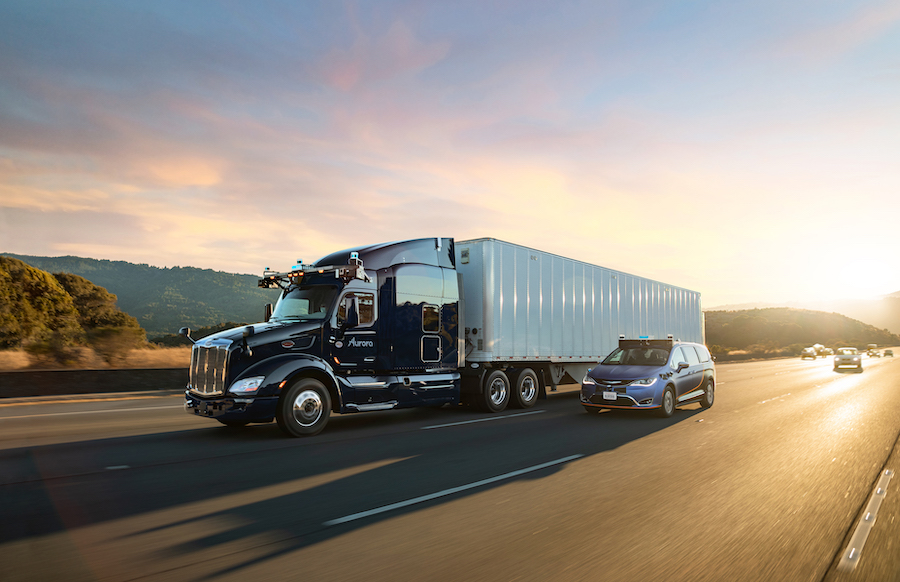 Uber's in-house race to replace humans with driverless cars came to a screeching halt earlier this month when the company announced it would sell its driverless car business to ascendent autonomous truck developer Aurora Innovations. The transaction is expected to close early in 2021.
The deal values Uber's Advanced Technology Group [ATG] at $4 billion. It also illustrates how elements of Silicon Valley and the auto industry underestimated the time it would take to mainstream and monetize AVs. Just last year, ATG was valued at some $7.25 billion after Softbank, Toyota and Denso plowed in another billion dollars to keep the cash-burning AV program alive. 
But Uber, which has never posted a profit, overpromised and underdelivered on its plan to convert its technology and testing expertise into fielding 13,000 autonomous taxis by 2019 and 75,000 in 13 cities by 2022—a strategy it believed would disrupt the auto industry and make the ride-sharing company profitable. Then came COVID, which further hindered Uber's revenues and set back its AV testing schedule. Now Uber is paying Aurora $400 million to take over its AV business in exchange for a 26% stake in the merged company. 
Given Uber's AV ambitions, it's hard to call the transaction a win-win. But its silver lining ensures Uber's access to latest the AV technologies and a potential path to market for future driverless taxis. On its part, Aurora emerges as one of the autonomous vehicle industry's top dogs. It already has funding from Sequoia Capital, along with significant investment from Amazon and T. Rowe Price Associates. Absorbing Uber's pioneering technologies, methodologies, 1,200 engineers and four research facilities—plus its massive fleet of street-tested AVs—will catapult Aurora's product development efforts, which place a premium on the type of off-road experimentation Uber excelled in. 

"Now Aurora can take that on," Chris Jones, vice president and chief UV analyst for Canalys, told TRT World. Unlike Uber, he added, Aurora is solely an autonomous vehicle technology company. "They are a hugely experienced team and now they've gained a thousand or so engineers and support staff. It makes them one of the lead candidates to eventually succeed in this space."
Headquartered in Silicon Valley with about 600 employees, Aurora was founded in 2016 by AV luminaries Chris Urmson, former lead engineer for the Google AV project that became Waymo; Sterling Anderson, inventor of MIT Copilot and former head of Tesla's Model X and autopilot programs; and Drew Bagnell, who ran a research lab at Carnegie Mellon University, then left to work on AVs at Uber. Reid Hoffman, the billionaire founder of LinkedIn and an Aurora investor, has called Urmson "the Henry Ford of autonomous vehicles."
The company's Aurora Driver is a compact, full-stack suite comprising multiple sensor modalities, software and hardware that's been integrated into sedans, SUVs, minivans, commercial vans and Class 8 freight trucks. Focused on AV trucks, Aurora plans to engage manufacturing, mobility, logistics and fleet management partners to create an "Aurora Ecosystem" with storage, maintenance, dispatch, routing and on-road support.
Working in concert within Aurora Driver are cameras, radar, traditional lidar and "FirstLight," a long-range frequency modulated continuous wave (FMCW) LiDAR Aurora obtained when it bought Montana-based Blackmore. Aurora also acquired 7D Labs, a simulation startup that makes photorealistic synthetic data sets for street scene parsing. 
Aurora claims its localization software can determine position within 10 centimeters and 0.1 degree of accuracy, even in environments that deny or deceive GPS, and in the throes of inclement weather. It says that Aurora Driver is capable of "seamlessly merging, nudging and performing unprotected left-hand turns in dense urban environments." Development of a technology set is underway that will allow remote specialists to review contextual information such as video feeds and point the Aurora Driver in the right direction. 
History Of Simulation
Urmson has long urged the AV industry to squeeze more value out of on-road miles by accentuating simulation testing as Aurora has. Big investments in virtual testing infrastructure enable Aurora engineers to run millions of off-road tests­ daily—including ones with parked cars, lane merging and pedestrians—and feed driving decisions into the company's motion planning models. This can identify and correct problems early. 
Aurora's goal is to capitalize on Uber's deep virtual testing infrastructure to go further, faster. Uber's rideshare and delivery operations have generated massive data sets for better modeling and machine learning (ML). To leverage this data, the company invested heavily in cloud infrastructure and developed data processing technologies that increased the effectiveness and efficiency of both products and operations. Among them was Michelangelo, Uber's ML-as-a-service platform that allows users to query data, generate features and apply myriad ML models to solve production problems. 
In a blog, Urmson touted Uber's robust log-data ecosystem, which includes metrics and building tools to perform deep log searches, allowing engineers to quickly find the right data for performing experiments, training models and more. He has also highlighted the value of Ubers web-based visualization tools, which can precisely dissect how individual systems perform and how their code translates to the road.
Recently, Uber did an entire rewrite of its software platform to accelerate simulation efforts while introducing a new framework for building web-based tools and completely revising its approach to building AV maps. Urmson noted that Uber has streamlined efforts such as label production by strategically building and refined its tooling, workflows and automation. It also has incorporated hardware features such as liquid-cooled processors that Aurora has not.
Urmson additionally praised the "tenacity and grit" of Uber's staff" as suggesting how those staffers will affect Aurora's future. 
"They have repeatedly set and achieved outrageous goals that will accelerate our work," Urmson blogged after the announcement. "This foundational work and combined expertise give Aurora an unprecedented opportunity to lead the industry in both trucking and passenger mobility."
Photo courtesy of Aurora Innovations.