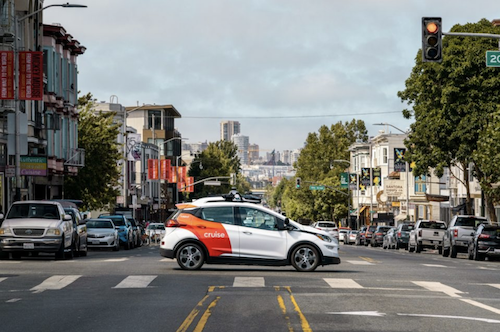 Microsoft is partnering with General Motors and Cruise to accelerate the commercialization of self-driving vehicles, the companies announced.
Founded in 2013, San Francisco-based Cruise was acquired by General Motors in 2016. In December, Cruise revealed it had started testing driverless cars without safety drivers in San Francisco, two months after it received California's permission to operate fully driverless cars in the state.
In the new partnership, Cruise will employ Azure, Microsoft's cloud and edge computing platform, to help bring its autonomous vehicles to market. Microsoft will also tap into Cruise's industry expertise to assist transportation companies across the globe.
"Microsoft, as the gold standard in the trustworthy democratization of technology, will be a force multiplier for us as we commercialize our fleet of self-driving, all-electric, shared vehicles," Cruise CEO Dan Ammann said in a statement.

In addition, GM will work with Microsoft on initiatives such as artificial intelligence and machine learning capabilities. GM will also collaborate with Microsoft to streamline operations across digital supply chains and bring new mobility services to customers faster.
"Microsoft will help us accelerate the commercialization of Cruise's all-electric, self-driving vehicles and help GM realize even more benefits from cloud computing as we launch 30 new electric vehicles globally by 2025 and create new businesses and services to drive growth," GM Chairman and CEO Mary Barra said in a statement. 
Microsoft will join General Motors, Honda and other institutional investors in a new round of investment in Cruise of more than $2 billion. This brings Cruise's valuation up to $30 billion. (GM retains a majority stake in Cruise.)
"As Cruise and GM's preferred cloud, we will apply the power of Azure to help them scale and make autonomous transportation mainstream," Microsoft CEO Satya Nadella said in a statement.