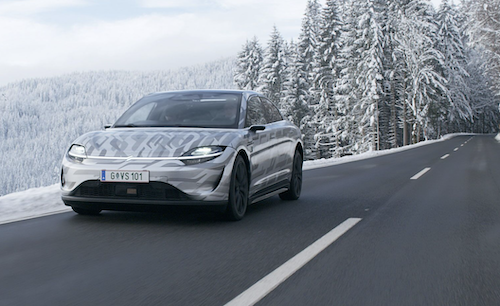 Sony's first foray into vehicle design—its VISION-S prototype electric vehicle—will include advanced driver-assistance systems (ADAS) and automated driving systems developed by AImotive, the most-funded automated driving technology company in Europe, the companies have announced.
At 2021's Consumer Electronic Show (CES), Sony revealed that it completed its prototype in December. Moreover, the VISION-S has begun public road tests in Europe.
AImotive revealed its self-driving software stack aiDrive will help guide the VISION-S. The aim is to provide it Level 2+ ADAS capabilities. Ordinary Level 2 ADAS capabilities involve partial automation, and include automatic steering, acceleration and braking in limited situations. So-called Level 2+ features may include support from map databases to help autonomous vehicles stay in the centers of lanes even in areas with poor or absent lane marks.
ADAS functions that aiDrive will provide for the VISION-S will include a highway autopilot, AImotive's flagship automated driving function, which has already been tested on three continents, the company noted.

"AImotive brings excitement to the automated driving industry, creating scalable and reliable automated systems. Working with them to further develop technology for the VISION-S concept is a decision that we believe will contribute to the future of mobility," Izumi Kawanishi, senior vice president of Sony Corporation in charge of AI Robotics Business, said in a statement.
"We are super-excited to be working with internationally respected Sony," said László Kishonti, CEO and founder of AImotive. "This is a great collaboration for us, helping us better understand the key challenges in developing and integrating advanced ADAS technologies from well-respected industry leaders. We look forward to working closely with Sony to complete realizing the VISION-S prototype."
Photo courtesy of Sony.