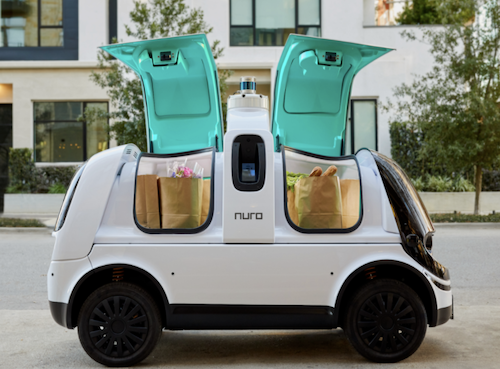 The driverless delivery service Nuro has become the first company permitted to deploy autonomous vehicles on public streets in California.
The new permit from the California Department of Motor Vehicles, announced on December 23, allows Nuro to operate driverless vehicles for commercial deliveries within designated parts of Santa Clara and San Mateo counties, both in the Bay Area. This includes the cities of Menlo Park, Mountain View, Palo Alto and Sunnyvale. 
The cars have a maximum speed of 25 miles per hour. They are only approved to operate in fair-weather conditions on streets with a speed limit of no more than 35 miles per hour.
"Issuing the first deployment permit is a significant milestone in the evolution of autonomous vehicles in California," Steve Gordon, director of California's Department of Motor Vehicles, said in a statement. "We will continue to keep the safety of the motoring public in mind as this technology develops."

Unlike an autonomous testing permit, which limits the compensation a company can receive from the public while validating its technology on public roads, a deployment permit authorizes a company to make its autonomous technology commercially available outside a testing program.
"The service will start with our fleet of Prius vehicles in fully autonomous mode, followed by our custom-designed electric R2 vehicles," David Estrada, Nuro's chief legal and policy officer, said in a statement. "R2 was purposefully engineered for safety, with a design that prioritizes what's outside—the people with whom we share the roads—over what's inside. We have extensively tested our self-driving technology and built a track record of safe operations over the past four years, including two successful commercial deployments in other states and driverless testing with R2 in the Bay Area communities where we plan to deploy."
In order to receive a deployment permit, the California Department of Motor Vehicles noted that manufacturers must certify they meet a number of safety, insurance and vehicle registration requirements, including:
* Identifying the operational design domain of the vehicles, as well as describing any commonly occurring restricted conditions within which the vehicles would not be able to operate.
* Verifying the technology is capable of detecting and responding to roadway situations in compliance with the California Vehicle Code, and describing how the vehicle meets the definition of an Society of Automotive Engineers (SAE) Level 3, 4 or 5 autonomous technology.
* Verifying the vehicles meet federal Motor Vehicle Safety Standards or have an exemption from the National Highway Traffic Safety Administration.
* Certifying the manufacturer has conducted test and validation methods and is satisfied that the autonomous vehicles are safe for deployment on California public roads.
* Developing a Law Enforcement Interaction Plan that provides information to law enforcement and other first responders on how to interact with the autonomous vehicles.
* Providing evidence of insurance or a bond equal to $5 million.
"Since California adopted one of the first autonomous vehicle laws in the country in 2012, the DMV has steadily crafted a regulatory framework that last year included small delivery vehicles like Nuro's," Estrada said in his statement. "This framework set up a three-stage permitting process for companies to move from testing with a safety driver, to driverless testing and now finally, to commercial deployment."
Nuro also announced that it had acquired the autonomous trucking startup Ike. "We have watched as Ike developed not just one of the most rigorous safety-first and systems-based approaches to self-driving development, but a team that is widely regarded as one of the brightest in our field," Dave Ferguson, Nuro's co-founder, said in a statement. "The combination of the two, along with the ability to readily integrate some of their core technology (like their world-class virtual simulation tool), is what made the opportunity to join us a natural fit."