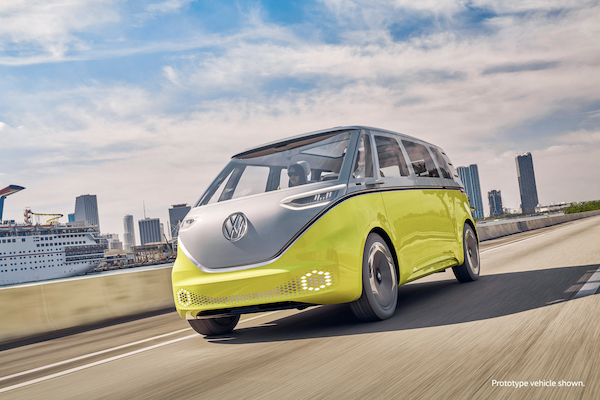 Volkswagen's first autonomous vehicle will be an updated electric version of the legendary VW Bus, the company announced Feb. 26.
Volkswagen is aiming to launch its first autonomous vehicles (AVs) in 2025. These will be self-driving versions of its I.D. Buzz electric minivan, the latest generation of the venerable Volkswagen Microbus.
Whereas the first VW Bus sold in the United States in 1950 had only 30 horsepower, the I.D. Buzz is designed to sport 369 horsepower from electric motors on each axle that also provide all-wheel drive. The 111 kilowatt-hour battery pack in the floor of the chassis will provide nearly 300 miles of estimated range, can recharge about 80 percent of its energy capacity in 30 minutes at 150 kilowatts.
"For me, the I.D. Buzz concept is the most beautiful and most exciting electric car in the world," Herbert Diess, chairman of the board of management for the Volkswagen brand, said in a statement.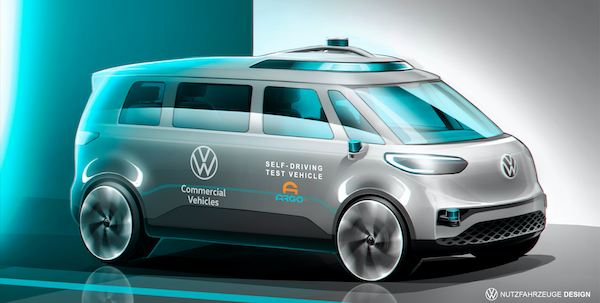 The upcoming AVs will employ self-driving systems from AV technology startup Argo AI, in which Volkswagen and Ford have equal ownership stakes. In parallel and independently of Argo AI, Volkswagen's automotive software company Car.Software Organization is also developing assisted and automated driving functions up to Society of Automotive Engineers (SAE) Level 4 autonomy—that is, able to act without any human intervention in the vast majority of situations.
Volkswagen aims to develop a ride-hailing and ride-pooling concept similar to what Volkswagen's MOIA ride-sharing service offers today, Volkswagen's head of autonomous driving Christian Senger said in a statement.
"This year, for the first time, we are conducting field trials in Germany," Senger said. "In the middle of this decade, our customers will then have the opportunity to be taken to their destination in selected cities with autonomous vehicles."