Ultrabeam Hydrographic and Dynautics are among the companies collaborating on a remotely operated reconnaissance survey vehicle to help British troops safely and stealthily advance across water obstacles. Responding to "Map the Gap," a Ministry of Defence and Security Accelerator project, the Ultrabeam Argocat is an autonomous and amphibious hydrographic survey vehicle designed to replace vulnerable Royal Engineer reconnaissance troops in identifying suitable water crossing points. Stealth and beyond line of sight capabilities can reduce threats to life while affording quicker, more efficient and multiple crossings.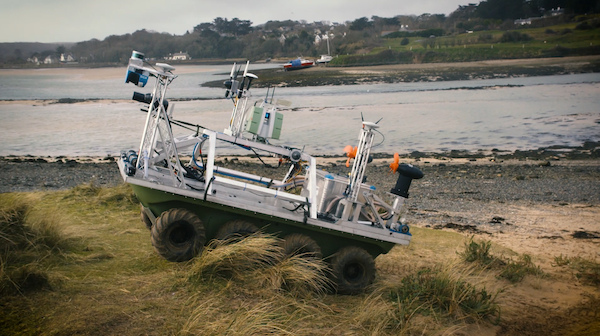 For this project, Dynautics, an intelligent marine technology partner covering a range of maritime sectors, had to hone autopilot specifications to support the Ultrabeam team in achieving its mission. Dynautics' key task was to adapt its MicroSPECTRE autopilot hardware to drive the Argocat. The challenge was that MicroSPECTRE is traditionally is used for marine deployments such as uncrewed surface vessels. "The team had never attempted to control a vehicle both on land and in the water before," Dynautics CEO Henry Robinson noted in a release. "But we were able to adapt our SPECTRE autopilot quickly and effectively."
Considerations included joystick-based remote operation, the ability to follow a straight-line heading or pre-planned mission tracks, and steering the Argocat during both land and waterborne operations and for collision avoidance measures.
Successful field trials were completed in December, and the collaboration is continuing for the second phase of the Map the Gap Project.
Photos courtesy of Ultrabeam Hydrographic.