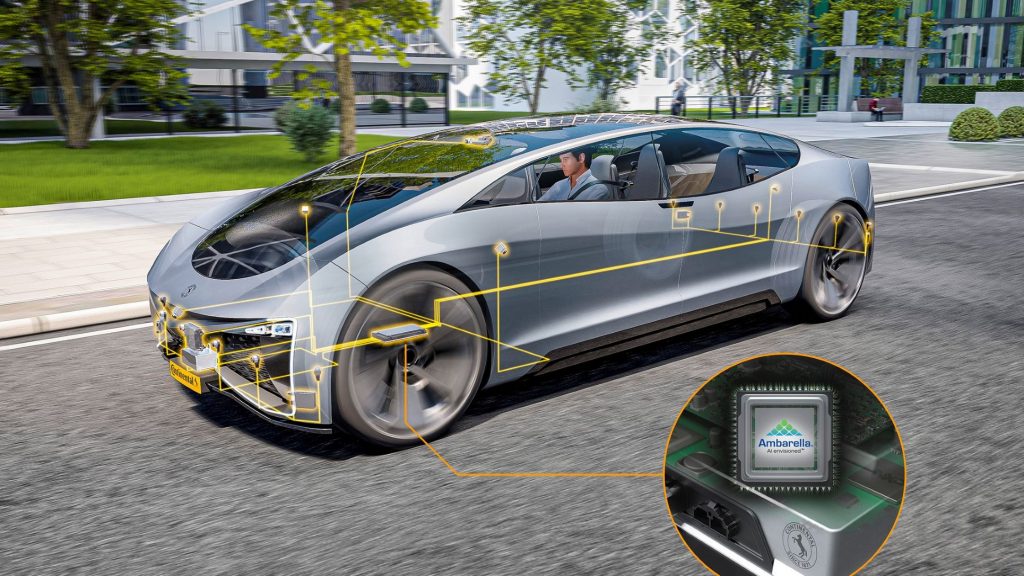 Continental announced earlier this week that it will offer advanced driver assistance system (ADAS) solutions based on the CV3 artificial intelligence (AI) system-on-chip (SoC) family from semiconductor company Ambarella. The high-performance, power-efficient, and scalable SoC portfolio built for ADAS applications is said to complement Continental's solutions for assisted driving and advance its further vehicle automation goals.
The more sensors installed in a vehicle—including high-resolution cameras, radars, lidars as well as ultrasonic sensors—means a greater amount of data are collected to detect the environment. The joint solution with a single centralized chip based on 5-nm technology enables the next generation of vehicles to process data from multiple sensors more quickly thanks to better performance. The integrated SoC enables early data fusion from different sensors simultaneously for various functions such as automated emergency brake assist, parking, or cruising.
"After exchanging on different use cases with Ambarella for two years, Continental is now integrating its high-performance, low latency, and low-power processing chipset into our assisted driving solutions," said Frank Petznick, Head of the Autonomous Mobility Business Area at Continental. "This brings our ADAS systems to the next level and helps to serve the growing amount of sensor data in the vehicle. With this, we achieve a more comprehensive and accurate environment perception."
A Continental ADAS enhanced with an Ambarella SoC can process more collected data faster, increasing precision and enabling a larger range of functions.

The high scalability of the Ambarella system-on-chip family allows vehicle manufacturers to choose the necessary performance level for their system requirements on the same vehicle architecture. This added value for vehicle manufacturers means that they can reduce their engineering investments across all vehicle types.
Despite the higher performance and accuracy, the solution consumes less power. A significant AI performance per watt for neural network computation comes with a performance increase of over 40 times compared to its previous semiconductor chip family. This leads to lower cooling needs, making sustainable energy savings possible while reducing system costs.
Ambarella also integrates its image signal processor technology into all SoCs, resulting in ADAS systems with higher levels of environmental perception in challenging lighting, weather, and driving conditions.
The integrated system-on-chip in Continental's ADAS systems will be showcased at CES 2023 in Las Vegas for the first time. While the Conti announcement is the latest, Ambarella has also been making news with other partners.
Level 3 automated driving with Inceptio
In June, it was revealed that autonomous driving truck technology company Inceptio Technology had selected two each of Ambarella's CV2FS and CV2AQ edge AI CVflow SoCs for its automotive-grade central computing platform at the core of Inceptio's full-stack Xuanyuan autonomous driving system. Ambarella's SoCs provide high-performance and low-power processing simultaneously for seven 8-MP cameras, including AI compute, for surround camera perception and front ADAS safety features like collision avoidance.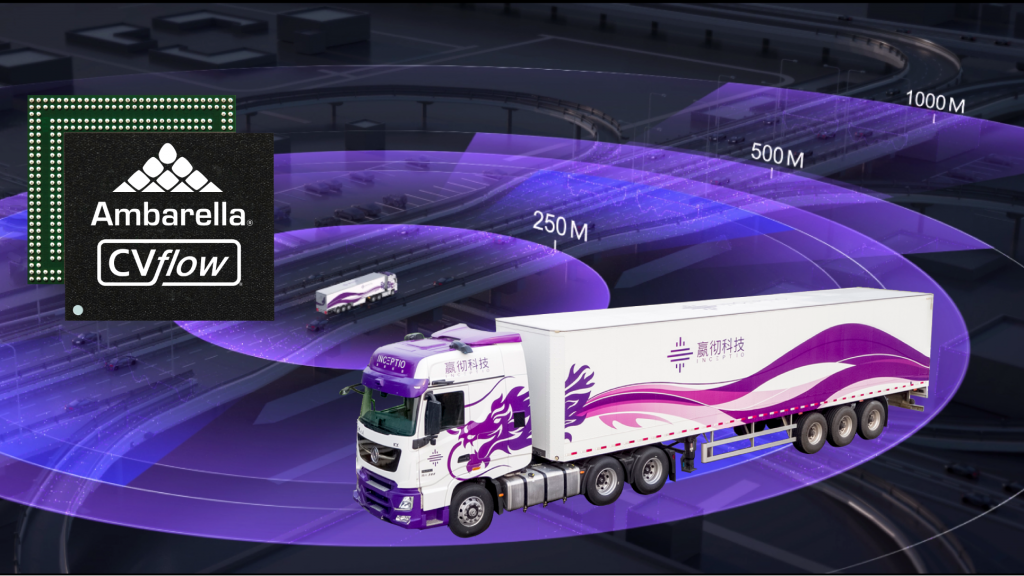 "Inceptio's adoption of Ambarella's CVflow AI processors, initially designed in SAE L3 autonomous trucks jointly developed by Inceptio and its OEM partners, provide fleet operations with critically needed advanced collision avoidance," said Susan Beardslee, ABI Research's Principal Analyst for Supply Chain Management & Logistics (now Global Market Intelligence Researcher at Intel). "We expect over 4.2 million SAE Level 2-4 commercial vehicles to ship worldwide in 2030."
"Our CVflow edge AI SoCs provide Inceptio with high-performance AI processing to implement advanced computer vision and neural network algorithms, industry-leading image signal processing for maximum clarity in challenging lighting conditions and the industry's best performance per watt, enabling Inceptio to stay well within their thermal and power budgets," said Fermi Wang, President and CEO of Ambarella.
"The highly efficient architecture of Ambarella's CV2 SoCs contributes to the excellent performance when running our advanced 3D computer vision algorithms," said Gary Huang, EVP of Inceptio Technology. "Inceptio Technology and our OEM partners started the mass production of L3 trucks at the end of 2021, and we will continue to optimize and iterate our autonomous driving technologies and products while expanding our OEM cooperation and the application of vehicle platforms."
Ambarella's ASIL-C certified CV2FS SOCs are deployed to perform collision avoidance while addressing the system requirement for functional safety. Additionally, Ambarella's QM-qualified CV2AQ SoCs are doing segmentation and object detection, including traffic lanes and signs.
Interior monitoring for Invo Tech, GAC
Earlier in November, the edge AI semiconductor company announced it is supplying its CV25AQ AI to intelligent driving system supplier Suzhou Invo Automotive Electronics Co., Ltd. (Invo Tech) for its Cockpit Super Sensory Interactive System on GAC Motor's first self-developed hybrid SUV model. The Emkoo SUV features GAC Motor's in-house, full-stack smart driving technology platform.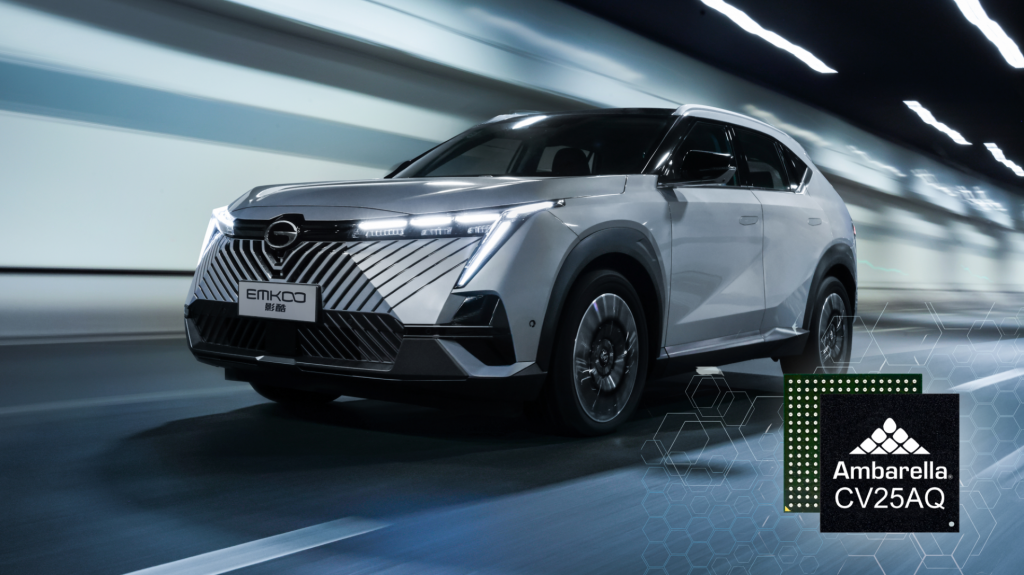 The cockpit system uses a single CV25AQ AI SoC and integrates one 2-MP driver-monitoring camera, one front and two rear occupant-monitoring cameras, one "life monitoring" radar, and other integrated sensing technologies. The cameras use an Omnivision IR sensor for the driver and RGB-IR sensors for occupants in the ceiling lights and left and right B-pillars.
Invo Tech, in conjunction with upstream and downstream ecosystem partners, has developed functions such as Face ID along with the detection of driver fatigue, smoking, phone calls, gender and age, as well as the recognition of moods, gestures, signs, and other indicators. It can provide music volume reduction during phone calls, automatic window rolldown when smoking, infotainment gesture control, auto-generated mood-based music playlists, and child monitoring.
The advanced algorithms in this project are powered by Ambarella's CVflow AI engine inside its CV25AQ automotive-grade AI perception SoC that uses advanced 10-nm process technology. It provides high AI performance and low power consumption. The proven technology is popular in a variety of AI computer vision applications, and it integrates an industry-leading ISP for image quality. It supports a variety of CMOS image sensors (e.g., monochrome, RGB-IR, RGGB) and includes features such as accurate CMOS image sensor synchronization and exposure control to avoid interference from the multi-camera infrared lights in DMS/OMS systems.
Invo Tech's Cockpit Super Sensory Interactive System complies with Euro NCAP 2025 standards, so it can perform reliable visual processing in complex lighting conditions to ensure the safety of drivers and passengers. The CV25AQ's software also includes fault tolerance for unexpected interruptions in the camera signal and general fault handling, which meets the system's ASIL functional safety requirements.