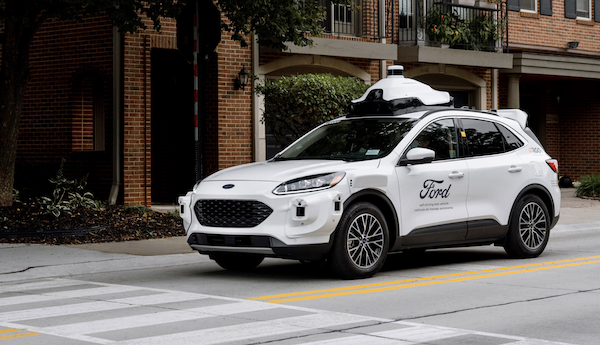 Ford plans to invest roughly $7 billion on autonomous vehicles, the automotive giant announced on Feb. 4.
During Ford's report on its 2020 fourth-quarter and full-year financial results, the company noted it planned to invest more than $29 billion in electric vehicles (EVs) and autonomous vehicles (AVs) through 2025.
"The transformation of Ford is happening, and so is our leadership of the EV revolution and development of autonomous driving," Ford president and CEO Jim Farley said in a statement.
Of the roughly $7 billion Ford plans to invest in AVs over 10 years through 2025, $5 billion will get invested from 2021 forward. The company noted that during the final quarter of 2020, self-driving cars from autonomous vehicle technology startup Argo AI—in which Ford and Volkswagon have equal ownership stakes—successfully performed autonomous deliveries of fresh produce and school supplies through a charitable goods pilot program in Miami.
In the last quarter of 2020, Argo also unveiled its fourth-generation self-driving test vehicles, built on the Ford Escape Hybrid platform. Argo's self-driving system is the first one with commercial deployment plans for both Europe and the United States, and Argo also suggested it may be the first self-driving technology company to develop automotive-grade components—hardware built to withstand extreme thermal conditions and maintain structural integrity over time—that can be manufactured in significant volumes.
Ford also noted more than $22 billion it planned to invest in EVs through 2025 is nearly twice what the company had previously committed to the vehicles. "We are accelerating all our plans—breaking constraints, increasing battery capacity, improving costs and getting more electric vehicles into our product cycle plan," Farley said in the statement.