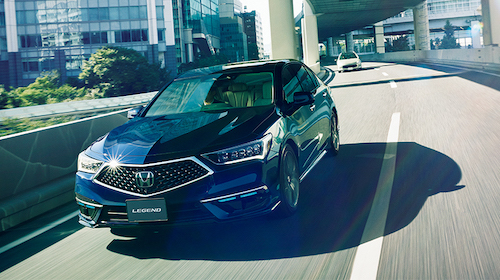 Honda recently began leasing its new Legend with Honda SENSING Elite, a vehicle that features Level 3 autonomy, in Japan. 
Honda SENSING Elite is a variation of Honda SENSING, a suite of advanced safety and driver-assistive technologies, according to a news release. The vehicle's advanced "Traffic Jam Pilot" function qualifies for Level 3 automated driving, earning Honda type designation from the Japanese Ministry of Land, Infrastructure, Transport and Tourism (MLIT). With Traffic Jam Pilot technology, the automated system can drive the vehicle under certain conditions, such as in congested expressway traffic, instead of a human. 
The system determines the vehicle's position and road conditions using data from 3D high-definition maps and GNSS. Various external sensors detect the vehicle's 360-degree surroundings. The system also tracks the driver's condition using a camera mounted inside the vehicle.
"Based on such a wide range of information, the main ECU makes proper recognitions, predictions and decisions and applies a high-level control of acceleration, braking and steering to assist the driver to achieve high-quality and smooth driving," according to the release. 

To ensure safety and reliability, about 10 million possible real-word situations were simulated during development. Multiple demonstrations were also conducted, with about 800,000 miles traveled. The vehicle also incorporates redundant system design in case any of the devices experience problems. 
The Legend features blue accessory lights and a dedicated aluminum wheel. Sensors are embedded to make them less noticeable. 
Other features include a hands-off function with adaptive in lane driving, active lane change assist with hands-off function and active lane change with hands-off function, emergency stop assistance and a human-machine interface.