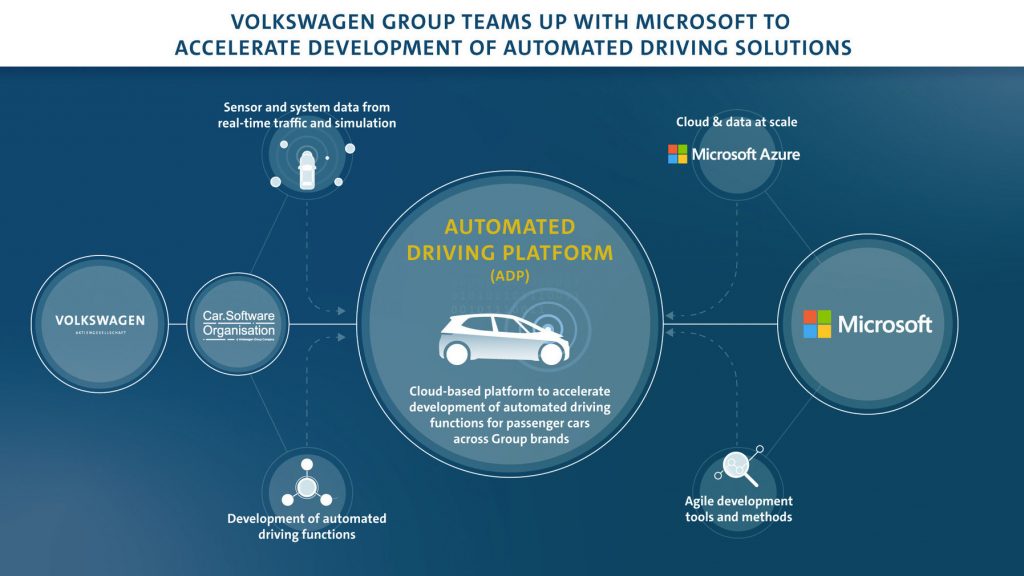 Volkswagen is partnering with Microsoft to build a new cloud-based automated driving platform, the companies announced Feb. 11.
Volkswagen's automotive software company Car.Software Organization, founded in 2020, will collaborate with the computer giant to build the new platform on Microsoft's cloud computing service Azure.
"This is the next evolution of our foundational work with the Volkswagen Group to enhance their transformation as a software-driven mobility provider," Scott Guthrie, executive vice president of cloud and AI at Microsoft, said in a statement. "The power of Microsoft Azure and its compute, data and AI capabilities will enable Volkswagen to deliver secure and reliable automated driving solutions to their customers faster."
The new project's goal is to create a single platform for Volkswagen's software developers globally as they seek to produce new advanced driver assistance systems (ADAS) and automated driving (AD) features. It will serve as a clearinghouse for petabytes of data, including billions of real and simulated miles driven in varied road and weather conditions, as well as corresponding obstacle detection and driver behavior.

"As we transform Volkswagen Group into a digital mobility provider, we are looking to continuously increase the efficiency of our software development," Dirk Hilgenberg, CEO of the Car.Software Organization, said in a statement. "We are building the Automated Driving Platform with Microsoft to simplify our developers' work through one scalable and data-based engineering environment. By combining our comprehensive expertise in the development of connected driving solutions with Microsoft's cloud and software engineering know-how, we will accelerate the delivery of safe and comfortable mobility services."
The new platform could help reduce development cycles from months to weeks, the companies noted. 
"Software development is very fast-moving and follows its own rules," Hilgenberg said in a statement. "We want and need to be able to produce innovative solutions for changing customer needs in relatively short cycles."
Since 2018, Volkswagen and Microsoft have collaborated to develop the Volkswagen Automotive Cloud, which is focused on integrating all of Volkswagen's future digital services and mobility offerings. The first test fleets connected to the Volkswagen Automotive Cloud are expected to hit the road this year, with production rollout planned for 2022. The new automated driving platform will be integrated with the Volkswagen Automotive Cloud so ADAS and AD features developed on the platform can get tested, deployed and operated across Volkswagen fleets.
Image courtesy of Volkswagen AG.