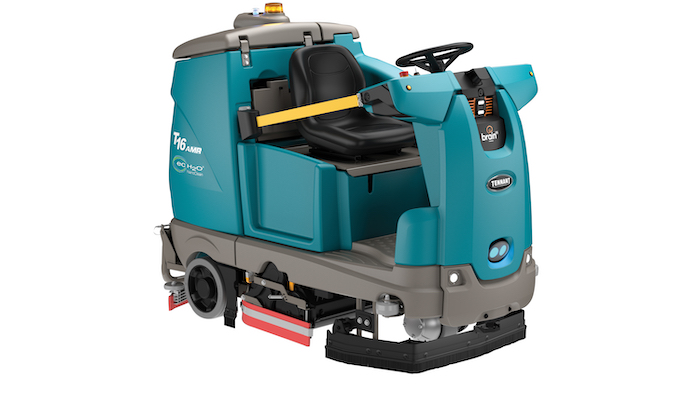 Tennant Company recently introduced its third and largest autonomous floor cleaning machine for industrial applications: the T16AMR Robotic Floor Scrubber. 
The autonomous mobile robot is the first AMR built on an industrial scrubber platform, according to a news release. It can be used in logistics and manufacturing facilities for consistent, efficient cleaning. 
Like the company's other ARMs, the industrial-grade scrubber is designed to operate in complex, real-world environments without direct operator control. This is especially helpful now, when maintenance teams have more cleaning protocols to complete but fewer staff members to do the work. The T16ARM cleans consistently and efficiently, notifying supervisors of route completion and sending out weekly reports. 
Brian Corp.'s advanced AI and robotic technology platform BrainOS® powers the autonomous scrubber. 

"Throughout its history, Tennant Company has maintained a sharp focus on advancing the cleaning industry by aggressively pursuing new technologies," said David Strohsack, Tennant Company vice president, global product management and marketing, according to the release. "Tennant continues this legacy with the introduction of our largest autonomous machine to help our customers increase their cleaning efficiency and maximize employee resources." 
Tenant launched its first ARM, the T7AMR Scrubber, in 2018, and followed that up with the T380AMR in 2020. The T380AMR cleans narrow aisles and has the ability to complete tight turns, making it well suited for smaller spaces. The new T16AMR is designed for facilities with larger footprints.