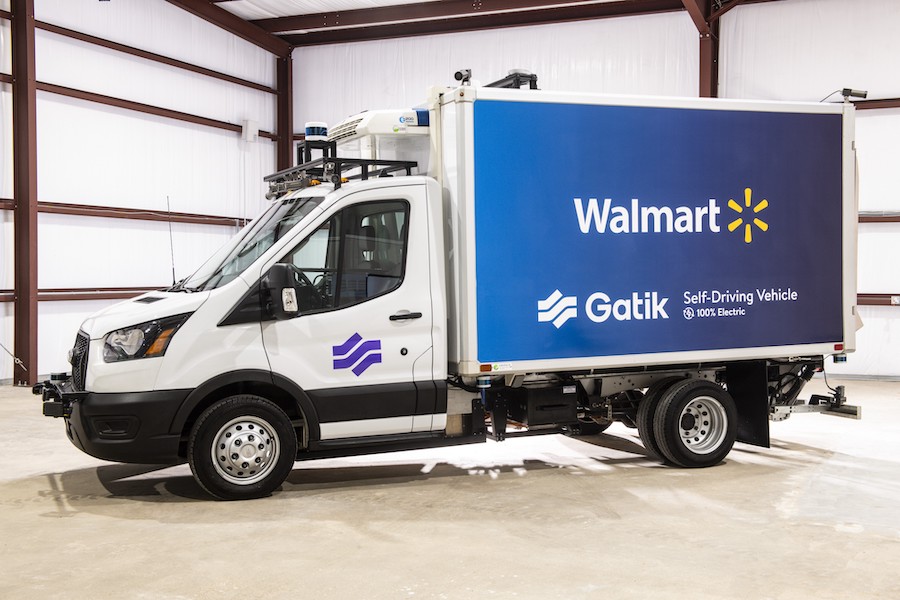 The self-driving trucks Walmart is testing in Louisiana from autonomous delivery startup Gatik are now all-electric, the companies announced on Feb. 17.
Gatik partnered with Via Motors to develop its first battery electric box trucks. These vehicles, based on the Ford Transit 350, boast a range of 120 miles and can reach full charge in less than 1.5 hours.
"They're an energy-efficient autonomous solution to optimize freight movement on the middle mile, reduce some of the 2,200 million metric tons of CO2 emissions unleashed each year by North America's transportation sector and help deliver on the promise of sustainability today," Gatik's co-founder and CEO Gautam Narang said in a statement.
Although long-haul trucking might prove beyond current electric vehicle technology, electric vehicles might prove ideal for short-haul deliveries, Narang noted.

"Operations on the middle mile involve multiple journeys per day on relatively short distances," he continued. "This means our electric autonomous box trucks can charge while they're being loaded and unloaded, allowing for uninterrupted service. The solution offers significant emissions reductions and dramatic savings on fuel and powertrain maintenance costs. These savings can, in turn, be passed on to consumers — contributing to a sustainable logistics ecosystem that connects service provider, customer and consumer."
These new trucks will commence operations with Walmart this month, delivering items from a Walmart Supercenter in New Orleans to a pick-up point in Metairie, Louisiana. "The new service unlocks the opportunity for customers who live further away from Walmart's store in New Orleans to benefit from the convenience and ease of Walmart's pickup service, with all the benefits electrification brings," Narang said.
Walmart and Gatik recently announced they were going completely driverless with autonomous trucks along a two-mile route in Bentonville, Arkansas, after testing vehicles on it for more than 70,000 miles. However, the new electric trucks will initially operate with safety drivers.