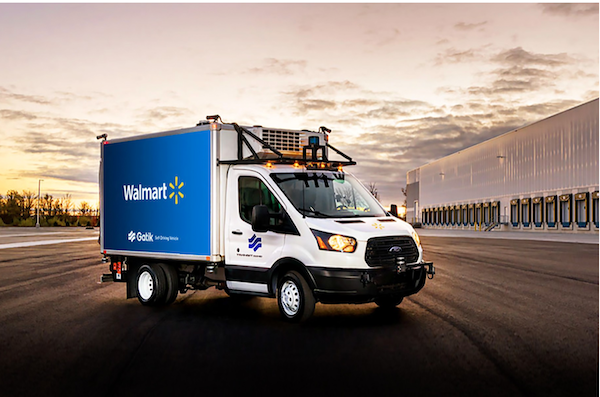 Walmart continues to pilot an autonomous delivery future through driverless truck trials. 
Starting in 2021, a Gatik multi-temperature "autonomous box truck" will drive between a Walmart "dark store"—a fulfillment operation not open to the public—and a Walmart Neighborhood Market in the giant company's home town of Bentonville, Arkansas.
This test route will built on more than 70,000 operational miles driven in "autonomous mode" since 2019. Those trips have had safety drivers at the wheel, so the driverless run will represent an evolution in Walmart's autonomous delivery.
"This achievement marks a new milestone that signifies the first-ever driverless operation carried out on the supply chain middle mile for both Gatik and Walmart," Tom Ward, Walmart U.S. senior vice president of customer product, said in a release.

Gatik was founded in 2017 and has offices in both Toronto and Palo Alto. With a focus on short-haul retail deliveries, Gatik's mission "is to deliver goods safely and efficiently using autonomous vehicles."
Autonomous deliveries also will extend to a 20-mile route between a Walmart Supercenter in New Orleans and a customer pickup location in Metairie. That distance dictates that a safety driver remain behind the wheel for now, but the companies will continue to collect meaningful data that ultimately can empower fully autonomous routes.
"Our trials with Gatik are just two of many use cases we're testing with autonomous vehicles," Ward said. "We're excited to continue learning how we might incorporate them in a delivery ecosystem."
Photo courtesy of Walmart.