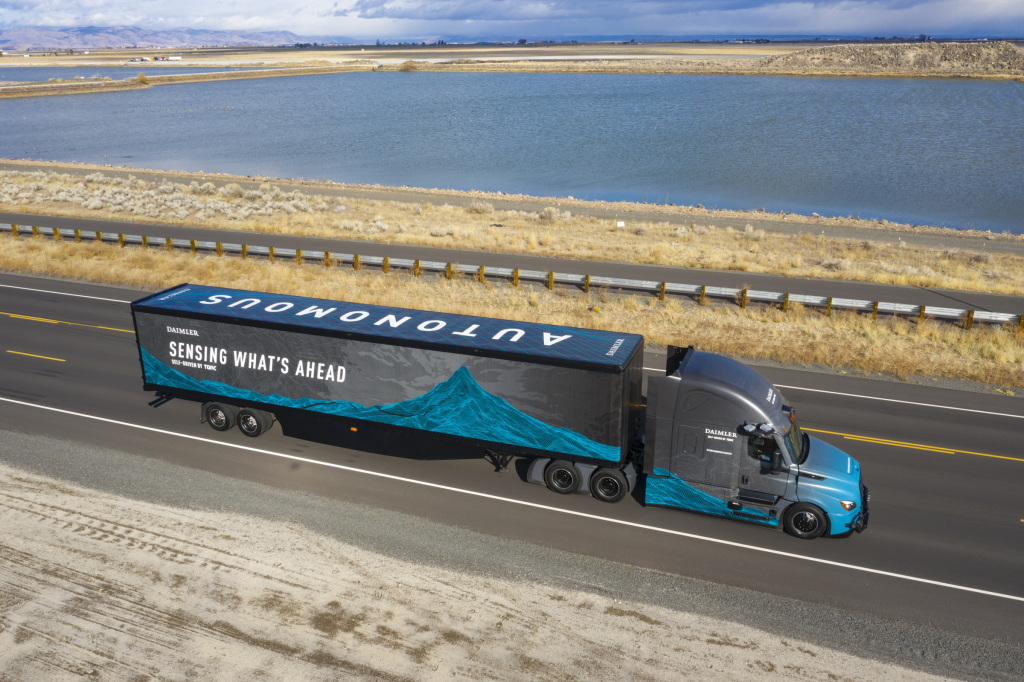 Daimler's automated trucking subsidiary, Torc Robotics, has selected Amazon Web Services (AWS) as its preferred provider for cloud computing services for its self-driving truck fleet, the companies announced February 17.
Founded in 2005, Torc aims to commercialize a Level 4 autonomous trucking system. The Society of Automotive Engineers (SAE) defines Level 4 autonomy as when a vehicle can perform all driving functions under specified operating conditions.
"Trucking is the backbone of our economy, handling 70 percent of all freight transported in the U.S. each year," Michael Fleming, Torc's CEO, said in a statement. "Trucks deliver products and food to every community from across the country and around the world. However, trucking can be dangerous, involving 415,000 crashes in the United States alone. Autonomous vehicles can play a huge role in reducing the number of crashes on the road. We are developing self-driving technology that we believe will help bring everyone home to their families safely."
"Self-driving, long-haul trucks bring advantages other than safety," Fleming noted in a statement. "The technology that Torc and Daimler Trucks are developing can help fill the nearly 60,000 driver-shortage gap in the U.S. that carriers ranked as the number one issue in a recent survey by the American Transportation Research Institute. Self-driving trucks will enable freight haulers to increase overall efficiency. Additionally, self-driving trucks may provide greater fuel efficiency, which is a point of focus in the industry today."

Torc's fleet of test vehicles in New Mexico is currently generating petabytes of data on public roads, collecting long-range, high-resolution data from LiDAR, radar and cameras. The company plans to use Amazon Web Services to help it handle this huge amount of data in real time in the cloud for use in analysis, simulation and machine learning.
"Our next generation fleet of test trucks will help us rapidly grow our capabilities and accelerate the commercialization of Level 4 self-driving trucks," Fleming said in a statement. "Our ability to handle the data involved must be able to keep up, whether it's for transfer, storage or scaling our simulation capability. With AWS, we have a trusted solution that provides the computing scale, transfer speed and security when we need it."
Torc will employ AWS services such as Amazon Elastic Kubernetes Service for running simulation software at scale, as well as Amazon Managed Streaming for Apache Kafka, Amazon Managed Workflows for Apache Airflow, and Amazon Simple Storage Service Intelligent-Tiering to efficiently manage test data and support regulatory compliance. 
"We appreciate the flexibility we get from AWS to quickly scale compute resources on demand without having to build additional on-premises computing capabilities. Relying on our preferred cloud partner for computing infrastructure allows us to focus on development and helps speed our innovation process," Fleming said in a statement. "We also appreciate the data and computation security provided by AWS. 
"By utilizing AWS, Torc can rapidly and cost-effectively implement the complex workflows and tooling essential for commercializing our SAE Level 4 self-driving vehicle platform," Fleming continued. "We believe the AWS capabilities—including secure data transfer, intelligent tiered storage, managed orchestration and analytics tools, and high-performance multi-core CPU and GPU compute capabilities will help us scale our on-road testing program quickly and effectively. It's the data from the testing that is critical to ensuring a safe, reliable, robust commercial effort."
This partnership between Daimler and Amazon is the latest collaboration between an automotive and computing giant, with Ford announcing a six-year partnership with Google on February 1. Ford named Google Cloud its preferred cloud provider to benefit from Google's expertise in artificial intelligence, machine learning and data analytics. As part of this partnership, millions of future Ford and Lincoln vehicles will be powered by Google's Android operating system, with Google Maps and other apps and services built-in starting in 2023.
"As Ford continues the most profound transformation in our history with electrification, connectivity and self-driving, Google and Ford coming together establishes an innovation powerhouse truly able to deliver a superior experience for our customers and modernize our business," Jim Farley, president and CEO of Ford, said in a statement.
Image courtesy of Daimler.