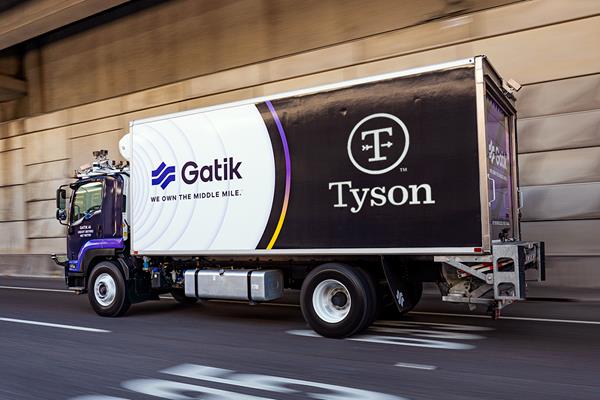 Driverless trucks will soon haul chicken wings, breakfast sausage and hot dogs through a new partnership between autonomous delivery startup Gatik and food industry giant Tyson Foods, the companies announced earlier this month.
The new multi-year collaboration between Gatik and Tyson, one of the world's largest food companies, will deploy autonomous refrigerated box trucks to bolster Tyson routes in northwest Arkansas.
In the midst of a nationwide truck driver shortage, autonomous trucks can prove a novel way to ensure continuous supply chain reliability, Tyson noted.
"At Tyson Foods, we are innovating and using automation throughout our business, including in transportation," Patrick Simmons, vice president of transportation for Tyson Foods, said in a statement. "This partnership allows us to strategically place our drivers where they are needed most while still reliably and safely transporting protein from the plant to distribution centers."
Operating 18 hours a day, Gatik trucks equipped with commercial-grade autonomous technology will deliver Tyson, Jimmy Dean and BallPark products, among others, to the company's distribution and storage facilities in the Rogers and Springdale areas in Arkansas. The collaboration may also expand to other Tyson locations in the future.
The new trucks will operate on predetermined short-haul, repeated routes to support fast, efficient product flow from production plants to storage facilities. The autonomous vehicles are equipped with a 26-foot temperature-controlled box purpose-built to transport refrigerated and frozen goods quickly and safely and multiple sensor modalities that are custom-designed for fail-safe short-haul business-to-business operations. A safety driver will initially be present in the cab to monitor the autonomous system and take command of operating the truck if required.
"We're excited to partner with Tyson Foods to reduce cost and complexity within their regional distribution architecture," Gatik CEO and co-founder, Gautam Narang, said in a statement. "This is a significant moment for Gatik as we introduce Class 7 autonomous box trucks into our fleet. Our partnership with Tyson is poised to drive long-term innovation and supply chain resiliency while delivering tangible, near-term value."
Founded in 2017, Mountain View, California-based Gatik focuses on autonomous short-haul delivery using light and medium duty trucks. Its partners include Walmart, Isuzu, Ryder and Goodyear.