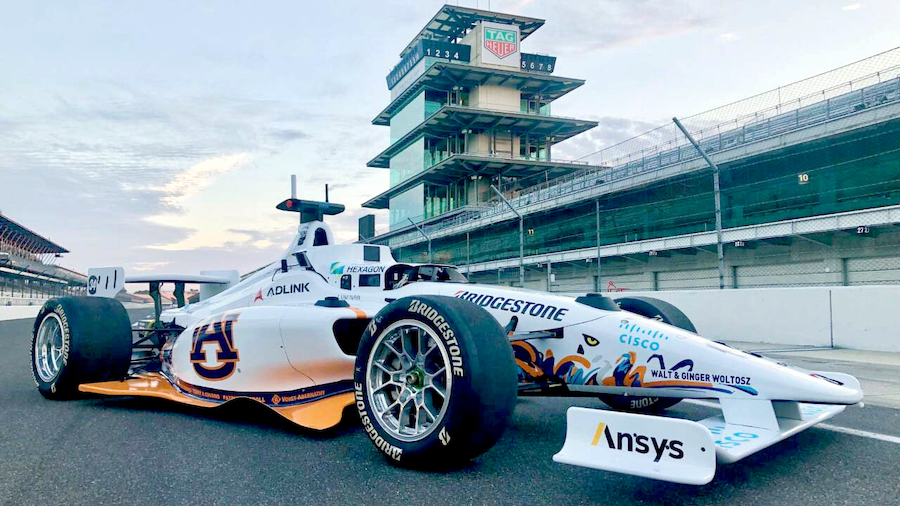 Auburn University Autonomous Tiger Racing, sponsored by Safran Electronics & Defense, recently completed a full lap with its autonomous Indy racecar at the Barber Motorsports Park in Birmingham, Alabama. It was the first time a vehicle participating in the Indy Autonomous Challenge (IAC) completed a lap on a professional track in the United States without any human intervention.
Auburn University is a member of Safran's Minerva Academic Partnership Program, which promotes cooperative activities between public bodies, industry and the academic community, towards the advancement of positioning, navigation and timing (PNT) research and development. Under the program, Safran provides, among other things, free use of Skydel, the company's hardware-in-the-loop (HIL) GNSS simulation engine.
Safran says Skydel is more flexible, scalable, customizable, upgradeable and cost-effective compared to traditional, field-programmable gate array (FPGA)-based simulators. Skydel's feature set includes a 1000 Hz simulation iteration rate, remote control from user-defined scripts, and a software-defined architecture. With Skydel, Auburn Autonomous Tiger Racing can continue to work after its car has left the track, testing localization software and hardware between track runs.
At Barber, Tiger Racing's chase car reached a top speed of 55 mph, running a lap time of just under four minutes. The course features challenging turns and elevation changes, including a blind crest that drops 35 feet (11 m) before reaching the track's longest straightaway.
The IAC brings together private interests and academic institutions to help university students around the world design, build and test new automated vehicle software for fully autonomous racecars. The ultimate test for participating teams is to enter their vehicles in a high-speed, head-to-head racing competition during the annual Consumer Electronics Show in Las Vegas, Nevada.
In 2022, Safran, already the European leader and world number three in inertial navigation systems, acquired Orolia, making Safran a veritable global PNT powerhouse.