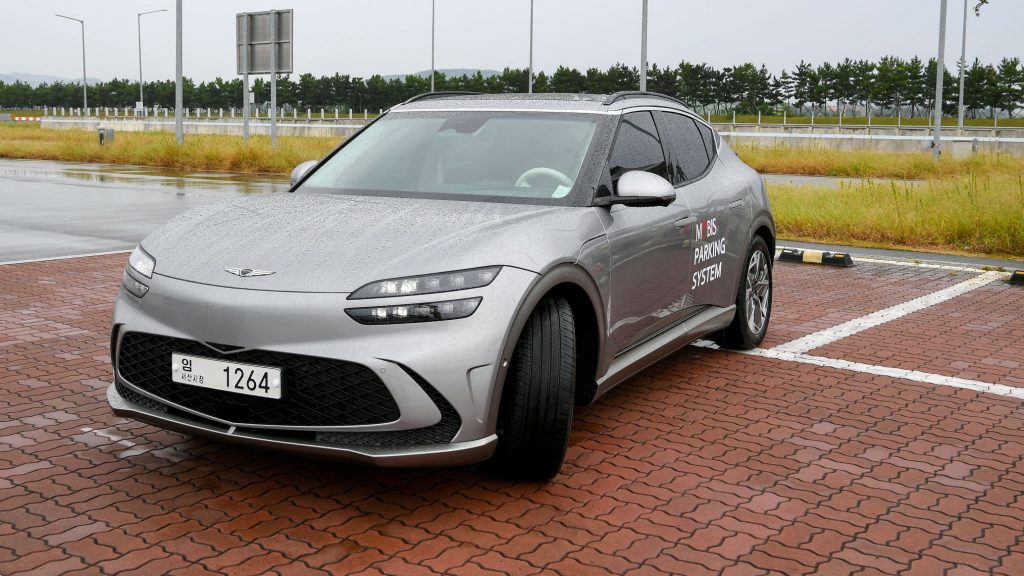 The evolution of advanced parking technology continues to progress. With advancements in various urban advanced driver assistance systems (ADAS) and the fusion of video-based sensors, the ultimate era of autonomous parking is swiftly approaching, says Hyundai Mobis.
The Korea-based supplier has developed an improved version of the next-generation parking control system called MPS (Mobis Parking System) that it pioneered in 2021. The company presented the new MPS 1.0P (Premium) technology at the AutoSens Brussels conference being held this week. It says that adding new parking control and "core element" technologies to the existing technology further solidified its foothold in the high-performance parking control sector, according to industry assessments.
A key feature of the technology is the Memory Parking Assist (MPA). When a driver executes parking in the path-learning mode, the vehicle learns the process and allows for future autonomous parking with a single touch by the driver for that parking space. Parking stress is eliminated as remote parking in the same location is possible based on the previously learned driving path.
The parking technology is enabled by the fusion of video-based sensors, ultrasonic sensors, and SVM (Surround View Monitor) cameras. It simultaneously measures vehicle location and maps using available information obtained and robotics techniques supporting up to a 100-m storage distance. The technology is expected to be well-received in countries in Europe and in China, where designated parking areas or private garages are relatively common.
Notably, Hyundai Mobis says that since the next-generation parking control was developed solely with ultrasonic and SVM cameras and without expensive radar or lidar sensors, it offers cost advantages. So, it anticipates rapid adoption in regular vehicles globally.
Another core technology of the system is an upgraded Remote Smart Parking Assist (RSPA). Already applied to several production cars, the previous RSPA recognizes parking spaces through ultrasonic sensors and supports both perpendicular and parallel parking without the need for the driver to steer. The presence of a vehicle nearby is necessary for ultrasonic detection.
For the new RSPA 2, engineers added a parking-line recognition feature through video-based sensor fusion. It supports autonomous parking even in an empty parking space without surrounding vehicles by recognizing the parking lines.
This technology was unveiled in Hyundai Motor Group vehicles like the Kia EV9, Hyundai Ioniq 6, and Genesis G90 and GV60.
Hyundai Mobis plans to continue its research and development to the level of fully unmanned autonomous parking commonly called AVP (Auto Valet Parking). The company is in a race with other suppliers to develop what is expected to be one of the first passenger-car SAE Level 4 technologies due to market drivers and made possible by the slow vehicle speeds and relatively controlled environments of parking structures.
In January, Bosch announced plans with car-park-management company APCOA to provide an infrastructure-based version of the technology in 15 parking garages across Germany. It comes after AVP was approved for commercial at Stuttgart airport, with work to expand the infrastructure-based, automated Level 4 parking system starting this year. The partners are first planning to make up to four parking spaces per parking garage ready for AVP. However, Bosch's modular system will allow the number of parking spaces featuring the infrastructure technology to be quickly expanded to up to 200 parking bays at each of the 15 locations.
Just after the Bosch announcement, Valeo and BMW Group announced they were co-developing next-generation high-end parking "user experiences" for customers on private grounds and parking facilities. Ranging from automated maneuver assistance to Level 4 AVP, all functions will be based on technology and sensors in the car. However, infrastructure-based services will also be jointly developed for fully automated parking and charging in enabled public parking facilities and sites.