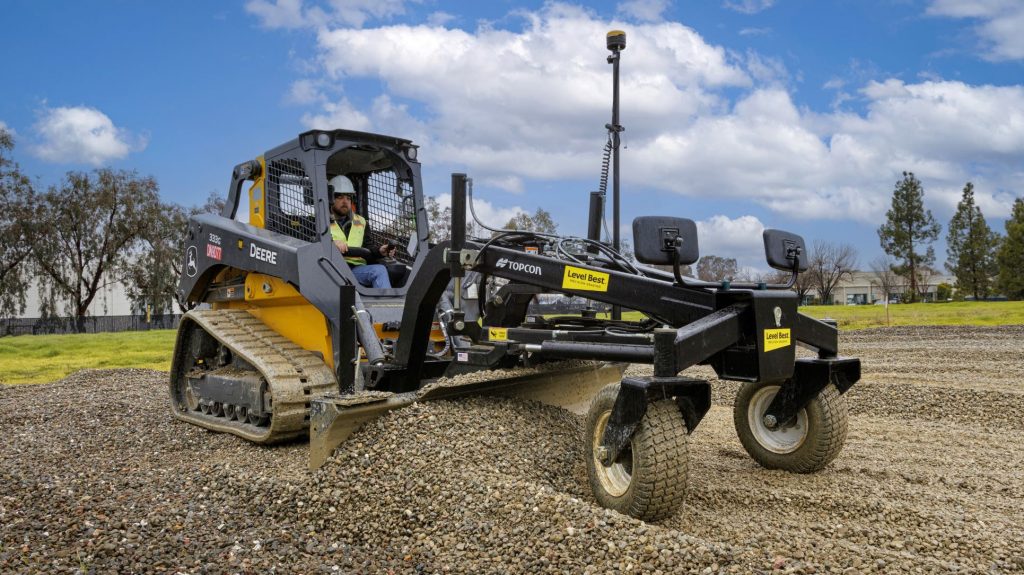 Topcon Positioning Systems is accelerating its efforts aimed at driving digitalization and automation in the construction industry with its advanced positioning technologies and digital construction workflows aimed at improving customer productivity and profitability. One of the company's most recent examples of this is the addition of a new GNSS (global navigation satellite system) option for its MC-Mobile compact machine control solution.
Rounding out the company's compact solutions portfolio, the option allows contractors to easily integrate their compact machines into fleets already powered by GNSS technology. It is designed to give owners of skid steers, compact track loaders, and mini excavators the broadest offering of machine control options.
"We initially built MC-Mobile with the smaller or mid-size contractor in mind," said Murray Lodge, Executive Vice President and General Manager at Topcon. "Working with a prism pole and our 3D robotic instrument, the LN-150, users easily measure, design, and build right on-site, all with one 3-in-1 solution—expanding their capabilities and growing their business. Now, this new GNSS option allows fleet managers to easily integrate compact machines into much larger, more complex workflows, with the same machine-to-machine modularity and ease-of-use that has made MC-Mobile one of our most talked-about products of the last year."
The local positioning system and GNSS versions are made possible thanks to the MC-X platform. It combines multiple communication technologies such as the Sitelink3D connectivity platform, support for numerous elevation sensors, IMUs (inertial measurement units), and GNSS receivers to tailor solutions directly to a contractor's workflow—aimed at maximizing return on investment at every phase of an operation.
The MC-X portfolio is designed to make machine control easy to use and affordable for a variety of contractors. The solution ties mixed fleets of full-size (with MC-Max machine control) and now compact earthmoving, asphalt, and concrete paving equipment. It is designed to be flexible and powerful, adapting across applications and machine types, improving performance and speed for operators of all skill levels.
Topcon says that construction business owners have more critical data at their fingertips than ever before, but it is often a challenge to distill all the information from many sources. To make the most well-informed business decisions, contractors need an easy way to understand all of the data generated from multiple digital tools and software along every phase of a project.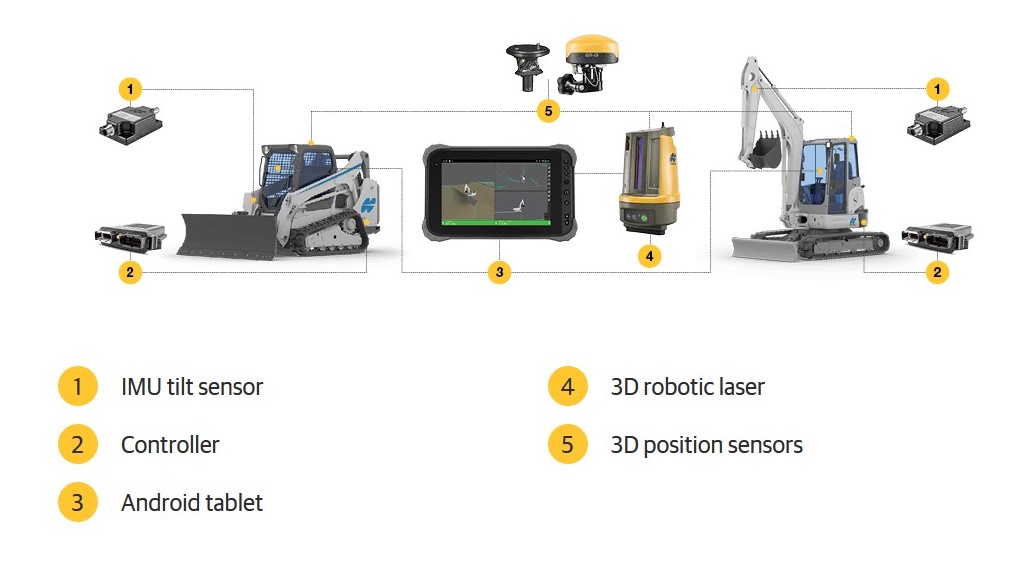 That is behind Topcon's recent purchase of construction software and data integrations and services company Digital Construction Works. DCW's services and software integration platform helps customers navigate and maximize the use of construction data available across multiple apps and software.
"DCW enables the connection of the job site and the office," said Jason Hallett, Vice President and General Manager at DCW. "Automation and the availability of integrated and aggregated data provide greater insights into project performance and status. Now, as part of Topcon, our integrations platform enhances the value of Topcon's interoperability with third-party software typically used to execute machine-guided operations. This saves users time and money by automating report generation and eliminating manual data entry across a multi-vendor and multi-stakeholder project environment."
The DCW team will continue to focus on integrations that connect a project's planning and design phase with the construction and field completion phases. This office-to-site connection provides automated workflows and insightful visualization and reporting within a secure user-facing integration platform.
"Bringing the DCW team to Topcon absolutely increases the value of our existing solutions," added Lodge. "For decades, Topcon has combined multiple sensors and technologies to increase efficiency and simplify heavy equipment operations across multiple manufacturers. Now, we expand that value proposition to include automating data exchanges with design and planning tools and software typically used on construction projects, as well as integrations with popular software utilized by contractors for managing assets, people, and materials."
One of DCW's more recent construction software offerings is the availability of JDLink, a John Deere wireless connectivity solution, in the DCW iPaas (Integrations Platform as a service) Marketplace. The JDLink integration enables telematics data from John Deere-connected machines to aggregate into the DCW Integrations Platform for use within automated workflows, dashboards, and reports. Combined with other integrated data sources, like machine control and scheduling systems, integration provides deeper insight into site activities allowing optimization of projects, machine, and operator performance.