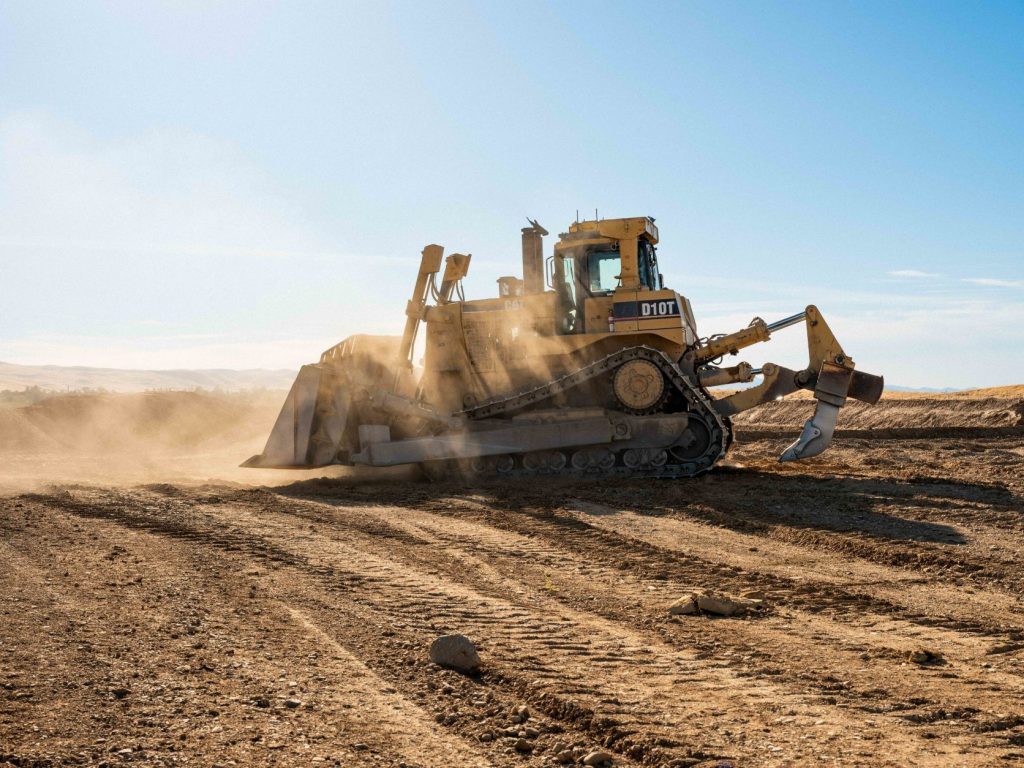 Palo Alto, CA-based Teleo, which retrofits existing heavy construction equipment to create remote-operated and autonomous robots, made a big splash in mid-March at CONEXPO in Las Vegas. The company showcased two remote operation stations; one controlled an on-site skid-steer loader and the other a skid-steer located in northern California.
It announced deals with construction customers John Aarts Group, Teichert, and Tomahawk Construction for remote-operated wheel loaders, bulldozers, and dump trucks, respectively. The company is also expanding globally through a new dealer partner network with partners Dobbs Positioning Solutions, RDO Equipment, SMS Equipment, and SR-O Technology.
As the company sees it, construction and mining work is skilled, physically demanding, and often dangerous. According to the Associated General Contractors of America, 91% of construction firms are having a hard time finding workers to hire, driving up costs and project delays.
To address these challenges, Teleo's "incremental approach" called Supervised Autonomy enables remote and semi-autonomous operations of any make and model of heavy construction equipment. A key benefit is that one operator can control multiple machines from the comfort of a command center.
Teleo believes that full autonomy, which doesn't require any human intervention, is still many years away for the construction industry and many others. That reality was front-of-mind when CEO Vinay Shet and CTO Rom Clement, who before founding the company in 2019 had led autonomous vehicle teams at Lyft and helped develop Street View and other foundational technologies at Google. At Teleo, they've assembled a team—with key leaders Mark Piotto, Vice President of Sales; Martijn Hoppenbrouwers, Vice President of Operations and Customer Success; and Josh Jimenez, Director of Hardware Integration—having decades of technology and construction industry experience from companies such as Tesla, Amazon, Zoox, BAE Systems, and Topcon.
Teleo's system keeps operators involved, having them remotely perform complex tasks that the technology cannot yet fully handle, providing significant value for contractors today with partial autonomy rather than many years from now with full autonomy—though it also has plans for the latter. The company claims that deploying its system with a central command center can help attract more operators, increase site productivity, and offer unprecedented operational visibility.
"The construction industry is experiencing a growing skilled labor shortage," said Shet. "We founded Teleo to help contractors supercharge their operators' efforts by turning their equipment into semi-autonomous machines. By moving the operator out of the cab of the machine and into a command center, we're also making the operator's role safer, comfortable, and more accessible."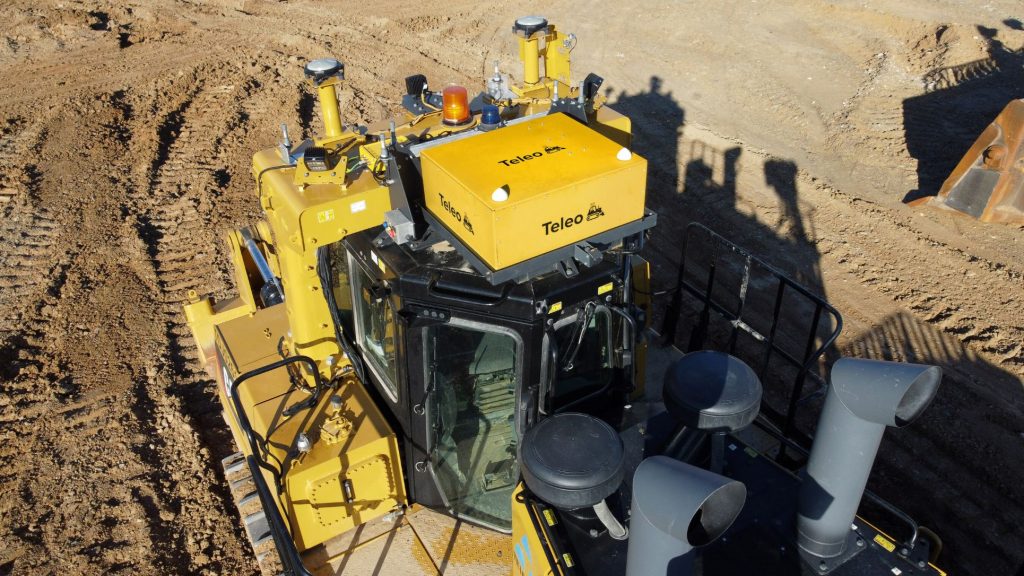 New customer use cases
Teleo is developing a global dealer partner network to lead and help ease the transition to autonomy and make customer adoption of remote and semi-autonomous heavy equipment as easy as possible in more regions of the world. The company is working with those contractor partners to identify the best use cases for its system, handling everything from operator training to network implementation.
Florida-based excavation and site development company Tomahawk Construction is deploying Teleo's technology on 12 articulated dump trucks for land development. The remotely operated trucks hauling dirt across job sites are expected to help Tomahawk operations run more efficiently amid a labor shortage. Remote operations are expected to begin in the Summer of 2023, with Tomahawk transitioning to semi-autonomous operations later this year.
"We have had two trucks sitting around for 10 months without operators in them," said Scott Lyons, Managing Member of Tomahawk Construction. "With Teleo, more people will be attracted to this job because they can run trucks from our office and save hours of drive time to and from job sites. Due to the current labor market, we know going forward we need to do more with less. I believe the Teleo system is the vehicle to make that happen."
California construction and materials company Teichert is working with Teleo to retrofit two Caterpillar bulldozers. A 2012 D10T was retrofitted in Summer of 2022 and a 2022 D10T2 will be deployed at the company's sand and gravel mine near Tracy, CA, in 2023 Q2. The Teleo system is designed to operate day and night, with Teichert being the first customer to launch night operations.
"We believe Teleo's technology can help a good operator become a great operator," said Dan Campbell, Head of Engineering at Teichert Materials. "The technology will improve the operator experience, making the job safer and more comfortable for our team members. The central command center also makes it easier for operators to go on breaks and creates a seamless and efficient transition between shifts."
Canada-based John Aarts Group is the first company to leverage remote operations to virtually load at a concrete plant. A John Deere 624K wheel loader is being retrofitted to remotely load and unload materials in Tillsonburg, Ontario, Canada starting in 2023 Q2. The operation traditionally includes a lot of stop-and-go work. The Teleo system increases efficiency by allowing operators to focus on higher-impact work during significant "unproductive time."
"There is more work to be done than there are operators, and Teleo is helping us to create opportunities for team members to do more of the meaningful work they like to do," said Ryan Aarts, CEO of John Aarts Group. "We've always been early adopters of technology, and we are partnering with Teleo to load our concrete plant because we saw an opportunity to increase efficiency."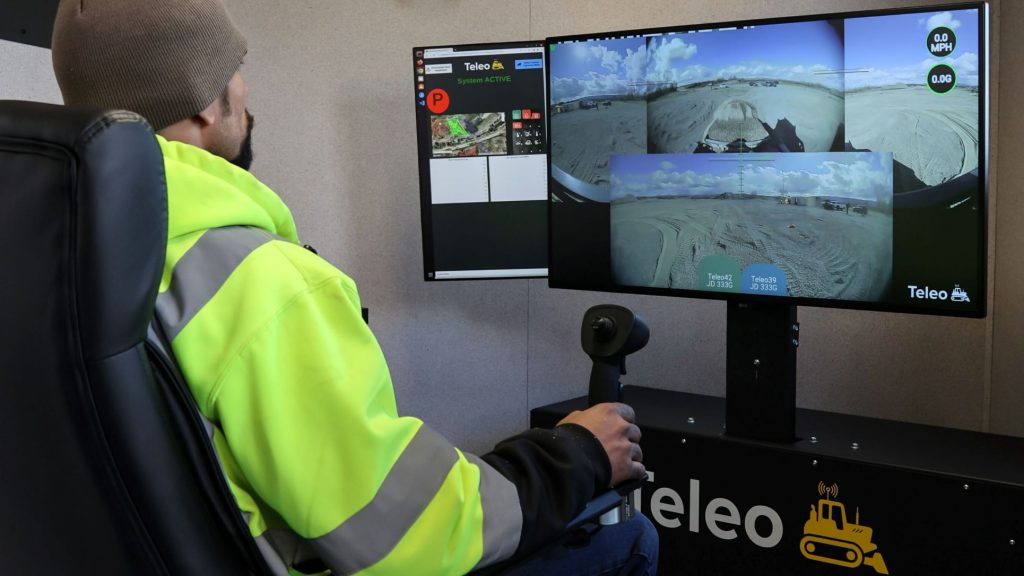 Supervised Autonomy network
Teleo's system includes proprietary software, a universal retrofit kit customized for any machine, a remote command center to operate the equipment, and a robust mesh network that offers on-site connectivity for command center communication with machines. Designed to withstand harsh conditions, the kit incorporates sensors such as high-dynamic-range cameras capable of high-definition visibility and video footage day and night.
A skilled operator can control multiple Teleo-retrofitted machines, at multiple sites, from a single station. The technology recreates the operator experience in the remote command center, bringing the sound and feel of the machine into the room as if they were operating it in person.
Backing up the technology and experience, the company looking to build a strong path to market through distributors that offer customers service and support from a supplier they already know and trust.
Among the dealer partners is Dobbs Positioning Solutions, a Topcon dealer and the technology division of Dobbs Equipment, the full-service John Deere and Wirtgen Group dealer serving the Southeast U.S., is supporting Tomahawk Construction's order and implementation of Teleo-retrofitted dump trucks.
Another partner now offering Teleo Supervised Autonomy technology is RDO Equipment Co. The company sells and supports agriculture, construction, environmental, irrigation, positioning, and surveying equipment from manufacturers including John Deere, Vermeer, and Topcon across the Midwest, Texas, and Southern California.
SMS Equipment, one of the largest Komatsu dealers in the world with a network across Canada, Alaska, and Mongolia, has expertise in autonomous solutions and has deployed some of the world's largest fleets of self-driving mining haul trucks. It is supporting Teleo's regional deployment and the customer relationship with John Aarts Group, with several other customer opportunities on the horizon.
Serving customers across Europe, North Africa, and the Middle East, SR-O Technology, the technology and system integration business unit of Suomen Rakennuskone Oy, provides holistic smart technology solutions and services such as machinery automation, fleet management, data analytics, and wireless network solutions.
The strengthened dealer partner network provides installation of the Teleo system to ensure successful integration and provides ongoing support, operator training, and warranty management of the technology to maximize customer uptime.
Later this year, Teleo will launch semi-autonomous operations in addition to the current remote operations offering.