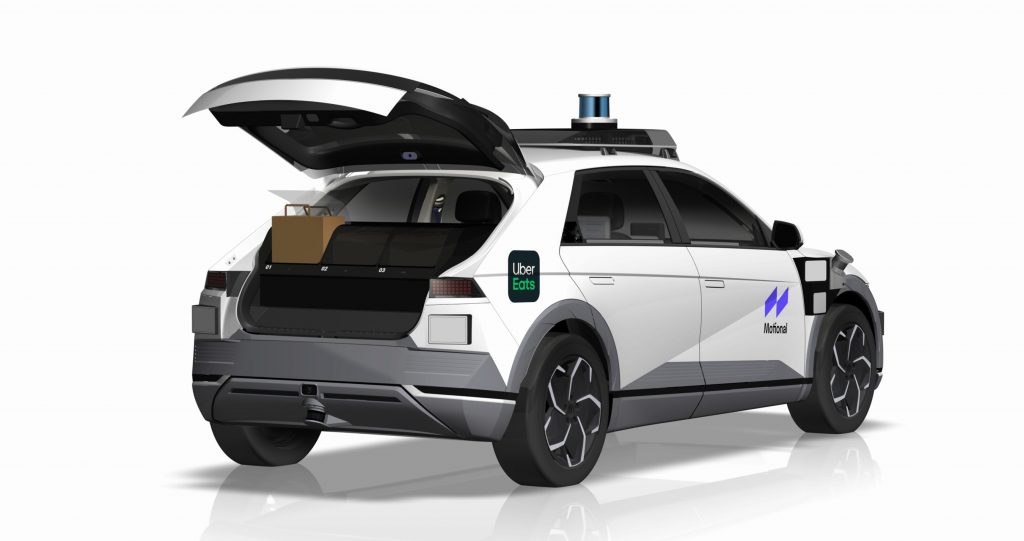 Motional, the $4 billion driverless technology joint venture between Aptiv and Hyundai, is partnering with Uber to autonomously deliver meal kits starting this year.
The deliveries will start in early 2022 in Santa Monica, California. Motional's all-electric Hyundai IONIQ 5-based robotaxis will conduct autonomous deliveries of a curated set of meal kits from select restaurants for Uber customers via the Uber Eats online food ordering and delivery platform. Uber Eats currently partners with 780,000 merchants in more than 6,000 cities globally, with average delivery times of under 30 minutes.
"The combined U.S. market for driverless robotaxi and food delivery service is expected to exceed $115 billion by 2030," Karl Iagnemma, Motional's president and CEO, said in a blog post. "Demand for food delivery has doubled since the start of the pandemic, and the use of mobile food delivery apps is up more than 20% this year."
The partnership marks firsts for both companies—Motional's expansion into driverless delivery and Uber's first on-road delivery partnership with an autonomous vehicle fleet provider.

"Today, Motional enters the autonomous delivery market," Iagnemma said in a statement. "We're proud that our first delivery partner is Uber and are eager to begin using our trusted driverless technology to offer efficient and convenient deliveries to customers in California. We're confident this will be a successful collaboration with Uber and see many long-term opportunities for further deploying Motional's technology across the Uber platform."
This development will also be the first time Motional's Society of Automotive Engineers (SAE) Level 4 vehicles will find use in delivery applications. (Level 4 autonomy is the ability to act without any human intervention in the vast majority of situations.)
"We're excited to partner with Motional to test a new kind of delivery for Uber Eats consumers in 2022," Sarfraz Maredia, vice president and head of Uber Eats in the United States and Canada, said in a statement. "Our consumers and merchant partners have come to expect convenience, reliability and innovation from Uber, and this collaboration represents a huge opportunity to meet —and exceed— those expectations."
Iagnemma noted that food delivery was a pragmatic next step for Motional's robotaxis, "maximizing the amount of time they are on the road in revenue-generating service. Ride-hailing services experience peaks and valleys in demand, and rather than having a robotaxi idle while waiting for the next fare, they can make deliveries. As an additional benefit, the more our vehicles are operating on the road, the more data they can collect, which enables us to capture more edge cases and more quickly train our system."
This new collaboration highlights the way in which Uber parted with its own autonomous vehicle technology in 2020, selling it off to driverless trucking startup Aurora. Motional is an understandable partner for Uber, as Motional has made a number of key advances in the field of autonomous vehicles, including the first fully autonomous cross-country drive in the United States, the launch of the world's first robotaxi pilot program and the operation of the world's longest-standing commercial robotaxi service, which has provided more than 100,000 self-driving paid rides.